A source from inside the La Ligue Française League of Legends has leaked all of the team's rosters for Week 1 of the LFL.
Upcomer received a document full of roster changes that was originally sent to all of the teams participating in the league. These are the confirmed rosters since the LFL teams had to submit their teams by May 18. The source added that the rosters may change later on in the split, however.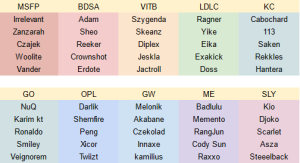 Both Team BDS and Misfits have used this offseason to promote Academy players to their main team. Upcomer previously reported the promotion of top laner Joel "Irrelevant" Miro Scharoll to Misfits roster in the League Of Legends European Championship. Meanwhile, BDS have promoted top laner Tobiasz "Agresivoo" Ciba and support Erdote Robert "Erdote" Nowak, also reported by Upcomer. This meant that both teams had to adjust their Academy rosters in the LFL in order to respect the "veterancy rule" at point 1.4.2. of the European Regional League rulebook:
If a player has played more than 50% of eligible regular season games in a Professional League in at least two out of the last three completed splits, then they will be considered a "Veteran" player. An ERL starting lineup cannot include more than two Veteran players at a time.
Misfits top laner Shin "HiRit" Tae-min, jungler Nikolay "Zanzarah" Akatov, and support Oskar "Vander" Bogdan are all veterans under the rule. Misfits decided to change things around, moving Vander to a coaching role, as Upcomer previously reported. As a consequence, they reached an agreement with support Tobias "Dreamer Ace" Schreckeneder, who was seen with the team on the LFL media day. However, the unexpected departure of HiRit from the team allows Vander to be back on the LFL roster. Misfits decided to continue with Vander as the main support player while they will use Irrelevant in at least the first week of LFL play.
Misfits will continue to look for a top laner for their Academy team, but in the meantime Irrelevant could play in both the LFL and LEC. This is allowed because Irrelevant doesn't count as a veteran player as dictated by point 3.1.3 of the ERL rulebook.
An LEC Secondary Team Player cannot be part of their Team's LEC and ERL Roster at the same time. As an exception to this, Teams will be allowed to designate up to two Players from their ERL Roster for their LEC Roster if those Players are not considered Veterans
With Dreamer Ace no longer able to play for Misfits, he was available for BDS. This is ultimately who BDS decided to go with, signing the player to their Academy team already. Before the signing of Dreamer Ace, Team BDS Academy were considering support Mauno "beansu" Tälli, sources said.
Because Dreamer Ace was signed after the roster lock for Week 1, a similar situation happened with BDS. Erdote will have to play week 1 with the LFL team. However, the LEC will begin two weeks after the LFL. Therefore, the Polish support will probably not have to play in both leagues at the same time. It is unclear where support Dino "LIMIT" Tot is headed. LIMIT held the position of starting support for BDS LEC team before the promotion of Erdote reported by Upcomer earlier this month.
About the Author
Grew as a sheep on Twitter for sharing exclusive league offseason information. I now also report news for Upcomer.