The final days of Verdansk are upon the community, marking the immediate arrival of Call of Duty: Warzone Pacific. To celebrate the new installment of Warzone, Activision has released the Secrets of the Pacific event in Vanguard and Warzone. The event will last 13 days — right up until Warzone Pacific releases — and players can earn some rewards in both games.
The rewards are based on players completing a series of tasks laid out for them on the event page. Players can access the event page in the main lobby screen of either Vanguard or Warzone. Here, players can find the tasks they need to complete for certain rewards and the exact time the event will end.
Players can find further details on the Secrets of the Pacific event below.
Secrets of the Pacific event: Vanguard
The event is slightly different depending on which game players decide to play. In Vanguard, players will get to see different snippets of the new Caldera map in Warzone upon completing challenges. These previews aren't anything expansive but do provide a look into Caldera. There are six challenges for players to complete in Vanguard multiplayer, all of which are viewable below along with their unlockable reward.
Get 25 Eliminations: "Home In Paradise" Calling Card
Get 5 Multi-Kills: Tropical Token Emblem
Perform 1 Finishing Move: Little Submarine Charm
Vote for Team MVP in 10 Matches: "Learn To Fly" Sticker
Play Matches with another member of your Clan 5 times: "Into The Mine" Spray
Get 3 Wins: "Treasure The Scenery" Calling Card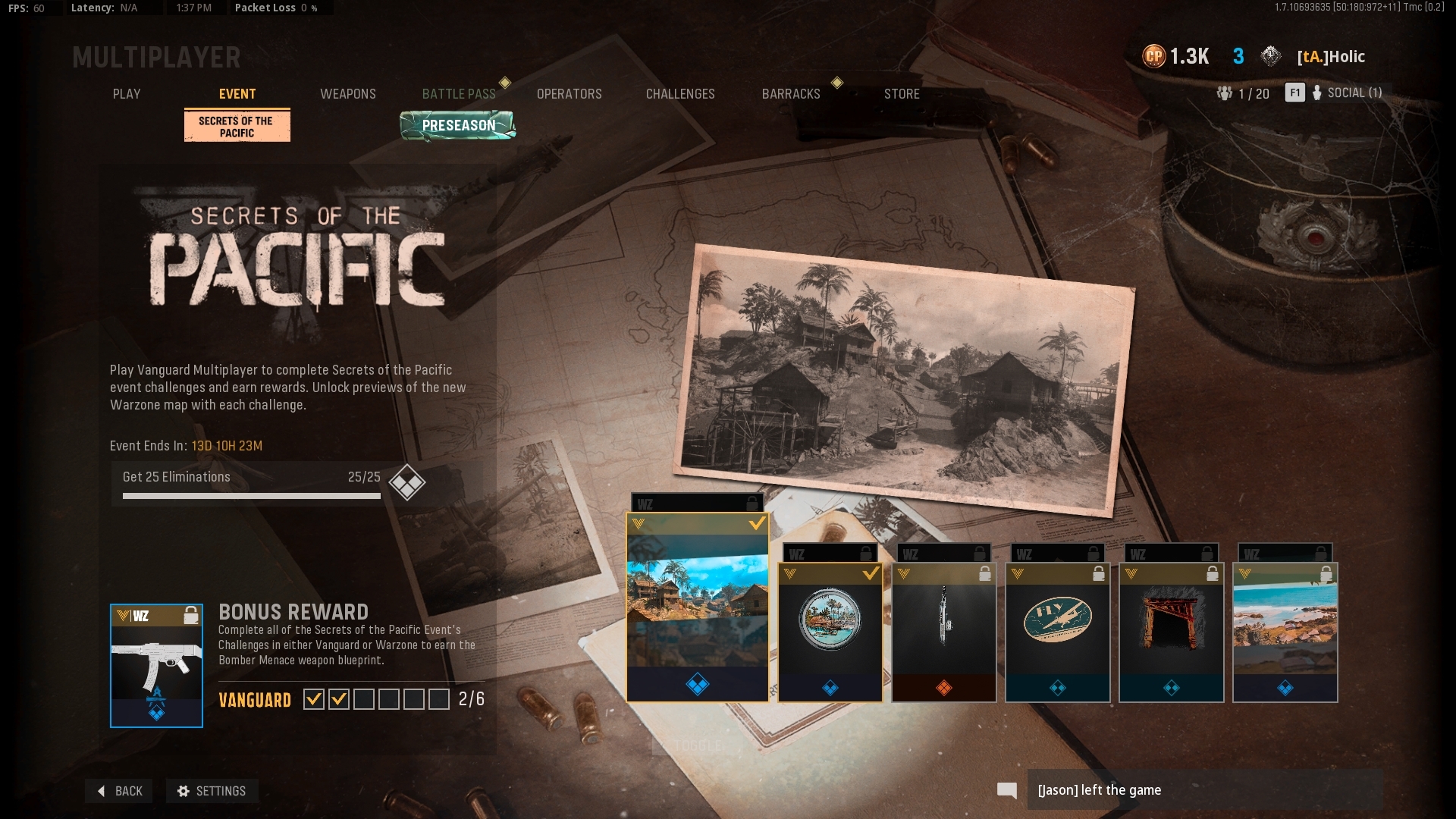 Secrets of the Pacific event: Warzone
The same number of challenges are available in Warzone but players need to complete different tasks to unlock new rewards.
Go to the location shown in the photograph and find the mysterious object: Marina Street Calling Card
Look for sweet deals on the latest electronics: Local Radio Emblem
Go to a place where you can get patched up after a firefight: Naval Plan Sticker
Enjoy a quick meal while you wait for your plane: Volcanic Souvenir Charm
Go beneath the earth in an unfamiliar location: "Familiar Machinery" Spray
Go to where secrets from the past have been revealed recently: Hospitable Resort Calling Card
Players that unlock all rewards in either Vanguard and Warzone will also receive the Bomber Menace weapon blueprint, which looks to be for the STG44 assault rifle. Warzone Pacific arrives on December 7 for those who purchased Vanguard and December 8 for those who haven't.
Joey Carr is a full-time writer for multiple esports and gaming websites. He has 6+ years of experience covering esports and traditional sporting events, including DreamHack Atlanta, Call of Duty Championships 2017, and Super Bowl 53.