After nearly two years of playing on Verdansk, Call of Duty: Warzone is transitioning to a new name and map. Warzone Pacific and the new Caldera map are going live Dec. 8 and Raven Software has released some patch notes for the installment. Included in the patch notes are updates to several pieces of equipment, weapon balancing and information on Caldera. Below, players can see the full slate of patch notes for Season 1 of Warzone Pacific.
Warzone Pacific Season 1 patch notes
The patch notes come from Raven Software's blog. They released late last night and, since then, the developer has amended the information. The headline of the amendment is that they took out a section talking about an FOV slider coming for consoles. At this time, there's no update on when a FOV slider will arrive for console players. Season 1 will not feature it.
The rest of Raven Software's patch notes are viewable below.
New environmental hazards
Bombing Runs will occur throughout each game at random at any given time.

These will be announced and appear on the Tac Map as a red circle, so eyes to the skies!

Larger Initial Circle

The radii and times for Circle collapses have been rebalanced to accommodate dogfighting further into the mid-late game. The overall game length remains the same as Battle Royale.

Public Events

The new Public Event structure is as follows:

Circle 1

Weapon Crates or Cash Drops

Circle 2
Circle 3
Circle 4

Weapon Crates or Cash Drops (High Probability)
Resurgence or Jailbreak or Loadout Drops (Low Probability)

Circle 5
Circle 6
Circle 7 & 8

Public Events conclude, you're on your own!
New vehicles
Fighter Plane

Rain down destruction and reign supreme with the Fighter Plane. This versatile two-seater vehicle provides as much combat support with its front-mounted weapon systems as it does squad support—via sonar ability that pings enemy troop locations as well as legendary crates.

Utility Truck

With room for two in the front and however-many-you-can-fit in the back, the Utility Truck is a powerhouse cargo and transport vehicle that shakes off incoming fire while plowing through any terrain stupid enough to get in its way. Additional variant swaps cargo space for high-powered AA attachment so you can rule the skies and the ground.

Squad Transport

Agile turns and a frame built to take punishment make the Squad Transport ideal for relocating up to four Operators across the battlefield. Best-in-class suspension devours off-road obstacles for breakfast, and a ripping top speed means plenty of dust for your enemies to eat.
New contracts
[TOP SECRET]

A Contract is selected at random but with significantly increased rewards. Who knows what you're gonna get?

Big Game Bounty

Time to hunt down an enemy Operator with an impressive elimination count – assuming you're confident enough to risk it!
Rules:

Will only show on the Tac Map at the end of the 1st Circle.
Will not select the same target multiple times in a row.

Supply Drop

A valuable Supply Drop crate will drop into the map that only your squad has the coordinates to… but be careful, other teams can see the green smoke and try to steal it!
New public events
Restock

All supply boxes on the map will close again and refresh their loot.

Resurgence

For a short duration, the Resurgence effect will allow Players to respawn so long as a teammate is boots on the ground.

Cash Drop

The well known Plunder Cash Drops will begin to spawn.

Heavy Weapons Crate

New and highly desirable Weapons can be obtained from these crates.
New Tac Map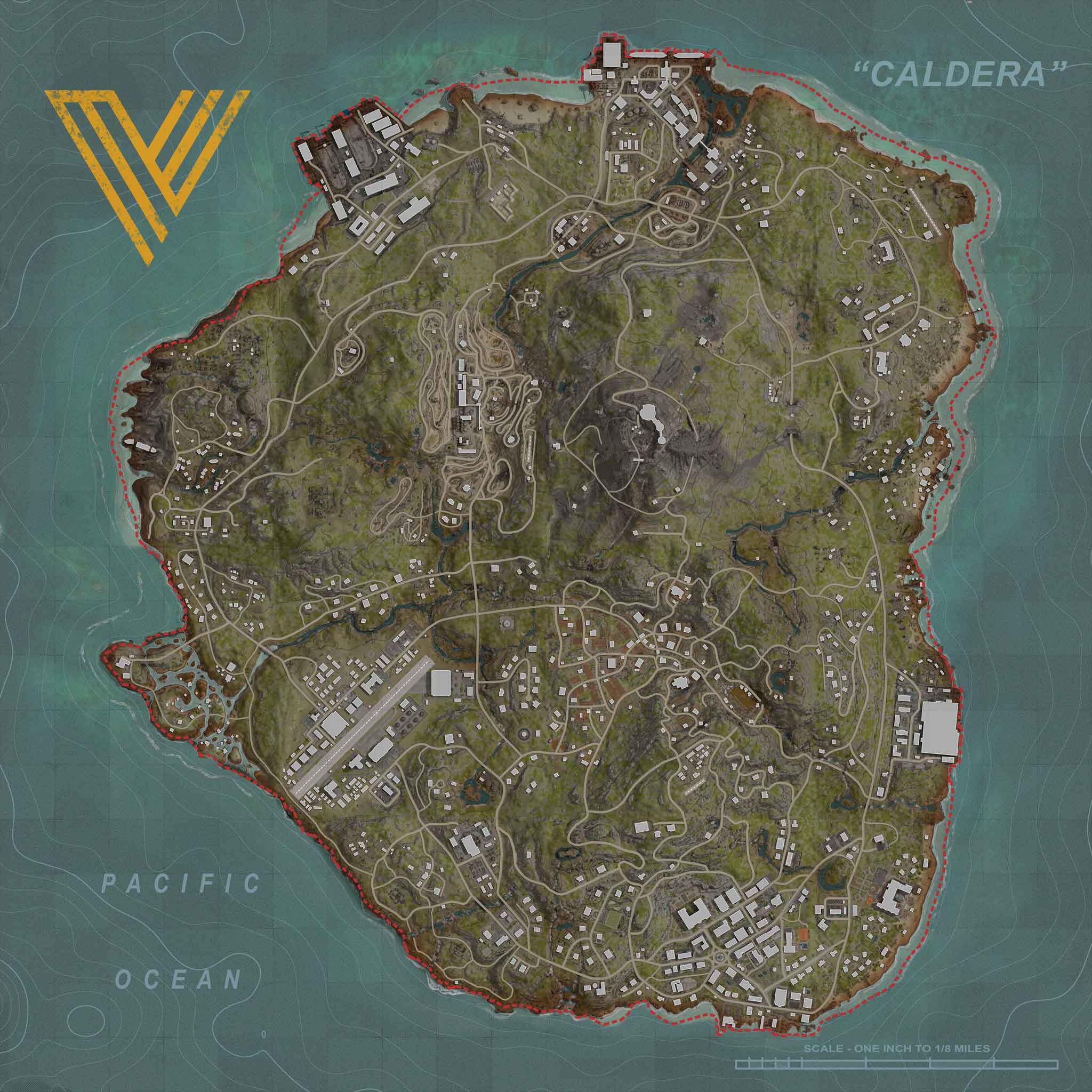 We've brought you a new look to compliment the beauty of a 1940's Caldera!
Players are now able to ping on the Tac Map after being eliminated or while in the Gulag.
New mechanics
Flying

Players are now able to operate the Fighter Plane. Take to the skies! But don't get too comfortable.

Anti-Aircraft Gun

Fixed to the ground or mounted on the back of a Utility Truck, use this heavy duty Weaponry to clear the skies of those pesky planes.

Gasoline Can

Pick them up, ignite them, throw them, send them up an ascender, set up a trap, shoot at them on the ground or in someone's hands (you decide). These new little toys will explode, causing damage and releasing a non-toxic smoke to blind your enemies.

Shallow Water

Molotov Cocktails and Thermites that are thrown into water will now behave similarly to Smoke Grenades.
The Tracer Perk effect will be enabled for Players in water that reaches their ankles.
The Cold Blooded Perk effect will be enabled for Players in water that reaches their knees.
Players are unable to lie prone in knee-deep water.
Gameplay adjustments
The Stopping Power Field Upgrade has been removed from loot.
The Gulag will now allow the victor to redeploy with the Weapon(s) and equipment that remain at the end of the duel.
Buy Station

UAVs now cost $6,000, up from $4,000 when available.

Loadout Drop Markers

These can only be purchased at Buy Stations after the first free Loadout Drop Public Event has taken place.
This change only affects Vanguard Royale and Battle Royale.

Dead Silence

This Field Upgrade will now refresh on the first kill only, with reduced drop rates found in loot.
Melee Damage

Melee and non-Melee Weapons will now require at least three hits to achieve Melee Finisher damage.

Lethal Equipment

Claymore

Damage increased to 200, up from 150

Frag Grenade

Damage increased to 112/225, up from 70/140

Molotov Cocktail

Damage per tick increased to 21|36|43, up from 15|25|30
Duration increased to ~12.5 seconds, up from ~6.5 seconds

Proximity Mine

Damage increased to 225, up from 200

Semtex

Damage increased to 74/150, up from 70/140

Throwing Knife

Damage increased to 250, up from 200, on hits to Upper Torso and Headshots
Tactical Equipment

Decoy Grenade

Will now fire rubber bullets with a chance to hit nearby enemies dealing 1 point of damage

Heartbeat Sensor

Pulse time increased to 6 seconds, up from 3 seconds

Snapshot Grenade

Detection radius increased to 28 meters, up from 14 meters

Stim

Will additionally apply a 3 second boost that increases movement, slide, and sprint speed

Stun Grenade

Stun duration decreased to 2.5/4.5 seconds, down from 4.7/5.5 seconds
Gas Mask

The Gas Mask animation will now wait for reloading, Armor Plate insertion, or Grenade throwing animations to complete.
Weapon adjustments
Melee
Ballistic Knife (BOCW)

Melee damage decreased to 90, down from 135

Battle Axe (BOCW)

Damage decreased to 135, down from 175

Cane (BOCW)

Damage decreased to 135, down from 150

Kali Sticks (MW)

Damage decreased to 65, down from 90
Lunge Distance decreased by 7.7%
Melee Finisher now requires 4 hits, up from 2
Note: These changes also affect MW Multiplayer

Mace (BOCW)

Damage decreased to 135, down from 150

Sai (BOCW)

Damage decreased to 70, down from 135

Lunge Distance decreased 7.7%

Melee Finisher now requires 4 hits, up from 2
There's a ton of information packed into this update. The highlights are the new Tac Map for Caldera, which gives players the ability to ping the map when in the Gulag. There's also the nerfs to Dead Silence, UAVs, the Heartbeat Sensor and Stun grenades. However, these nerfs are exchanged for buffs to lethal grenades across the board.
It seems that Warzone Pacific will play much differently than the battle royale experience did on Verdansk. Players who own Vanguard can hop in now and experience the new season and Caldera for themselves. The rest of the player base must wait until Dec. 9.
About the Author
Joey Carr is a full-time writer for multiple esports and gaming websites. He has 7+ years of experience covering esports and traditional sporting events, including DreamHack Atlanta, Call of Duty Championships 2017, and Super Bowl 53.