LA Rams NFL player Cameron Dicker inadvertently became a leaker Tuesday when he posted a screenshot of the upcoming Call of Duty Modern Warfare II private match screen on social media.
With the summer nearing an end, the ramp-up for the next Call of Duty title, Modern Warfare II, will begin to increase dramatically. From the open beta to a supposed early access Campaign period, there's a ton for Call of Duty players to get excited about over the coming months. With so much news set to release, though, there will assuredly be leaks everywhere up until the launch of MWII on Oct. 28. These leaks usually derive from insiders or data miners who simply get access to private information that they share with the community.
Dicker, along with some other Rams players, were seemingly invited to a private MWII play session in Los Angeles. Dozens of athletes have gotten involved with Call of Duty over the years, as many of them call themselves a "#CODPartner" when they promote the new games. In the past, Activision has let athletes and other celebrities see and play new titles early so they can hype it up to their fans.
It seems Dicker might not have gotten the message about not showing actual game footage, however. On Tuesday, Dicker posted an Instagram story that fully showed the MWII private match lobby. Dicker deleted his post a few minutes after the community saw it, making it clear he wasn't supposed to post what he did.
We won't be showing the image in this article for copyright reasons, but fans can see it on Twitter.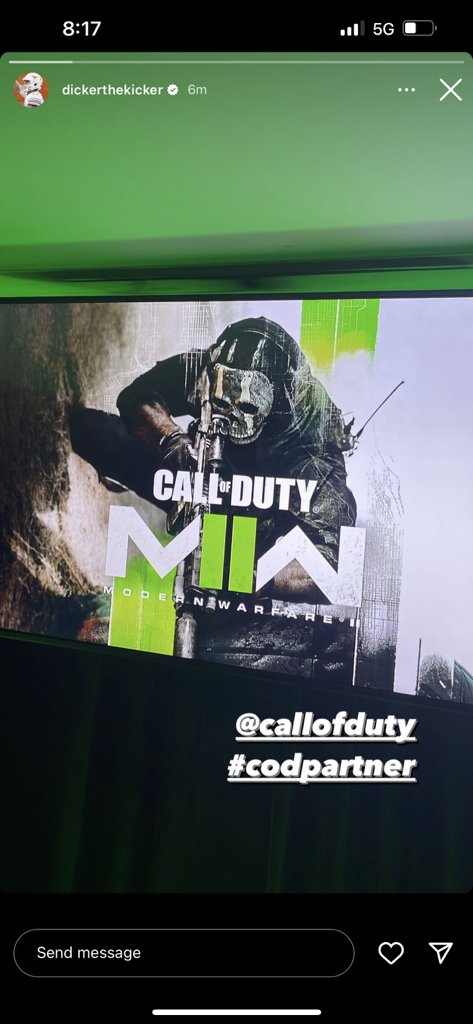 The screenshot looked extremely similar to that of Modern Warfare's private match lobby. This is to be expected, though, since MWII is a direct sequel to that game. The user inverface in the private match lobby appeared to be in an early-alpha stage, as it wasn't too refined from what we could see. Although, the leaked image did show the name of a map, "Valderas Museum" and the name of one of the game's factions, "Coalition." Other than that, an Operator can be seen in the background but nothing else truly stands out.
There's still no word from Activision on when fans could see the official reveal for Modern Warfare II multiplayer. Current rumors suggest the reveal won't happen until September, with the open beta following shortly after.
UPDATE: Another NFL player has also posted a screenshot of themselves playing MWII at the same early access event. However, this time, the image clearly shows the "DMZ" mode that's been rumored for months. While Activision did confirm that a third mode exists in MWII, the publishers have never confirmed the name. DMZ is rumored to be an Escape From Tarkov-like extraction mode with a skin marketplace. The screenshot posted by the NFL player confirms it for them, though.
Some gameplay of MWII was posted by another Rams player as well. The gameplay appears to be from the already-shown Dark Water Campaign mission. It seems Activision is allowing the Rams players to be free in what they post online, so more footage could come later on.
Joey Carr is a full-time writer for multiple esports and gaming websites. He has 6+ years of experience covering esports and traditional sporting events, including DreamHack Atlanta, Call of Duty Championships 2017, and Super Bowl 53.