League of Legends
VALORANT
CS:GO
Overwatch
Call of Duty
Halo
DOTA 2
Apex Legends
Rocket League
Smash
Call of Duty: Modern Warfare's next content drop is here as Season Two is now live on all platforms. After a week full of leaks, players know what to expect. However, the content in the new Battle Pass was unknown until today, as Infinity Ward has released a trailer showcasing the rewards. When players hop into Season Two, they can experience the beloved map Rust, as well as three other multiplayer maps. Also, there are two new weapons, the Grau 5.56 and Striker-45, to earn camos for and dominate the playing field. Let's hop in and see what Season 2 has to offer and go over the patch notes.
Modern Warfare Season Two patch notes
Season Two is a GO.

Battle across maps and modes both new and old, with a haul of new content available. Jump into Season Two now! Live on all platforms. #ModernWarfare pic.twitter.com/LBoKWsm7oH

— Call of Duty (@CallofDuty) February 11, 2020
The first thing players will notice with Season Two is the gargantuan size of the patch's download. For PC and Xbox One users, the update is around 67 GB. PlayStation 4 gets a bit of a break, as the update is 51 GB. This is about the size of Modern Warfare as a whole, which is causing player excitement to drop drastically.
Activision has stated that the download size is so large because it's overwriting old files to increase optimization. While this may be good for the long run, some players with bad internet speeds will be waiting all day to hop into Modern Warfare Season Two.
Once the patch does end up downloading, you can explore all Season Two has to offer. This includes the new Battle Pass, which you can see below via Infinity Ward.
In terms of patch notes, you can find the full list on the Infinity Ward website. As always, there are a plethora of bug fixes as well as the aforementioned optimization changes. Although, there was one balancing change with the perks in Modern Warfare, as you can see below.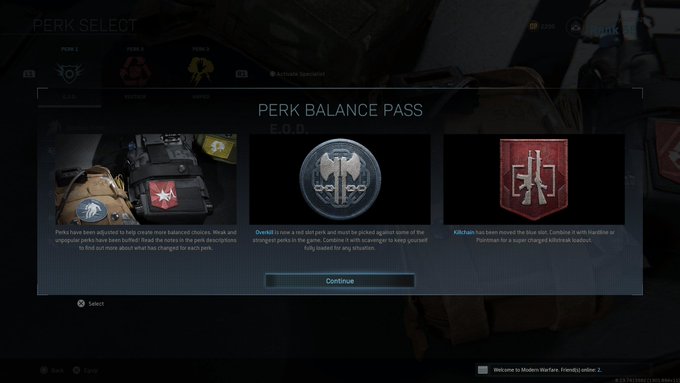 The verdict on Season Two is still out. However, it appears that Infinity Ward is trying its best to reverse some of the bad decisions from the beginning months of Call of Duty: Modern Warfare.
Are you going to play Season Two? Let us know, and keep up with Daily Esports for all Modern Warfare news.

Joey Carr is a full-time writer for multiple esports and gaming websites. He has 6+ years of experience covering esports and traditional sporting events, including DreamHack Atlanta, Call of Duty Championships 2017, and Super Bowl 53.