League of Legends
VALORANT
CS:GO
Overwatch
Call of Duty
Halo
DOTA 2
Apex Legends
Rocket League
Smash
After a weekend of fierce matches during the World of Warcraft Arena World Championship Circuit, European team Kungarna and North American team Three and a Half Men received final weekly scores of 2-0. SK Gaming and Team Liquid also earned a weekly score of 2-0, positioning them all in leading spots to secure a place in the event's grand final.
WoW AWC Circuit Week 1
On the first day of the matches, Kungarna faced MyWay over in the European region. Kungarna players started off strong in the Nagrand Arena, taking down the opposing team's Priest, Hunter and Druid using Priest, Mage and Rogue.
Although MyWay's Hunter kited attacks while receiving heals, Kungarna players made use of crowd control and burst him down for the win. This was followed by another victory for Kungarna in the Hook Point arena and Dalaran Sewers.
Just like Kungarna, Three and a Half Men fought against their opponent and won 3-0. The match point between Three and a Half Men and Novus took place in the Tol'Viron Arena, with the former team peppering the enemy Mage with attacks. MyWay's Mage used Ice Block and made it back to his team while Three and a Half Men's Priest narrowly escaped death from the enemy Rogue. The game soon ended as the Priest got hit with Polymorph plus Counterspell and the Mage went down to zero health.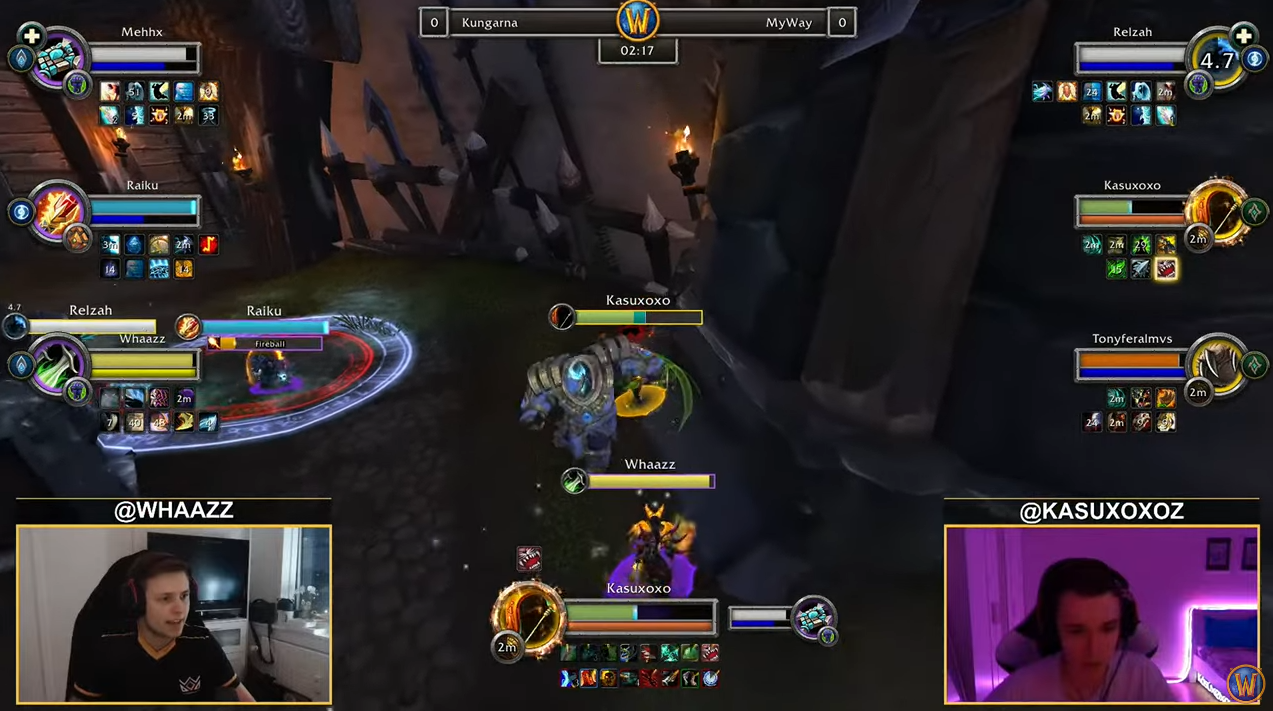 Kungarna and Three and a Half Men go undefeated
On the second day of the WoW AWC Circuit, Kungarna opened the European region in a match against Delirium. Kungarna earned a clean score of 3-0, defeating the opposing team in the Nagrand Arena, Ruins of Lordaeron and Dalaran Sewers. Meanwhile, Three and a Half Men went up against the Golden Guardians and earned a score of 3-0 again through Nagrand Arena, Hook Point and Ruins of Lordaeron victories.
When WoW AWC Circuit Week 1 concluded, Kungarna and Three and a Half Men were on top of the leaderboard. Kungarna's victories against MyWay and Delirium plus Three and a Half Men's wins over Novus and the Golden Guardians earned them both a final weekly score of 2-0. SK gaming had the same score thanks to their victories against LF Org and No $ Just Funny. Meanwhile, Team Liquid ranked high in the standings after going against Power Men and Cloud9.
The WoW AWC Circuit will resume next weekend from June 4-5 on YouTube. After a total of four weeks, the top four teams will head to the WoW AWC grand finals that will take place from July 16-17.

Amy Chen is an esports journalist and enthusiast who specializes in in-depth interviews and breaking news. A University of Toronto and Humber College graduate, she is passionate about building up the Canadian esports industry. Her current favorite games are Hearthstone and Heroes of the Storm, and she has always had a soft spot for World of Warcraft!