The Call of Duty: Warzone tournament scene keeps on heating up with every passing week. Already home to several high-profile events, another one is taking center stage right in time for the Halloween season. Jordan "HusKerrs" Thomas, a popular Twitch streamer for NRG, has recently announced a 300k tournament centering around the battle royale. Spanning three weeks and featuring 16 stacked teams of two, the "HusKerrs Howl" is set to be a must-watch event for any Warzone fan. Find out how you can watch and how the tournament will work overall down below.
HusKerrs Howl Warzone tournament announced
Like any other event the game has featured, this will all be done online. The 16 teams will play each other from the comfort of their own setups and the matches will be streamed on a special Twitch channel. You can go to Twitch.TV/huskerrshowl for that broadcast or tune into the 32 players' streams.
In terms of how the event will work, it will be a double-elimination bracket. The 16 teams will go through two rounds of qualifiers, with the first week featuring the popular new game mode, Zombie Royale. The second qualifier will be the standard Warzone mode, as Zombie Royale will be gone after November 3. You can view how the bracket will work in the image below.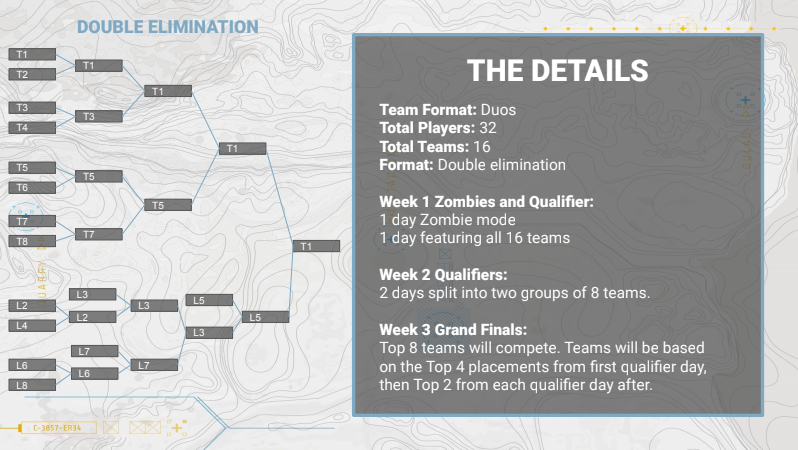 HusKerrs Howl will begin on October 30 with the first round of qualifiers. HusKerrs will be casting over the matches on the dedicated Twitch channel, offering commentary, comedic relief, and anything in between.
The prize pool for the event is $300,000, with the lion's share going to the duo who comes out on top in the grand finals. Teams for the tournament will be announced in the upcoming week.
Will you be watching HusKerrs Howl? Let us know in the comments, and stay tuned to Daily Esports for all Call of Duty news.
About the Author
Joey Carr is a full-time writer for multiple esports and gaming websites. He has 7+ years of experience covering esports and traditional sporting events, including DreamHack Atlanta, Call of Duty Championships 2017, and Super Bowl 53.