For over a decade, Call of Duty has teamed up with other companies to promote the upcoming title, this year being Modern Warfare 2. These companies are usually in the food and drink business, allowing players to purchase their products in retail stores. Upon this purchase of a Call of Duty-specific product, players will be rewarded with various in-game content, most notably Double XP codes. The Double XP codes have returned this year in MW2, with Call of Duty partnering with both Mtn. Dew and Little Caesar's.
In the past, Mtn. Dew has been a prominent sponsor for any new Call of Duty title, so it's not shocking to see the two companies team up again in 2022. Little Caesar's, on the other hand, is a new partner. The pizza restaurant has seemingly replaced Dorito's, which has been a main Double XP provider for COD in the past.
Players can take full advantage of both Mtn. Dew and Little Caesar's to earn Double XP codes, COD Points, and other content in MW2. Below, we'll show you exactly how to do so and redeem your Double XP codes that you receive from the company's products.
Redeeming Mtn. Dew and Little Caesar's Double XP codes in MW2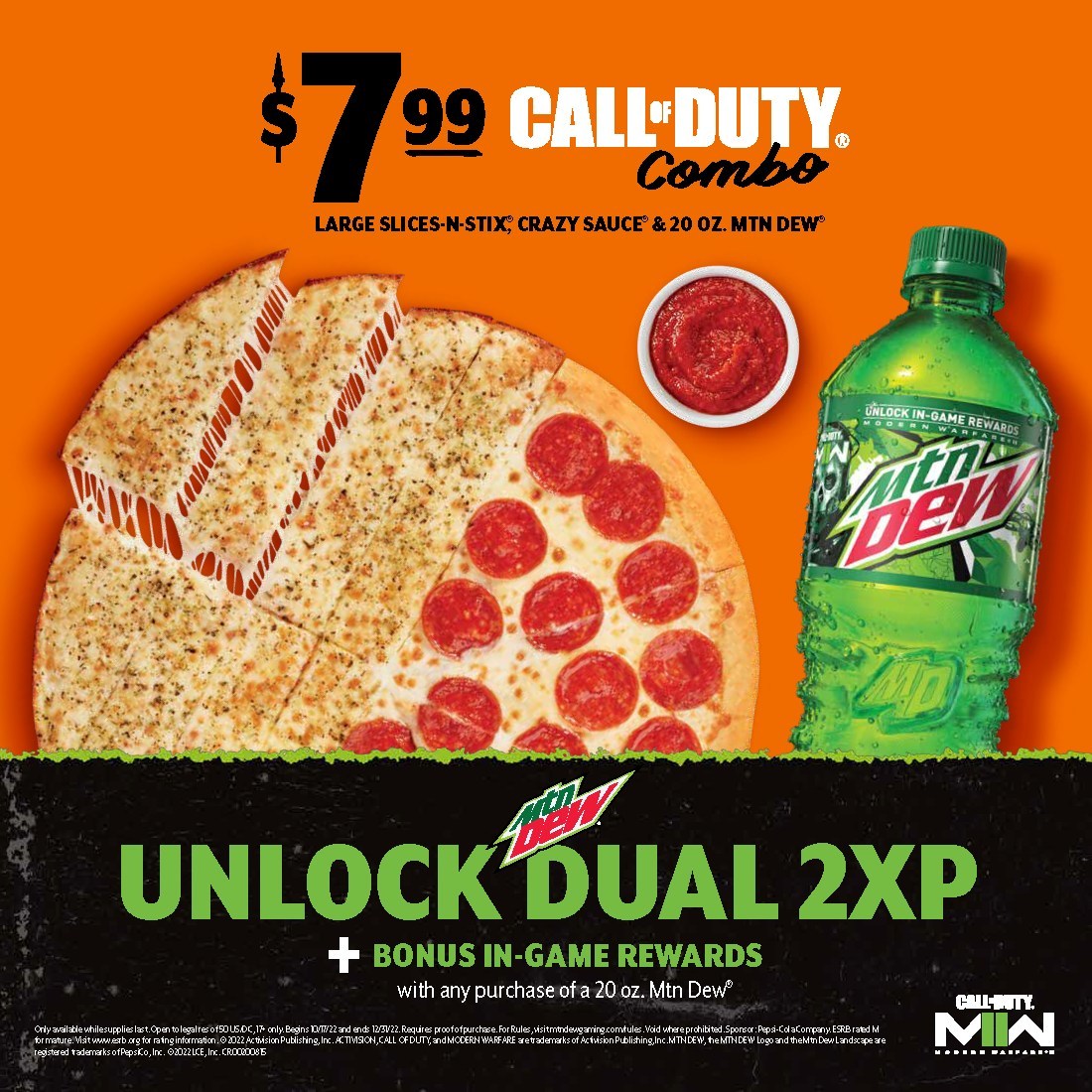 The Double XP promotion for both Mtn. Dew and Little Caesar's began today, Oct. 17. The promotion will wrap up on Dec. 31, 2022. These rewards are only redeemable for US and Canada residents. In order to redeem your Double XP codes, you'll need to specify which product you've purchased.
At Little Caesar's, you can order anything and look at your receipt to see a redeemable code. You can also order the Call of Duty Combo for $7.99, which comes with a 20 oz bottle of Mtn. Dew. A Double XP code will be present on the receipt and the Mtn. Dew bottle itself. When you find any Double XP code, you need to go to www.LittleCaesarsCallOfDuty.com, enter your Activision account, then the code, and your reward will be waiting for you in MW2.
Little Caesar's and Mtn. Dew rewards in MW2
In addition to a Double XP token in MW2, you will also receive:
Player Card
Emblem
Weapon Charm
Entry to a sweepstake for a PS5, controllers, and more
These rewards will be waiting for players if they enter any code from the promotion. However, players who are just interested in Mtn. Dew can also earn even more rewards.
Mtn. Dew rewards in MW2
Mtn. Dew is running a separate promotion from Little Caesar's. Fans who pick up a Mtn. Dew product can find various amounts of COD Points and different Double XP codes on the products. The list of eligible products and the rewards each carry are viewable below:
20oz Mtn. Dew PRODUCTS – 30 minutes of Dual XP
12 packs – 60 minutes of Dual XP + 75 CoD Points
24 packs – 120 minutes of Dual XP + 150 CoD Points
16oz Mtn Dew Game Fuel – 15 minutes of Dual XP
Dual XP refers to both Double XP and Double Weapon XP. To redeem these Mtn. Dew specific codes, players can go to https://mtndewgaming.com, enter their Activision account info, their code, and the rewards will be waiting for them in MW2. These codes need to be redeemed prior to March 23, 2023.
About the Author
Joey Carr is a full-time writer for multiple esports and gaming websites. He has 7+ years of experience covering esports and traditional sporting events, including DreamHack Atlanta, Call of Duty Championships 2017, and Super Bowl 53.