League of Legends
VALORANT
CS:GO
Overwatch
Call of Duty
Halo
DOTA 2
Apex Legends
Rocket League
Smash
PC players have access to Call of Duty: Vanguard for the first time through the open beta this weekend. Compared to the console versions, PC seems to run much smoother. However, there have been reports of the game running on low FPS for those with some older systems. Also, the visibility issues that plagued the console version last weekend are present in the PC version as well. This has led players to ask how they can increase FPS in Vanguard and if there's a way to turn up the visibility.
Luckily, both of these problems are fixable through the in-game settings. Players are free to customize the display and quality settings however they want, but there are some sure-fire choices to increase FPS and make the visibility much better in Vanguard multiplayer.
Best FPS settings in Vanguard
Players on PC can customize their settings in Vanguard by clicking the "Settings" button and navigating to the "Graphics" tab. From there, players will want to stay on the smaller "Display" tab and use the following settings to maximize performance.
Display Mode: Fullscreen
Monitor: The monitor in use
Refresh Rate: Whatever the monitor's highest refresh rate is
Sync every frame (V-Sync): Off
Framerate Limit: Whatever the refresh rate is
Nvidia Reflex Low Latency: Enabled
Display Resolution: Personal preference but not higher than what the monitor is capable of
Display Gamma: 2.2 (sRGB)
Focused Mode: Off
Focused Mode Opacity: 1
Display Adapter: The GPU in the system
These settings lay the groundwork for the boost in FPS and visibility that comes with the quality settings in Vanguard. Those are seen below.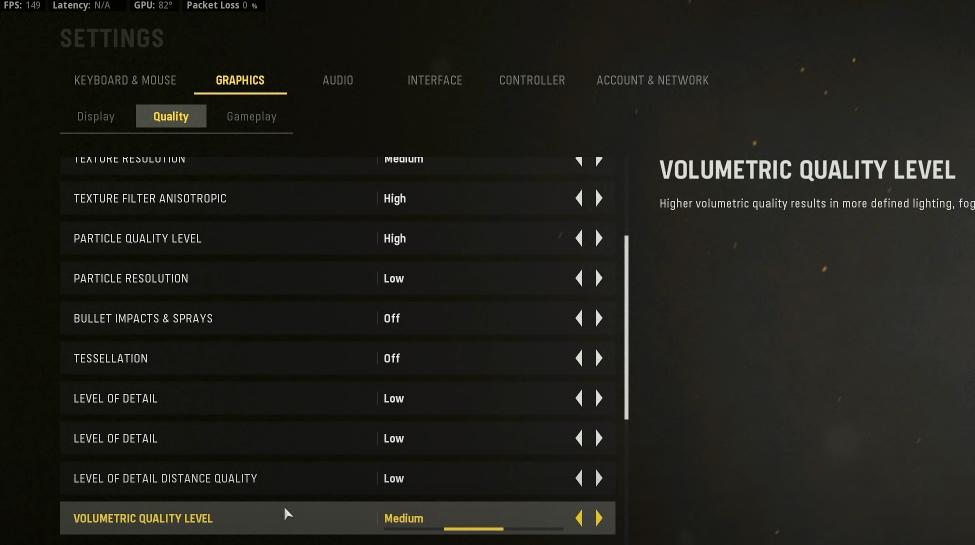 Render Resolution: 100
VRAM Usage Target: 80%
Texture Resolution: Medium
Texture Filet Anisotropic: High
Particle Quality Level: High
Particle Resolution: Low
Bullet Impacts and Sprays: Low
Tessellation: Off
Level of Detail: Low
Level of Detail Distance Quality: Low
Volumetric Quality Level: Low
Shadow Map Resolution: Low
Sun Shadow Cascades: Low
Cache Spot Shadows: On
Spot Cache Size: Off
Cache Sun Shadows: On
Spot Shadow Quality: Low
Particle Lighting: Low
Ambient Occlusion: Off
GTAO: Low
Screen Space Reflection: Off
Anti-Aliasing: SMAA T2X
Filmic Strength: 0
The biggest takeaway from these settings is raising the Particle Quality Level to High. This allows objects in the distance to become clearer, creating better visibility on maps like Red Star. However, to combat the high setting, the Particle Resolution is set to Low, providing for a more stable FPS in Vanguard.
These settings could change closer to the Nov. 5 launch but, as of right now, they're the best bet.

Joey Carr is a full-time writer for multiple esports and gaming websites. He has 6+ years of experience covering esports and traditional sporting events, including DreamHack Atlanta, Call of Duty Championships 2017, and Super Bowl 53.