The newest event in COD Mobile Season 8 is Monastery Madness and it has a fresh set of challenges for players to complete. The event has several rewards for players to earn but only if they complete the tasks in the set. All of the challenges take place in the Monastery Madness 24/7 playlist. While most are simple enough, one task has players earning yet another rare achievement in COD Mobile, the Crackdown medal.
The Crackdown medal is earnable in multiplayer and should be simple to achieve in the Monastery Madness 24/7 playlist.
Earning the Crackdown medal in COD Mobile
The exact challenge in the Monastery Madness event is to "Get the Crackdown medal 5 times in Monastery 24/7 Playlist matches." Players can earn the Crackdown medal by earning a single kill with the Sentry Gun killstreak in multiplayer. One kill equals one medal, so players need to get five kills with Sentry Guns to complete this challenge.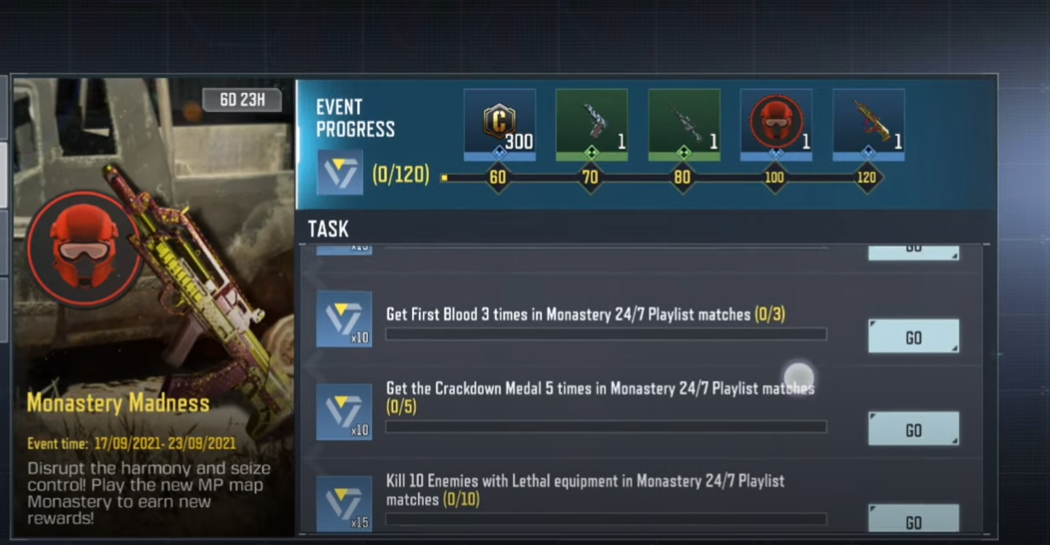 For players that don't have the Sentry Gun unlocked, they can do so by reaching account Level 10. It's unlocked for free and automatically added to the player's killstreak menu. If players already have it unlocked, they need to equip it in one of their three streak slots and hop into a match in the 24/7 playlist.
From here, players can focus on earning a five killstreak, or Bloodthirsty medal, to earn the Sentry Gun. After players have achieved that, they need to set up the Sentry Gun in an advantageous position. Also, players need to make sure the Sentry Gun is in a spot where enemies can't destroy it too easily.
Small to medium-sized maps work best for this but any map will do. As long as players are diligent in playing, they should be able to earn five Crackdown medals in COD Mobile. This will push them one step closer to completing the Monastery Madness event.
About the Author
Joey Carr is a full-time writer for multiple esports and gaming websites. He has 7+ years of experience covering esports and traditional sporting events, including DreamHack Atlanta, Call of Duty Championships 2017, and Super Bowl 53.