League of Legends
VALORANT
CS:GO
Overwatch
Call of Duty
Halo
DOTA 2
Apex Legends
Rocket League
Smash
The Hearthstone Grandmasters Season 2 Week 2 matches have crowned Ishibashi "posesi" Wataru, Neila "Frenetic" Quiñones and Jerome "Monsanto" Faucher as its regional champions. The three winners duked it out against their competitors throughout the past weekend, within the game's United in Stormwind expansion. Unlike the previous week, competitors fought using the Last Hero Standing format.
Shaman and Mage victories
The second week of matches began with the Asia-Pacific region, with posesi earning the top spot. To get there, he bested Poramet "Bankyugi" Putchakan and Kim "Surrender" Jung-soo before dueling Yashima "Alutemu" Nozomi. In the regional weekly finals, posesi earned a score of 3-1 after winning with his Quest Shaman and Shadow Priest decks.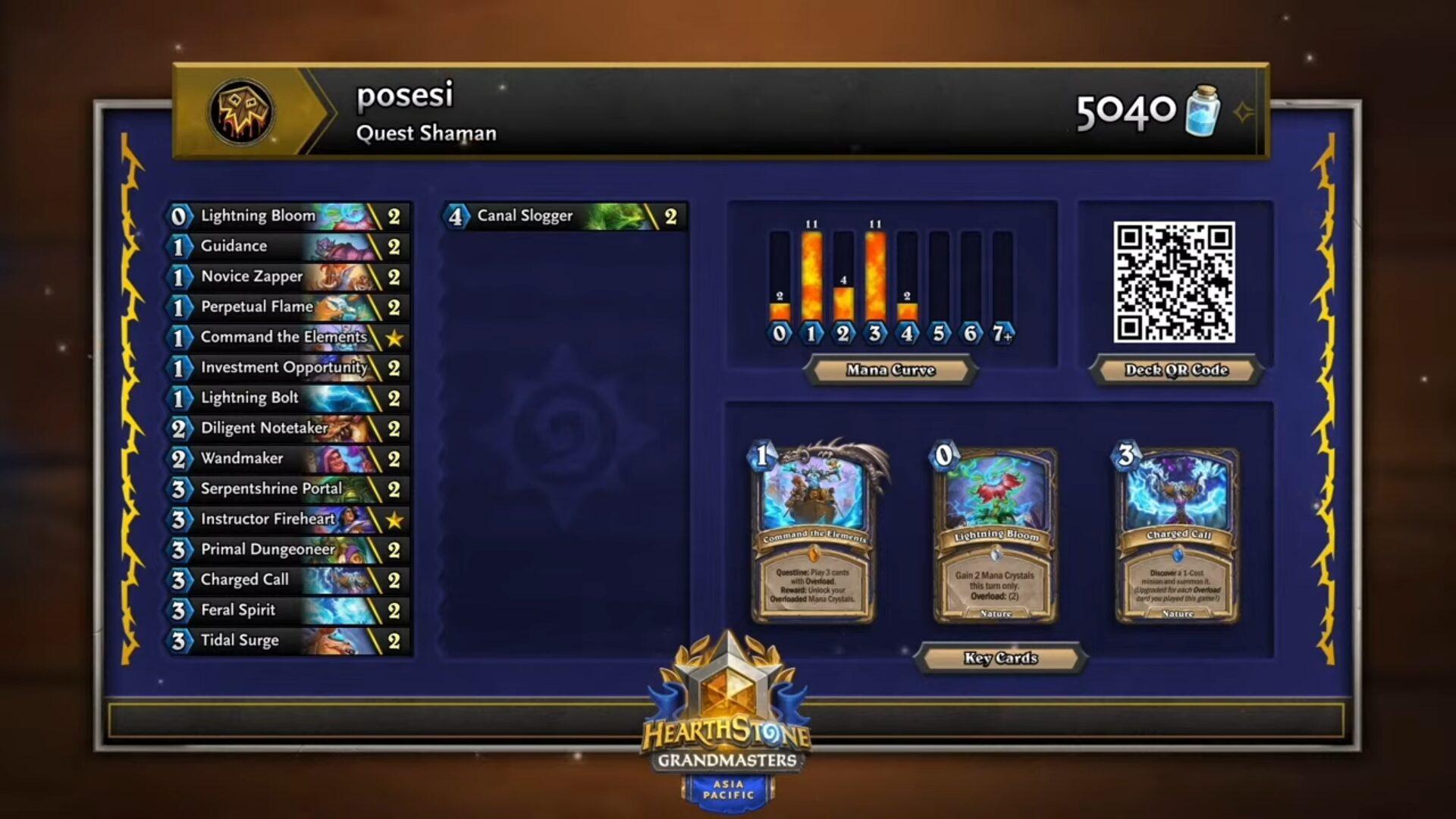 As for Hearthstone Grandmasters Europe, Frenetic became the weekly champion. He fought his way to the top four after winning against Simone "Leta" Liguori and Vladyslav "J4YOU" Krasovskyi in the live broadcast. After he bested Enzo "Warma" Floch for a spot in the finals, he faced Raphael "BunnyHoppor" Peltzer. Frenetic used his Quest Mage deck and swept his opponent's Mage, Hunter and Shaman decks, 3-0.
As for Monsanto, he won against Luke "NoHandsGamer" Kooken and Carl "CaelesLuna" Di Vetob, before fighting Davi "Fled" Garcia in the final. Fled's Quest Shaman won the first game against Monsanto's Priest deck. Next, Fled continued with the Quest Shaman win streak, against Garrote Rogue.
However, Monsanto prevented a sweep during the Shaman mirror match. Monsanto then tied the score 2-0 using Quest Shaman, against Fled's Anacondra Druid. When it came down to the match point, Monsanto became the weekly regional champion by winning against Face Hunter and completing a Quest Shaman reverse sweep.
Hearthstone Grandmasters
During every week of Hearthstone Grandmasters Season 2, $64,500 is on the line, with the playoff week involving $34,500. Hearthstone fans can tune in on YouTube for all the action.
The top players battle in weekly matches every Thursday, although these aren't streamed. On Friday, the live broadcast begins, and players compete to determine the weekly top eight. After the Saturday matches, the top four players advance to Sunday's games.
The broadcasts for Hearthstone Grandmasters Season 2 will resume on Sept. 3, after Hearthstone Masters Tour Silvermoon.

Amy Chen is an esports journalist and enthusiast who specializes in in-depth interviews and breaking news. A University of Toronto and Humber College graduate, she is passionate about building up the Canadian esports industry. Her current favorite games are Hearthstone and Heroes of the Storm, and she has always had a soft spot for World of Warcraft!