League of Legends
VALORANT
CS:GO
Overwatch
Call of Duty
Halo
DOTA 2
Apex Legends
Rocket League
Smash
On Wednesday, G2 Esports did what no other team had done before: the European squad took down Sentinels in a LAN series. With a swift 2-0, G2 got revenge for an earlier series loss against the titans of North American VALORANT at VCT Masters Berlin. G2 now heads into the playoffs as the first seed of Group D, facing Latin American KRÜ Esports in the quarterfinals.
It is the first step G2 takes towards climbing back atop the European throne, on which they last sat at the end of 2020. The organization has been revising its roster, hunting for the perfect lineup, ever since.
A wide spectrum of possible talent
Trying to complete a desired lineup brings its challenges in a game as young as VALORANT. When you scout a player you might want to recruit, you often lack a lot of information.
"You don't know anything about them as individuals," G2 player Oscar "mixwell" Cañellas Colocho said. The former CS:GO pro has been a cornerstone of the lineup since the organization entered the scene.Despite there being an unknown factor when looking for VALORANT talent, mixwell sees the upsides of the young scene as well,
"I think it's easier to build a lineup in VALORANT than in CS:GO," he said. "Everything is more accessible here. In CS, new talent is harder to get. Everyone is signed, so buyouts are really high."
The field of available talent in VALORANT is a giant cocktail, including a mixture of veterans from other FPS titles and rookies who are just starting out. This wide spectrum lowers the overall standards for VALORANT players, but further contributes to the accessibility of talent, according to mixwell. He can use his knowledge from his CS:GO days to gauge how effective a veteran switching to VALORANT might be.
When it comes to rookies, there is a lot more risk involved. Neil "neilzinho" Finlay, G2's coach, talked about the stress that comes along with recruiting them.
"At G2, you're expected to win everything you play," he said. "They don't necessarily take into consideration how hard it is to build a team."
G2's latest roster addition, Cista "keloqz" Wassim, was one of those risky guesses. After neilzinho spotted him online, keloqz was one of the many people the team tried out. "I think we tried out eighteen people in four days," neilzinho said.
keloqz recalled the moment G2 reached out to him with joy. He had tried out for FPX as well, but when he got to play with the G2 lineup, he felt an instant connection.
"It was like I had been playing with them for ten years," keloqz said.
Building the framework for success
Creating an effective lineup requires much more than just finding a bunch of good players. In 2020, G2 sat atop the European competition. However, in 2021 they dropped off. It was their first hard wake-up call and the reason neilzinho was brought on as a coach.
"In the old G2 lineup, the one that dominated early, there was basically no structure when I came in," neilzinho said. "They were just flowing as five, running around and killing people."
G2 did not have a dedicated in-game leader — a crucial role in VALORANT. After David "Davidp" Prins left, the team had to play with stand-in Oscar "ozzy" Scott. G2 bet on Aleksander "zeek" Zygmunt next to be what they needed, but it didn't work out.
Mixwell praised zeek's innate skills, but noted that he did not fulfill the role G2 was looking for, "He was young and good, but in the end, you need an in-game leader. It's better to have structure than to have a really good five-man roster with no structure."
Nukkye is just better #VALORANTMasters pic.twitter.com/vJkCgjX1Cc

— G2 Esports (@G2esports) September 14, 2021
When G2 failed to qualify for Masters Reykjavik, rigorous changes were inbound. Jacob "pyth" Mourujärvi benched himself in the wake of competitive disappointment. When three other players did not respond well to the team's attempt to implement structure, G2 management concluded that only mixwell could remain on the roster.
"It's not just about result," neilzinho said. "It's also about the dedication that the players are showing."
In search of new players to join, mixwell found three he knew well from his CS:GO days: Žygimantas "nukkye" Chmieliauskas,  Auni "AvovA" Chahade, and Jose Luis "koldamenta" Aranguren. The three joined simultaneously in June, with koldamenta fulfilling the long empty role of in-game leader for G2 Esports VALORANT.
"It is very limited, but there are stars out there," neilzinho said. "We're just very fortunate to be in G2, who can afford those types of players."
A lucky mix of personalities
The personalities on the new team seem to blend perfectly as well. Mixwell and neilzinho both highlighted the work ethic of their compatriots, who all are receptive to feedback and are dedicated to making this lineup as good as it can possibly be. With his youthful energy, keloqz brings much needed lightheartedness to a team of FPS veterans.
"You need to have someone in the team who has energy, who has fun," the young Frenchman said, "I am fun!"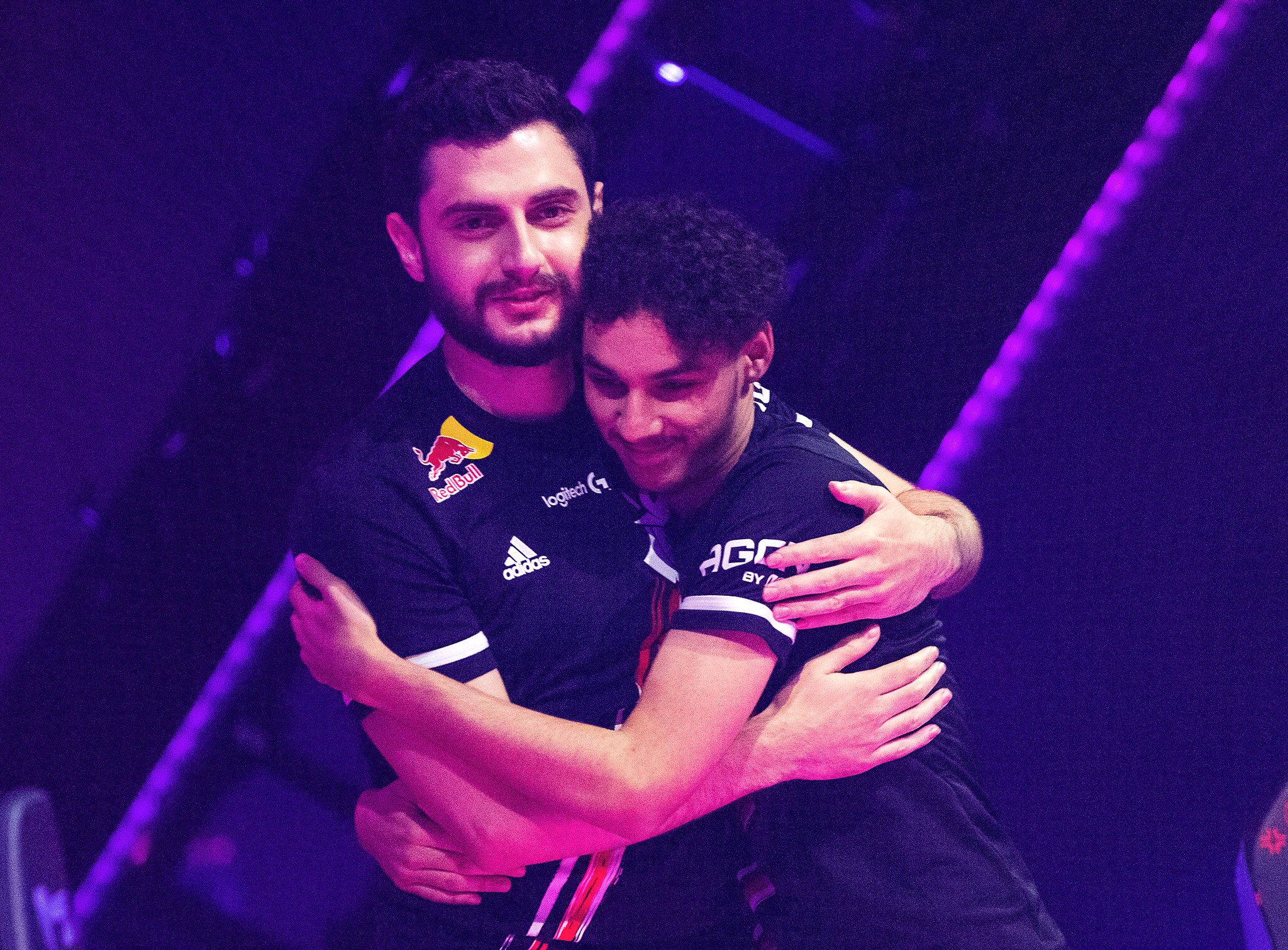 A strong bond has developed between mixwell and keloqz. When keloqz joined, he initially had to play supportive roles, as it was mixwell who had been playing the aggressive Jett. But when mixwell saw keloqz's potential as a playmaker, he took a step back in order to let a new generation stand in the spotlight.
"He really wants to stand out," mixwell said. "I help him with everything he needs, to be honest. If he needs advice, I'm always there."
Mixwell's mentorship has fallen over keloqz like a warm blanket. Neilzinho and mixwell both point out that keloqz wasn't just a diamond in the rough in terms of raw skill. Despite only having practiced with the team for a few weeks, keloqz's improvement is visible, both inside and outside of the game. He's absorbing the feedback he's given, molding him into the perfect player for G2.
Keloqz himself, in turn, mentioned both neilzinho and mixwell when asked about his biggest influences.
"They helped me understand the game more," he said of his first few weeks on the team, "mixwell, for me, is the best player. I'm really happy to play with him."
The hunt for perfection never ends
Still, however perfect G2's current lineup might seem, mixwell, keloqz, and neilzinho all realize that this could shift at any moment. They may be on the right track with their performance so far at VCT Masters Berlin, but the team is very aware that things can change rapidly.
"If you aren't winning everything, changes are inevitable," neilzinho said. "It's something we're proactively thinking about. We have to."
He explained that he sees the rapid improvement his team is making in terms of structure, but that he is far from where he wants it to be. By his estimation, if G2 keeps up the same training intensity and motivation, the team will reach its ideal state by next year.
Until then, the team keeps an eye on any fitting veteran switching over to VALORANT, or new rookies that emerge. "You have to be ready to pick up the next guy," keloqz noted. Mixwell, keloqz and the rest of G2 will continue their climb, starting with a shot at the Berlin trophy.
"I think we have everything we need to have to win this tournament."
Having stood the test of time on G2's VALORANT roster so far does not mean mixwell has any illusions of immunity. Quite the contrary, actually. Every single day, he said, he reminds himself of his goal. His fate is in his own hands.
"If one day someone else comes for your place, unlucky," he said, "you should have done better."

Tom fell in love with esports in 2015 and has been reporting on multiple scenes since. In his spare time, he dwells on the Howling Abyss in League of Legends, or on the vast oceans in Sea of Thieves.