The Call of Duty: Vanguard multiplayer beta is ongoing and there's a slew of new information players have access to. From all known perks to field upgrades to weapons, players can tinker with each element during their short time with the game. Also a part of this discovery is the killstreaks, which have received a revamp when compared to Black Ops Cold War.
Vanguard has returned to the Modern Warfare 2019 system of streaks. The streaks in multiplayer only increase by getting kills and reset upon death, which is a complete reversal from Cold War. As a result, the streaks have much more value to them, as players need to stay alive to earn them. Below, fans can see all of the current confirmed streaks that they'll be fighting for in Vanguard.
All confirmed killstreaks in Vanguard
As of right now, there are 10 confirmed killstreaks in Vanguard multiplayer. Whether Sledgehammer Games revealed the streaks or players have access to them in the beta, all of these streaks will be included with Vanguard's launch on Nov. 5.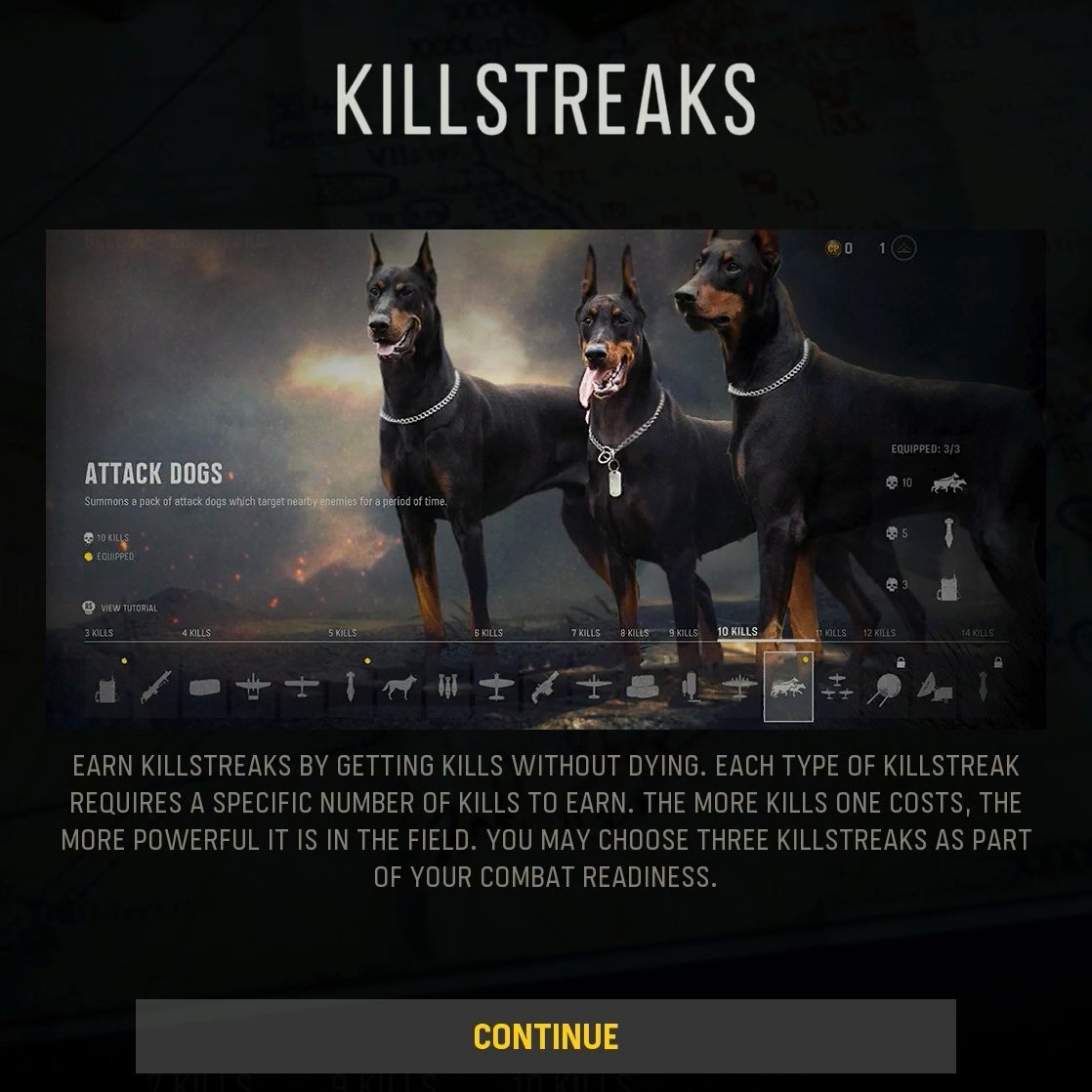 However, there are also some streaks that players don't have access to in the beta, but their icons are viewable. Some are too vague to correctly identify but a few have simple icons that players recognize. The full list and how many kills each streak costs are listed below.
3 Kills 
4 Kills
Spy Plane (UAV)
Care Package
Counter Spy Plane (Counter UAV)
5-6 Kills 
Glide Bomb (The same from WWII, Predator Missile)
Death Machine (Mini-gun, doesn't run out after death, only when it's out of ammo)
Mortar Barrage
Single Dog (Only one dog that chases and kills enemies)
War Machine (Grenade launcher, doesn't run out after death, only when it's out of ammo)
7-10 Kills 
Flamenaut (Flamethrower, players lose the streak if they die with it in hand)
Emergency Airdrop (Several Care Packages drop for the whole team)
Attack Dogs (10 dogs that chase and kill enemies)
11 Kills
25 Kills 
Streaks like the Single Dog, Advanced Spy Plane and Emergency Air Drop aren't 100% confirmed, but they're viewable from the killstreak menu. Of course, Sledgehammer Games could still change course and alter these streaks but as of right now, they're in Vanguard at their various killstreak requirements.
There appear to be 19 total killstreaks in Vanguard but fans won't see what around half of them are until the full launch.
About the Author
Joey Carr is a full-time writer for multiple esports and gaming websites. He has 7+ years of experience covering esports and traditional sporting events, including DreamHack Atlanta, Call of Duty Championships 2017, and Super Bowl 53.