League of Legends
VALORANT
CS:GO
Overwatch
Call of Duty
Halo
DOTA 2
Apex Legends
Rocket League
Smash
Esports competitor Eddie "Eddie" Lui revealed that the current season of Hearthstone Grandmasters will be his last one on Thursday.
Last season of Grandmasters
"Since early 2021, I have slowly lost the motivation to play the game," he wrote on TwitLonger. Eddie then acknowledged that he was lucky to have a practice group and the control meta, which helped him avoid relegation in the previous season.
"I was lucky enough to have a great practice group and a control meta for me to avoid relegations last season so my last season didn't happen sooner."
He also noted that he didn't play enough, referring to the shaky moves during the live broadcasts. As for why the current season of Hearthstone Grandmasters will be his last one, Eddie said he's not sure if it's because of burnout or if the game is not as fun for him anymore.
He realized that his mindset changed as well, thinking back to his previous Hearthstone Masters Tour. During that tournament, it was the first time in his five-year esports career that his lineup consisted of three aggro decks.
"It wasn't because that I think they were the best bring, it was just because I believe I could make the least amount of misplays with them and get lucky," he explained. "This mindset makes me realize [it's] probably time for me to leave and like muzzy said give young blood a shot for their dreams."
Eddie spoke with Facundo "Nalguidan" Pruzzo as well, who is another player in the competitive Hearthstone scene. Eddie revealed that the conversation made him realize how lucky he was to be able to compete compared to South American players who cannot compete due to travel costs.
"I know that they would definitely have a better shot of making NA proud than me with my current performances," Eddie added.
Furthermore, Eddie noted that he wanted to make it to the worlds finals at least once before his retirement from Hearthstone Grandmasters. However, with his current level of love for the game, he said it would not happen.
"Although I really wanted to make worlds at least once before quitting, I know that with my current love and passion toward the game it's not going to happen, and even if a miracle does happen I'm just going to be an embarrassment as the NA representative."
Hearthstone saved Eddie's life
"In my darkest days, Hearthstone saved my life," Eddie wrote. He noted that there were moments when he felt that every day was the same.
"Hearthstone gave me a goal to wake up every day and be excited," he said. "I would theory craft on my way to school, practice after class in a discord call with a bunch of friends discussing different techs and lineup. I would dream about Hearthstone all the time."
Eddie concluded on TwitLonger that he would miss his friends. Hearthstone let him meet players from around the world, and having friends who had the same hobby and goal was a great feeling.
"Really appreciate all the people I've practiced with all these [years], would not have the results [from] previous years without you all," Eddie concluded.
The Hearthstone esports community
Last season, Eddie won first place in Hearthstone Grandmasters 2021 Season 1 Week 5. In addition to Nalguidan, he duked it out against players such as Martín "Tincho" Mazza, Ramiro "Rami94" Ponce, Davi "Fled" Garcia and Luna "lunaloveee" Eason during that week.
Eddie then claimed victory using the Warrior class with the help of cards like Brawl, Bulwark of Azzinoth and Shield Slam for board control.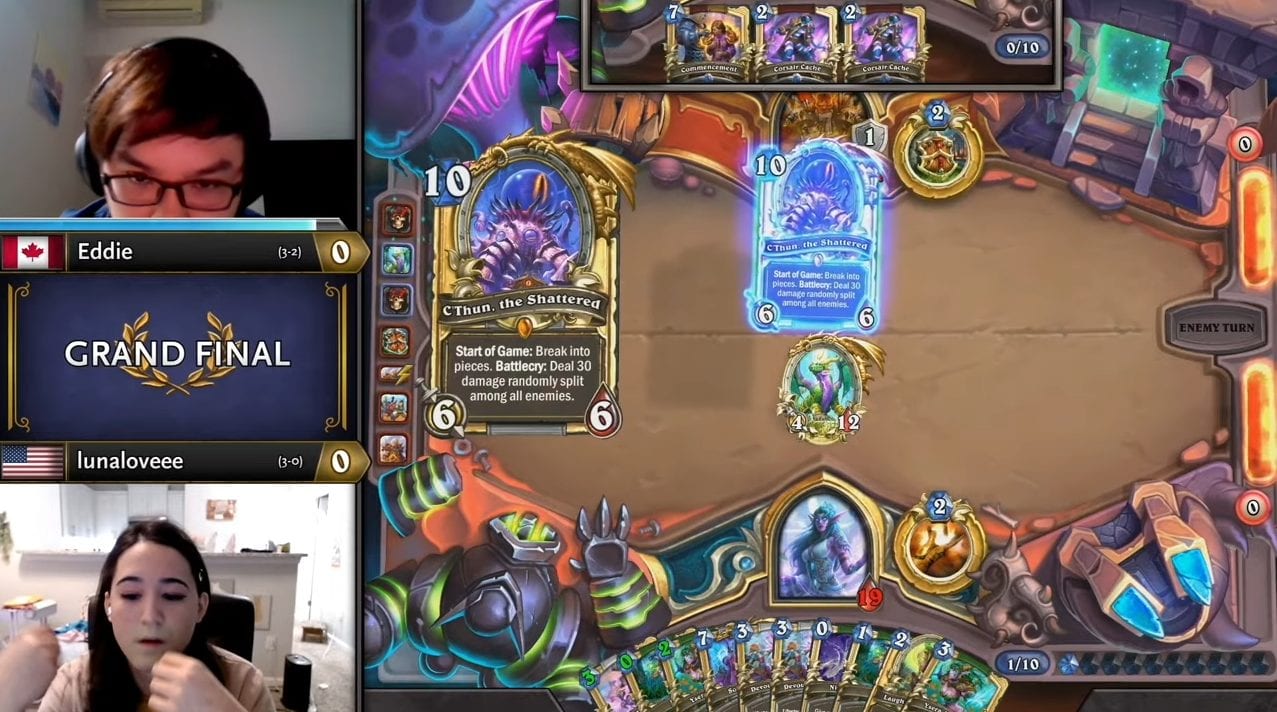 Other more recent tournaments where Eddie took home the gold include Masters Tour 2019 Bucharest and Grandmasters 2020 Season 2 Stages 2 and 3.
Eddie's friends and fellow competitors responded with understanding and encouragement for his future endeavors.
"Damn so sad to see you go but I understand where you're coming from. Hope you have success in whatever you focus on next," lunaloveee wrote on Twitter.
Meanwhile, Fled said he identified a lot with a part of Eddie's story. Many players such as David "killinallday" Acosta, Romaric "AyRoK" Dubois, Damien "Gaby" Mecheri and Jerome "Monsanto" Faucher replied under Eddie's tweet as well.

Amy Chen is an esports journalist and enthusiast who specializes in in-depth interviews and breaking news. A University of Toronto and Humber College graduate, she is passionate about building up the Canadian esports industry. Her current favorite games are Hearthstone and Heroes of the Storm, and she has always had a soft spot for World of Warcraft!