League of Legends
VALORANT
CS:GO
Overwatch
Call of Duty
Halo
DOTA 2
Apex Legends
Rocket League
Smash
100 Thieves substitute Quan "dicey" Tran was on his way to watch the 4th of July fireworks with his girlfriend, when he got the text of a lifetime. The VALORANT Champions Tour Stage 3 qualifiers were in full swing, and 100 Thieves were a man down. It was finally time, after five months, for dicey to return to competitive play.
On Saturday, July 3, 100 Thieves were settled into their game against Noble to qualify for the Challengers main event the following weekend. The outcome would determine which team would take a step forward in potentially making it to Masters 3 in Berlin, and which would go back to the lab. Noble started out by taking the first rounds of Haven from 100 Thieves, which they quickly recovered from. However, as the rounds continued, Ethan "Ethan" Arnold repeatedly disconnected from the game due to power outages in Houston, Texas. A vicious storm caused Ethan to continually lose power, disconnecting him from the game.
Dicey answers the call to action
Still on his way to meet his girlfriend, dicey saw Ethan's struggles to connect to the game. As a joke, he posted a gif on Twitter of Goku from Dragon Ball Z going Super Saiyan. Little did he know that he would have to actually go Super Saiyan himself, to save 100 Thieves.
— Quan | 100T (@diceyzx) July 3, 2021
"I was in the car on my way to go see fireworks with my girlfriend, and then I went on Twitter seeing Ethan's internet went out," said dicey. "So as a joke I tweeted the Goku power-up gif to troll and then next thing I know I get a message asking if I am able to go play."
It had been five months since dicey played for 100 Thieves. The team won First Strike North America together but failed to find success after the event. Following this, Counter-Strike: Global Offensive prodigy Ethan showed interest in transferring to VALORANT. A tough choice was made, and dicey was replaced on the roster by Ethan. Since then, dicey has yet to find a replacement team but remains adamant about pursuing a professional career in VALORANT.
His return to professional play is on … Skye?
On 100 Thieves, dicey had become known for his aggressive plays as VALORANT duelist Jett. However, as Jett began to leave the meta, 100 Thieves struggled to find Agents that everyone was comfortable with. Many months later, almost everyone on 100 Thieves now plays a different Agent than they did for First Strike. Ethan had been playing Skye, an initiator that doubled as a healer for the team. Skye is a fairly new addition to the Agent line-up and someone that dicey had not been practicing on.
"At this point, I'm extremely hyped," explained dicey. "Then they tell me I will be on Skye and I was less than enthused. I've been practicing with other Agents but Skye was the one I had the least practice on."
Despite being thrown into the game last minute, on an Agent he wasn't used to, dicey still made the best of it. 100 Thieves had a five-round lead on Noble before Ethan fully disconnected. This was a comfortable margin, but not enough to fully relax on. The team banded together to finish the game 13-9 in their favor. Even while playing Skye, dicey still went 10/16/2 on the Agent to save 100 Thieves from sudden death.
"When I got into the server I just focused up and tried my best to be helpful like the good ole days," said dicey. "They're [100 Thieves] all great people to play with."
100 Thieves' head coach thanks dicey
100 Thieves would go on to defeat Noble 2-1 after losing the second map on Icebox when Ethan re-joined the server. If Noble had overcome 100 Thieves during the first map, they could have easily lost 2-0 to Noble and missed out on qualifying for the main event of Challengers. VALORANT head coach of 100 Thieves, Hector "FrosT" Rosario, spoke about dicey's effort for the team.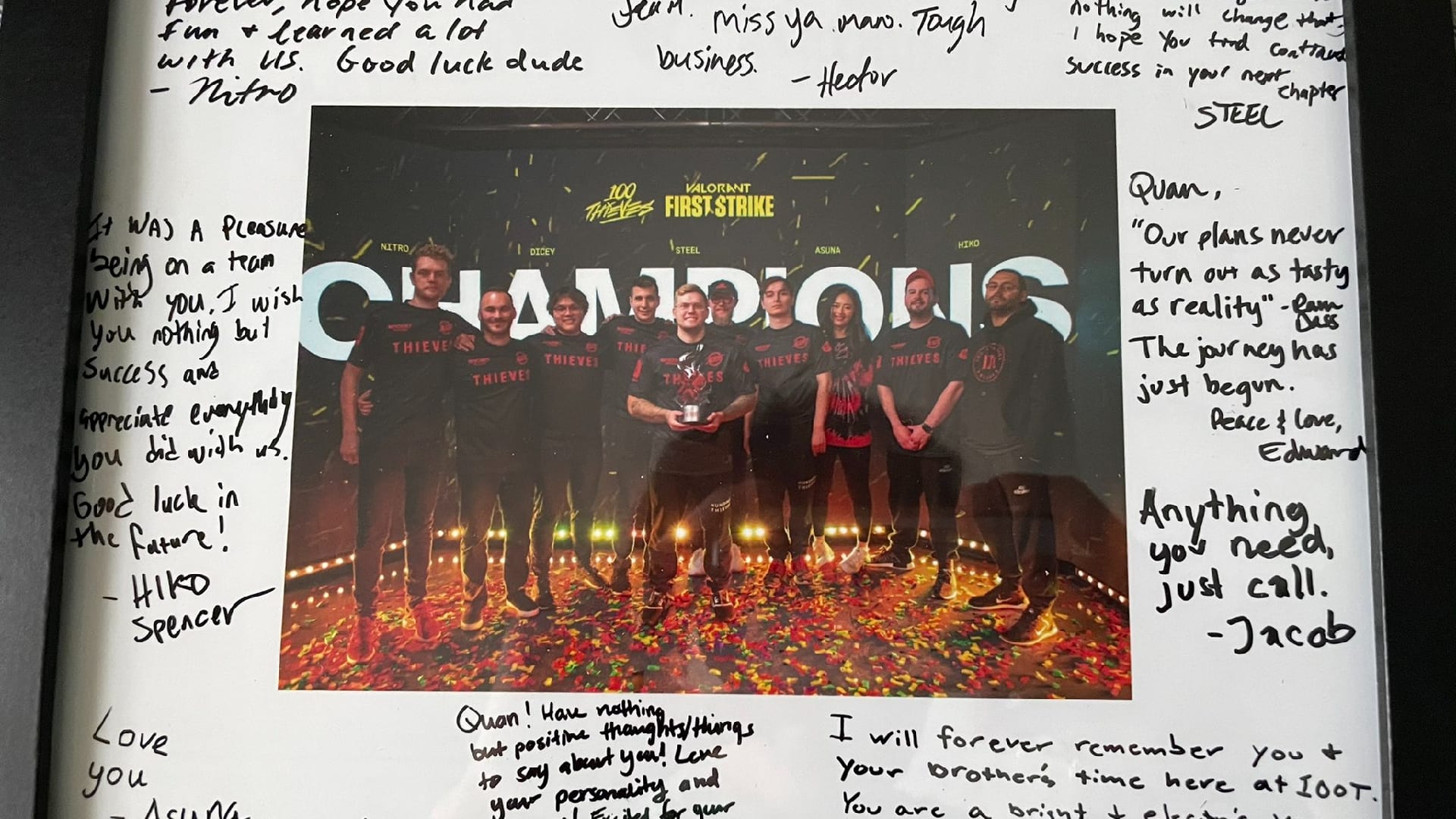 "As usual dicey put the team over himself first," said FrosT. "He was in the middle of something and rushed home to help us. He has been playing other Agents so we weren't worried about whether or not he could play as Skye. It sucks for Ethan that his power kept going out but this can happen during online qualifiers/events."
After his return to save 100 Thieves, dicey expressed his desire to play VALORANT competitively. Upcomer spoke with him shortly after he was benched from the team, where he explained his desire to go pro in the game he loved. That is still his goal despite spending months on the bench for his former team.
"I was glad to win the map with them and it reminded me of when I competed," said dicey after the map win. "At the moment I'm still looking and hoping to compete again."

Danny Appleford is an esports journalist for Upcomer that started writing for Daily Esports in 2020. He now specializes in articles surrounding League of Legends, Call of Duty, VALORANT and Halo.