The Call of Duty: Modern Warfare 2 season in the Call of Duty League is nearly upon us. We have just over one week until the game fully launches, which is the first time that amateur and professional teams will come together to play MW2. Teams don't have long to learn the game, though, as the first event of the 2023 season begins in December of this year. This means all 12 of the CDL rosters and the dozens of Challengers teams will need to start practicing right away. Luckily for most Challengers teams, it seems that their rosters have already been set prior to MW2 actually releasing.
Anyone who has followed the CDL Challengers circuit for the past three seasons knows just how volatile the scene can be; players are constantly switching rosters and teams change their names all the time. However, just in time for MW2's launch, it appears that a majority of the Challengers rosters are in place. We know this thanks to Boston Breach Academy player and Twitch streamer, Doug "Censor" Martin, leaking all of the Challengers rosters earlier this week.
Every current CDL Challengers roster
Censor was streaming late Monday night and decided to bring up the Google Spreadsheet that the Challengers scene uses to keep track of players and teams. Usually, this sheet is confidential from the community, but Censor showcased it in its entirety live on stream.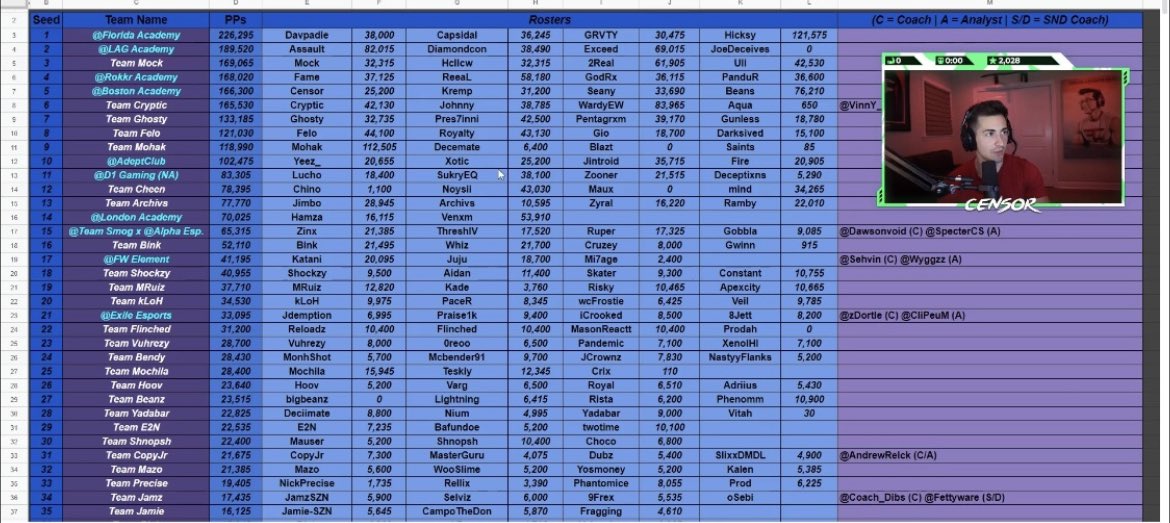 There are a plethora of interesting tidbits we can take from this. For starters, it seems as though Florida, LAG, and London all have new Academy rosters. Boston and Minnesota will keep their Academy rosters as well. There are some teams with former pros, such as Peirce "Gunless" Hillman. It looked like Gunless wouldn't be able compete in Challengers due to visa issues, but it appears he got those figured out; he's teaming up with Ghosty, Prestinni, and Pentagram this season. On another note, the London Academy roster has been fully revealed, with Skrapz and Classic joining Hamza and Venom.
Of course, these Challengers rosters are likely to change either before or shortly after MW2 launches. Most CDL Challengers teams don't stay together for long. However, this year could be different due to the Pro-Am at Major I in December. Amateur squads might be more inclined to stick it out until December for the best chances at the Pro-Am, but we'll have to wait and see.
About the Author
Joey Carr is a full-time writer for multiple esports and gaming websites. He has 7+ years of experience covering esports and traditional sporting events, including DreamHack Atlanta, Call of Duty Championships 2017, and Super Bowl 53.