After three long months, the Call of Duty League started back up for the 2023 Modern Warfare 2 season. This past weekend was the first round of qualifiers, with one additional round coming next weekend. Then, the CDL will head to Raleigh, North Carolina for Major I, which also happens to be a Pro-Am tournament. Since there are only two rounds of qualifiers for this major, every match counts, and teams gave it their all for the first MW2 matches of the season.
However, in classic CDL fashion, the weekend was slightly marred by controversy. In addition to that, there were shocking upsets, new players making their mark on the scene, and veterans showing they still have what it takes to compete.
CDL Major I Qualifiers recap
Starting off with the obvious, let's talk about OpTic Texas vs. Minnesota ROKKR. If you missed the first day of matches on Friday, then you avoided being a part of one of the longest days of qualifiers in the CDL's history. Thanks to several delays, the matches lasted over nine hours. The main delay took place during the OpTic/ROKKR match.
To sum up, OpTic seemingly won the map three Control on El Asilo, but it was revealed that ROKKR player Cameron "Cammy" McKilligan encountered an in-game bug with the SAE killstreak seconds before OpTic won the final round of the map. The CDL referees ruled that both teams would need to replay the round, even though many believe OpTic would have won the round regardless of if Cammy encounters the bug or not.
Due to this belief, OpTic disagreed with the league's ruling and chose to forfeit the match instead of continuing to play This meant ROKKR won the match, moving to 1-0, while OpTic dropped to 0-1. Texas would get back to .500 with a 3-0 sweep of Florida on Sunday while Minnesota defeated Toronto on Saturday to move to 2-0 and are currently sitting atop the standings for Major I.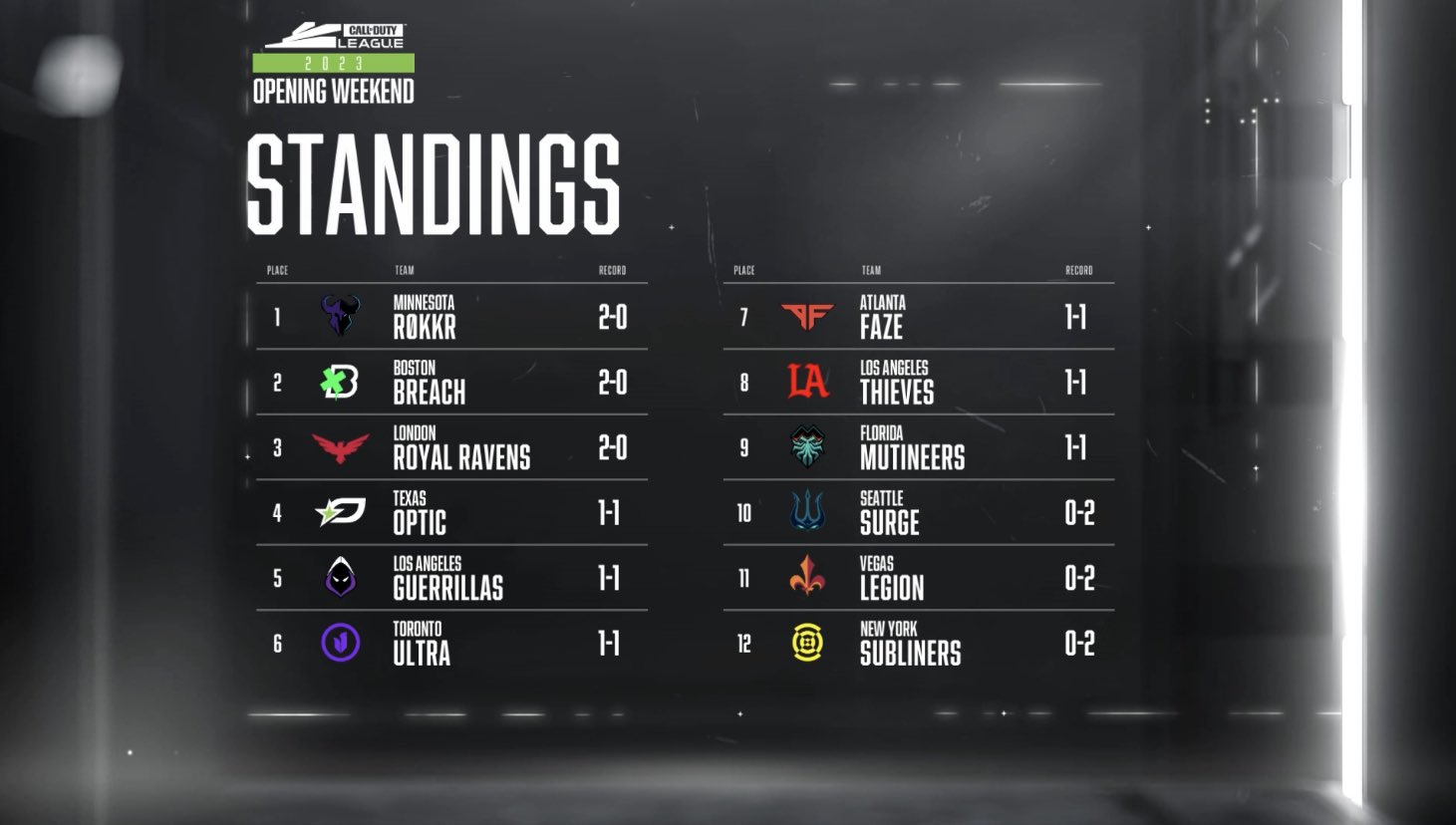 Moving on from that fiasco, a pleasant surprise from the weekend was the dominance of the London Royal Ravens. Heading into the season, a CDL coach's poll was done to rank every team. London finished at the bottom of those rankings by a wide margin. However, the Ravens showed that pre-season polls mean absolutely nothing, going 2-0 over the weekend with wins over New York and LAG. London was especially dominant in Control, not losing a single round, and Search and Destroy, finishing with an 18-4 round count.
The Boston Breach also shocked the community, finishing 2-0 as well. Boston kicked off the 2023 season with a bang by knocking off Atlanta FaZe in convincing fashion. Atlanta would regain against the defending world champion LA Thieves on Sunday, though, putting both teams at 1-1.
Some final notes from the weekend include Seattle Surge finishing 0-2, but second-year player Daunte "Sib" Gray is already making a case for MVP. He finished with a 1.89 KD in Seattle's first match against LAG. Finally, despite some hype coming into the season, the revamped Las Vegas Legion finished with an 0-2 record. However, they looked much more competitive, and should be able to close out matches much more often this season.
Weekend two of the CDL Major I qualifiers begin on Friday, Dec. 9, and concludes on Sunday, Dec. 11. Every team will play two additional matches to determine seeding for the Major I pools.
About the Author
Joey Carr is a full-time writer for multiple esports and gaming websites. He has 7+ years of experience covering esports and traditional sporting events, including DreamHack Atlanta, Call of Duty Championships 2017, and Super Bowl 53.