League of Legends
VALORANT
CS:GO
Overwatch
Call of Duty
Halo
DOTA 2
Apex Legends
Rocket League
Smash
The day has finally arrived. Activision has, at long last, revealed its new battle royale, Call of Duty: Warzone. We've reported on leaks and rumors for this mode since August of last year, but today marks the first time we've seen anything official about Warzone.
As was rumored, the battle royale will be free-to-play for all players, so you don't need to own Modern Warfare in order to download it. However, your download size for the mode will be significantly less if you've purchased Modern Warfare. Warzone releases tomorrow, Mar. 10, on all platforms.
Call of Duty: Warzone finally announced
Free to play for everyone.
Drop in tomorrow March 10th. #FreeCallofDuty pic.twitter.com/URU1Yg4wjk

— Call of Duty (@CallofDuty) March 9, 2020
The cat's been out of the bag for quite some time within the community. We saw several leaks, including the infamous promotional image from a couple of weeks ago. However, we're now getting to see actual gameplay and more details about Warzone.
A couple of weeks ago, many creators were flown out to Los Angeles to play Warzone early. This is customary for any new content in Call of Duty, as Activision likes to get as much publicity as it can. As such, there are around five minutes of gameplay from various sources on social media.
NEW VIDEO: Call of Duty: Warzone – Battle Royale Gameplay https://t.co/JVi779Z46A | #CODWarzone pic.twitter.com/Du15iE1aIo

— CharlieIntel (@charlieINTEL) March 9, 2020
In terms of the actual details, we've compiled a list of all relevant information:
Free-to-play for all platforms and players
Released as a separate download for those who don't own Modern Warfare
150 player lobbies
Features Trios, Duos, and Solos
Has two modes: Plunder and regular battle royale
Features the Gulag Respawn System
In-game currency for Warzone called "Cash"
Automatic Health Regen
Basic Armor System
Call of Duty has also revealed how big the download sizes will be for players who own Modern Warfare and for those that don't.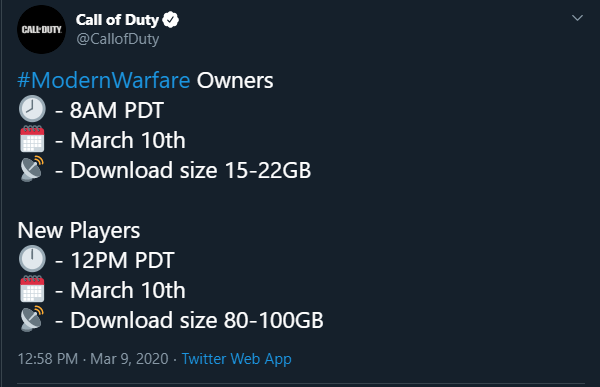 As you can see, if you own Modern Warfare, you'll get to play early and won't have nearly as big of a download. If you don't have Modern Warfare, you can download Warzone from your in-game store on console and through Battle.Net on PC.
We'll have tons of Warzone content later today, so stay tuned to Daily Esports for more news!

Joey Carr is a full-time writer for multiple esports and gaming websites. He has 6+ years of experience covering esports and traditional sporting events, including DreamHack Atlanta, Call of Duty Championships 2017, and Super Bowl 53.