Season 2 Reloaded for Call of Duty: Black Ops Cold War releases later tonight and the Patch notes for the update are now live. Treyarch released both the upcoming content and patch notes for the mid-season update prior to its release.
Along with a plethora of content, Black Ops Cold War fans can expect the first weapon tuning pass since December. It's been a long time coming for some weapons, like the AK74 u and light machine guns, but the developers have finally made some necessary adjustments. The patch notes also detail bug fixes, progression updates and more.
Black Ops Cold War Season 2 Reloaded weapon tuning
The major talking point from the Season 2 Reloaded update is the weapon tuning. Players have been waiting months for some fixes to overpowered weapons and now most fans are getting their wish. Treyarch nerfed several SMGs and LMGs while buffing other weapons that have not received an update since the game launched.
Weapons
Assault Rifles

Krig 6

Improved visibility while firing in ADS.
Complete tuning pass on weapon accuracy, weapon movement, and visual clarity while firing with any Optic attachment.
Addressed instances of the weapon feeling "floaty" when firing for a prolonged amount of time.

FFAR 1

Increased ballistic speed by 12.8%.

Groza

Increased maximum damage range by 40%.

Attachments

Complete tuning pass on Muzzle and Underbarrel attachments that affect Recoil on assault rifles.

Submachine Guns

Milano 821

Increased mid-range damage by 10%.
Increased mid-range damage range by 33%.
Sprint out speed increased by 14.2%.
Slightly increased ADS-in speed.
Increased raise speed by 11%.

KSP 45

Reduced burst delay by 20%.
Increased ballistic speed by 32.5%.

AK-74u

Reduced accuracy with prolonged firing.
Reduced muzzle velocity by 23.4%.

LC10

Reduced max damage range by 41%.
Slightly reduced mid-range damage.

MAC-10

Modified bullet pattern to add slightly more horizontal trajectories.

Attachments

Complete tuning pass on Muzzle and Underbarrel attachments that affect Recoil on SMGs.

Light Machine Guns

Light Machine Gun Alpha

Reduced maximum damage range by 25%.

Sniper Rifles

Disabled glint effect on sniper rifles with Iron Sights equipped.

Pistols

1911

Increased ADS speed by 11%.

Magnum

Slightly decreased hip-fire accuracy.
Dual Wield: Bullet trajectories are now more varied when firing both guns simultaneously.
Redesigned the 4.7" Takedown Barrel attachment into a "Tight Snub" Barrel. This attachment now adds damage to both enemies and vehicles.

Launchers

RPG-7

Slightly increased blast radius.
Greatly increased length of straight rocket flight path.

General

Rockets now inflict more damage to enemies with Flak Jacket in Hardcore. The weapon still requires a direct hit for a 1-hit kill.

Attachments

Infantry V-Choke

Updated attachment description to clarify pros and cons.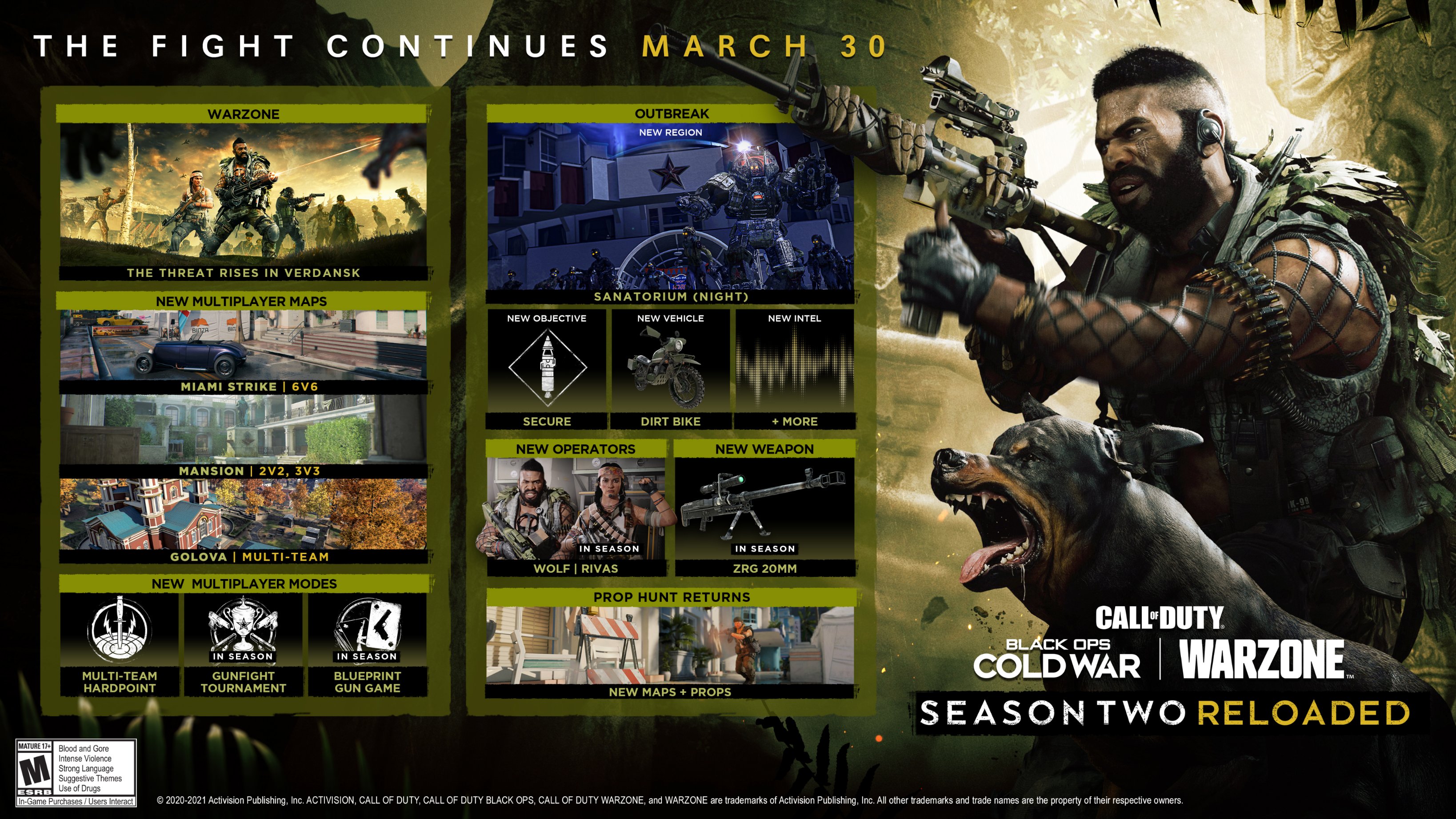 General Fixes
In addition to the massive amount of weapon tuning, there's also some general fixes coming with the update.
General

Flashbang/Stunned Challenges are now easier to complete.

Fog of War

Addressed inconsistencies with the Smoke Grenade Cover Assists combat stat.
Addressed issues with "Fog of War" Challenge and "Sight Unseen" Medal not tracking properly with the Danger Close Wildcard equipped.
Updated Challenge description for clarity.
Gestures

Gestures can now be used before the round starts.

Social

Updated messaging when a player is kicked from the party.

Turrets

Addressed and issue where players on Mounted Turrets could be immune to Dirt Bike vehicles.

Audio

Addressed an issue where VO would say "No Targets Destroyed" if the Attack Helicopter was destroyed with a Cruise Missile.
League Play changes
Finally, there's another round of League Play fine-tuning. This time, Treyarch has made it so the Lawbreaker Wildcard doesn't allow players to carry two primary weapons and they've disabled Perk Greed.
Law Breaker

Law Breaker in League Play will no longer allow any weapon to be put into either weapon slot. Players will only be able to use a Primary and Secondary weapon.
Law Breaker will now only allow players to equip multiple Perks from the same Perk category.

Perk Greed

Perk Greed is now restricted completely.
Black Ops Cold War players can access the Season 2 Reloaded update at 12 a.m. Eastern Time tonight, March 30. The full file sizes and other content can be found in a previous article.
About the Author
Joey Carr is a full-time writer for multiple esports and gaming websites. He has 7+ years of experience covering esports and traditional sporting events, including DreamHack Atlanta, Call of Duty Championships 2017, and Super Bowl 53.