League of Legends
VALORANT
CS:GO
Overwatch
Call of Duty
Halo
DOTA 2
Apex Legends
Rocket League
Smash
EHOME announced on their Weibo account on Aug. 1 that Jian Wei "xNova" Yap will be leaving EHOME as a free agent according to a translation by Reddit user u/holydotkamote. The organization has also announced it will be setting it's roster status to inactive.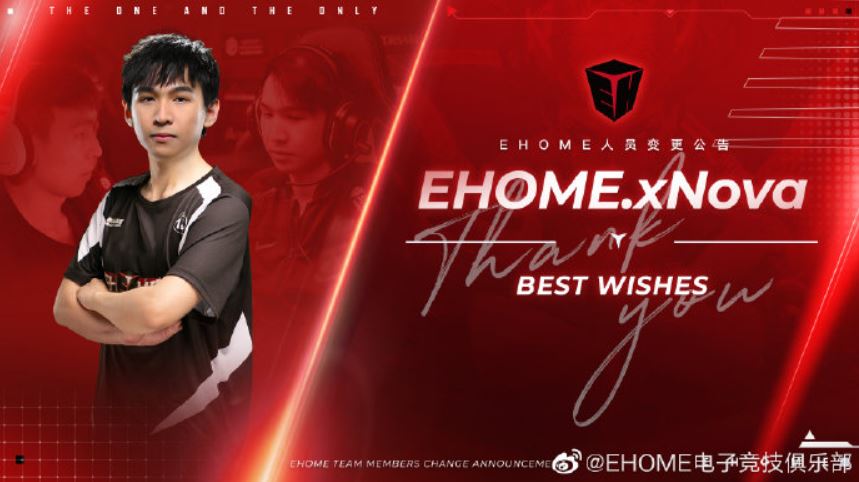 xNova leaves EHOME after failing to make TI10
The crux of the changes stem from the team not making it into The International 10 through the Regional Qualifiers. Despite two lackluster seasons where EHOME ended in sixth place, they were close to winning the Regional Qualifier. Unfortunately, a stronger Team Elephant was waiting for them in the grand finals. Despite EHOME taking out Team Elephant 2-1 in the upper bracket finals, Team Elephant came back with a vengeance. The two veteran teams clashed in the finals, with Elephant coming out on top. 
With the Dota 2 scene already beginning its roster shuffles, xNova should be an important free agent to look out for. The former TI finalist will now get to begin scouting teams early, as most of the teams not attending The International 10 are already looking for new players. As the EHOME roster has gone inactive, it's also likely that the team will look to replace players. Whether that means a complete roster reshuffle, or just a few players, remains to be seen. The EHOME squad also has a few veteran players that teams could look to pick up with the likes of veteran Liu "Sylar" Jiajun and Yang "Chalice"' Shenyi.
"In accordance with the player's wishes and respecting his personal needs to better develop, we agreed with xNova to officially release him from the roster," the organization said according to an article by GosuGamers.
 Current EHOME inactive roster:
 Jia Jun "Sylar" Liu

 Guo "Xm" Hongcheng

 Yang "Chalice" Shenyi

Yi "Fade" Pan
The resident Dota player of the Upcomer Team that dips his toes into League, Melee and Pokemon. A chinese-indonesian living in Vancouver, Canada. Enjoys food, fashion and movies. Just another adult who decided it would be a good idea to start their own podcast