League of Legends
VALORANT
CS:GO
Overwatch
Call of Duty
Halo
DOTA 2
Apex Legends
Rocket League
Smash
The League of Legends World Championship play-in stage wrapped up Saturday, and now, the main event begins. The Worlds 2021 group stage begins Monday, with four groups of four teams competing for a spot in the knockout stage and shot at the Summoner's Cup.
Japan's Detonation FocusMe made League of Legends history in the play-in stage, and fellow play-in victor LNG Esports cruised through the qualifier in a show of China's strength entering this tournament. North America's Cloud9 stumbled at the finish line but managed to make the group stage, and South Korean fourth seed Hanwha Life Esports could play spoiler in a very tight Group C.
With the group stage ahead, the Upcomer staff took a shot at answering the biggest questions for the next round-robin. Here's what to expect from the event and a look at the pools for Worlds 2021 that begin competition Monday.
GROUP A
Cloud9 (No. 3 North America)
DWG KIA (No. 1 South Korea)
FunPlus Phoenix (No. 2 China)
Rogue (No. 3 Europe)
GROUP B
100 Thieves (No. 1 North America)
Detonation FocusMe (Japan)
EDward Gaming (No. 1 China)
T1 (No. 3 South Korea)
GROUP C
Fnatic (No. 2 Europe)
Hanwha Life Esports (No. 4 South Korea)
PSG Talon (No. 1 PCS)
Royal Never Give Up (No. 3 China)
GROUP D
Gen.G (No. 2 South Korea)
LNG Esports (No. 4 China)
MAD Lions (No. 1 Europe)
Team Liquid (No. 2 North America)
Who's making it out of Group A?
Tyler Erzberger: I'd love to come in here and bust out the blind North American faith but this group is too stacked even for me. Maybe in a world where Cloud9 smashed play-ins, but there were too far many holes for me to be confident they can match DWG KIA or FunPlus Phoenix.
The top two and bottom two should be straightforward, though the order will be paramount for pick'ems.
FunPlus Phoenix
DWG KIA
Cloud9
Rogue
Parkes Ousley: This is one of the most exciting, boring groups ever at Worlds — or at least since 2018 with Royal Never Give Up, Cloud9, Vitality and Gen.G. We get the two Worlds favorites in the same group in FPX and DK, and they have the two weakest LCS and LEC teams as punching bags. There is only one way this group can go. The only question is which of FPX and DK ends up on top.
I've been calling FPX as the Worlds winners since July, so I'm going with them as my No. 1, but either way, they could play with their fingers taped together and still make it out of this group.
FPX
DWG KIA
Cloud9
Rogue
Nick Ray: Look: If FPX and DWG KIA don't break their way out of this group, then I don't know what the point of making predictions is anymore. I don't even care who's first or second (I have FPX over DK, though); for the sake of my sanity, they need to get out.
I think Cloud9 might be able to go 1-1 against one of these teams, but it feels lost for Rogue.
FPX
DWG KIA
Cloud9
Rogue
EG Kant: This group is pretty straightforward, innit? I'm not going to sell you why FPX and DWG should be first and second – they are heralded as Worlds finalist contenders after all. Which order? Could be down to a tense tiebreaker, honestly.
Now for third and fourth, I must stand up for the LEC here among my non-believing colleagues: I believe Rogue will place above Cloud9. Their strengths were precisely in these best-of-one scenarios, and if they can find their groove once more, I expect them to be at the very least, competitive.
FPX
DWG KIA
Rogue
Cloud9
Warren Younger: The two teams making it out of this group were decided weeks ago.
Once the group draw revealed that FunPlus Phoenix and DWG KIA would be in the same group, it did not matter which other two teams would fill out the pool. The only uncertainty was the order. At the Mid-Season Invitational performance, DK lost to Royal Never Give Up, and FPX look way better than that RNG team. Even though this could be a finals preview, FPX should win the group overall with DK finishing in second. As for third and fourth place, C9 have finally looked like the team that should've won Group B play-ins, and they should be able to beat Rogue in their group. Too bad NA's victory over EU this time around will result in third place.
FPX
DWG KIA
Cloud9
Rogue
Who's making it out of Group B?
Erzberger: I'm so excited to watch Japan's Detonation FocusMe get the chance to play the likes of T1 in the main event of Worlds. They also can exact some revenge against Edward Gaming after the Chinese team eliminated them with little issue at the 2018 world championship.
While this Worlds 2021 group, like Group A, is straightforward in terms of who should get out, I honestly believe DFM can steal games from anyone in this group. They're the real deal.
Edward Gaming
T1
100 Thieves
Detonation FocusMe
Ousley: This is an incredibly exciting group. DFM finally made it to the group stage, which will be really fun to watch (though they should go 0-6), and every other team should be able to take games off each other if they prep well and play with some spice. Everyone loves to hate NA, but 100 Thieves have the opportunity here to turn a few heads. It is a much more difficult group than that of TL, but T1 has shown vulnerability, and EDG could definitely drop a game or two.
I do think EDG have a good 75% chance of advancing, with T1 and 100 having a pretty equal chance beyond that. If I was putting money on the line, I'd probably throw it to T1, but I'm not. Instead, I'm putting my eggs into the Bok "Reapered" Han-gyu basket and looking forward to some exciting, fast-paced play from Can "Closer" Çelik and the boys to upset the South Korean third seed and get NA to knockouts for the first time since 2018.
EDG
100
T1
DFM
Ray: EDG, the LPL's first seed, are making it out of this group in first for sure. Some people may underrate T1 since they're the third seed, but they were the ones in the finals, not Gen.G, and I've got them breaking out as well.
100 Thieves have a chance here, NA fans, but they need to overperform; the level of play they showed at in the LCS finals has to be their floor. If any miracles are going to happen for NA, I really do think there's a chance it could happen here, but it's not likely.
EDG
T1
100
DFM
Kant: Like Group A, this group should be very straightforward. Putting EDG on top does leave me with a modicum of doubt due to their cursed history at Worlds, but I do think at their best, they are championship candidates. And who better to be their foil than 100 Thiev  T1, their historic nemesis. It doesn't matter what kind of unpredictable form T1 is in, Lee "Faker" Sang-hyeok at Worlds means you can always expect fireworks.
Sorry, 100 Thieves. Can you take games off of EDG and T1? Sure. I expect you to play spoiler, honestly, but that's as far as I'll go. And DFM? I love their narrative, but I think they'll just be happy to be here.
EDG
T1
100
DFM
Younger: Like Fionn, I'm also very excited to watch this group play out. I think B has four very likable teams. However, I do think two teams just stand above the rest in this Worlds 2021 group. Edward Gaming is my pick to win Worlds, so of course I have them winning this group. Second place, though, is a little interesting. T1 are the heavy favorites to make it out, but with DetonatioN FocusMe pulling off an impressive run through the play-in stage and 100 Thieves being the LCS first seed, I really, really want to see some thrilling tiebreakers that include a three-way tie for second. All that said, betting against Faker is dumb. I won't do that here.
EDG
T1
100
DFM
Who's making it out of Group C?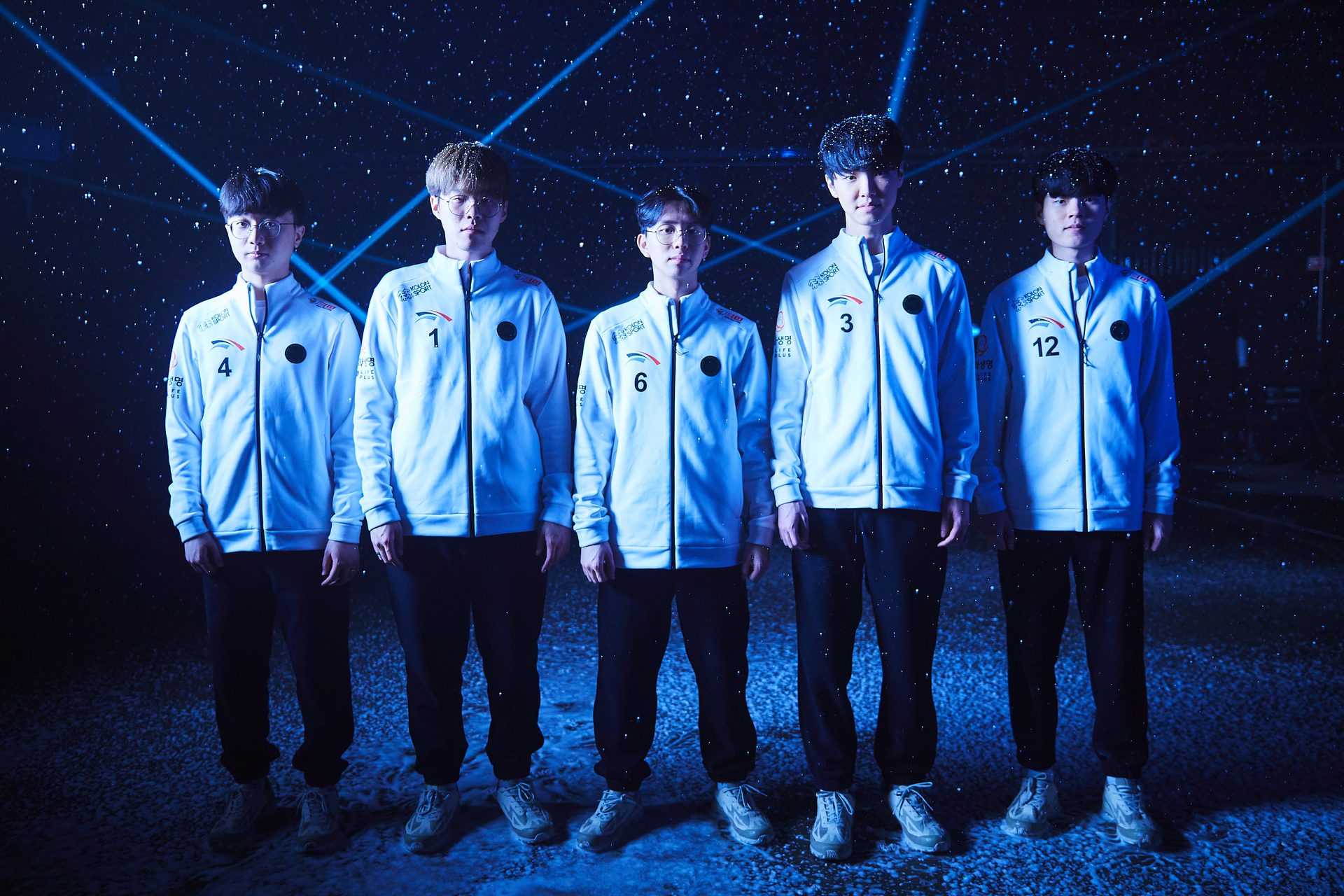 Erzberger: Along with Group D, this is the toughest to call group in the bunch. We have a lot of interesting teams that on their best day can look like world-beaters but don't have that consistency the favorites to win it all do.
I was actually impressed how Kim "Willer" Jeong-hyeon developed in the play-in stage for Hanwha Life, so I'm going to stick with them in a bit of an upset with the extra practice they received going into the groups. I'll be boring with my other pick and go with RNG, who might not be at their full power like at the Mid-Season Invitational but should still be good enough to advance.
Royal Never Give Up
Hanwha Life Esports
Fnatic
PSG Talon
Ousley: Group C has one clear hero alongside three potential sidekicks to advance to the Worlds 2021 knockout stage. After Beyond Gaming's rough play-in stage, paired with a somewhat weaker performance from the LPL, LCK and LCS at this year's Mid-Season Invitational, I am beginning to get nervous about the overall strength of PSG Talon. It's possible that BYG underperformed at Worlds, but it's also possible PSG only looked as good this MSI because the whole world was underperforming.
Regardless, Fnatic are still in a precarious position after somewhat stumbling through the LEC playoffs, and HLE still have a lot of exploitable weaknesses. RNG didn't quite close out the summer split, but they should easily find a ticket to the quarterfinals given their group; beyond them, it's pretty much a tossup. PSG, Fnatic and HLE are all likely to trade games, so it just matters who picks up one extra win to determine who advances.
RNG
PSG
Fnatic
HLE
Ray: I tried to get spicy last year, so this year I'm all business with my predictions because I always mess up my Pick'ems. RNG are clear on-paper frontrunners in this group, and I'd love to see them squash doubters on Day 1 and establish themselves. Everything else about this group is going to drive me wild and break my heart.
PSG Talon, Fnatic and HLE are all teams capable of reaching top eight, but unfortunately there can only be two, and somebody has to come in last. With what we know right know about these teams, Fnatic are my pick to join RNG in quarters. Depending on PSG's form, I can see them coming out as well, but for now we'll hand it to Europe. Either way, Group C is shaping out to be one of the closest and most exciting groups at Worlds 2021.
RNG
Fnatic
PSG
HLE
Kant: I really am not confident in Hanwha Life's chances to advance. Can they upset teams with the church of Jeong "Chovy" Ji-hoon's zealous support? Absolutely, but that's about it. Group C, to me, in theory should be free for RNG, and I have them as the top dogs. But even then, I do think it will be close. Fnatic were hot in the LEC playoffs, and should they keep that going, I think RNG, Fnatic and PSG will contest for first place. The Europeans' volatility could work for or against them, however. I admit I am somewhat skeptical on PSG. We've seen teams like Flash Wolves in the past do well in MSI and then underperform at Worlds. I'll keep them third but won't be surprised if they contest for the top spots.
RNG
Fnatic
PSG
HLE
Younger: The two biggest takeaways I have from play-ins for this group is that firstly, PSG Talon without Chiu "Doggo" Tzu-Chuan cannot be a better team than when they had Doggo at MSI. The second is that Hanwha Life Esports are relatively untested. With those two takeaways in mind, the group is free for Royal Never Give Up. It's a battle for second place in Group C. Fnatic came into Worlds surging and are for sure the hottest team, but are they better than PSG and HLE? They could be. EU always finds a way. I think it's wise to bet on Fnatic.
RNG
Fnatic
HLE
PSG
Who's making it out of Group D?
Erzberger: This isn't easy. My brain is telling me that Team Liquid haven't been consistent all year long and taking them now in a shark-infested group would be dumb, but you know what?
I'm North American, and that means regardless if I ride with them or not, I'm still going to get laughed at on Twitter if they implode. So I'd rather go down with my heart, huffing that hopium to the bitter end, than try to silence my need for an NA team to make knockouts.
Put me down for MAD as my other selection. They're one of the best teams at the event and, though a young squad, have grinded the necessary experience at last year's Worlds and 2021's MSI to take the next step in their development.
MAD Lions
Team Liquid
LNG Esports
Gen.G
Ousley: This group could go a bunch of different ways based on prep and who shows up in the matches. If any of these teams has a slow start, they're going to be out; if any failed to adapt to the meta during play-ins and has to make mid-groups changes, they'll find themselves eliminated.
MAD Lions look like the favorite here, but not by much. LNG got a bunch of extra practice in the play-ins, and though those matches give their opponents some information, oftentimes the stage experience trumps the hindrance of any revealed strategy. Team Liquid are a somewhat close third option, but they'd need to play with confidence and commit to their own game from the start, unlike last year where their first few games looked like a different team behind the keyboard.
Gen.G are likely the weakest option (read: hopium). They're too predictable and slow, unless they've changed some things up in the last month.
MAD
LNG
TL
Gen.G
Ray: I rate MAD Lions highly this tournament. I'm expecting them to get out of groups at the very least, but my gut tells me this team is going to have a deep run at the tournament. Experts have been vocal about MAD's teamfighting prowess going into Worlds, and we ranked them as the fifth best team in our pre-Worlds power rankings as well (a machine learning platform gave them the same ranking).
So, yeah, I've got them as first, with LNG right behind them. The group is much closer than any rankings would make it seem, but I think the team with the possibility to shake things up here is Team Liquid rather than Gen.G; they're more versatile in my opinion.
MAD
LNG
TL
Gen.G
Kant: I called this group the "Group of Life" in a previous roundtable, but even then I think it's close. I think LNG getting stage games in play-ins was crucial for this team. But from here on, the competition becomes much steeper. My pick to top the group is MAD Lions, EU's first seed. We've seen their sheer resilience to bite down and make seemingly miraculous comebacks even when times are most bleak. LNG are my second pick, but even then, I think it will come down to either one win or a tiebreaker with Gen.G Esports. Team Liquid will probably take games, but I don't see them progressing to knockouts. Got to keep my reputation of being the only non-NA believer.
MAD
LNG
Gen.G
TL
Younger: Speaking of teams that have not been tested, LNG Esports breezed through the play-in stage undefeated. But I think there is plenty of proof that this team is dangerous based on their LPL summer playoffs run. In a group that has maybe one legitimate Worlds 2021 contender, LNG should once again breeze through the group. The question is whether they will finish first or second.
MAD Lions are coming off another fantastic performance in the LEC and are a step ahead of Team Liquid and Gen.G. They should keep that pace and at the very least finish second. I think TL can play spoiler, but it won't be at LNG's expense. Keep an eye on the EU vs. NA rivalry in this group.
LNG
MAD
TL
Gen.G