League of Legends
VALORANT
CS:GO
Overwatch
Call of Duty
Halo
DOTA 2
Apex Legends
Rocket League
Smash
"I'm ready for it."
Brandon "Josedeodo" Villegas was talking to his coach, Eduardo "Skin" Saldaña, back when he was on the Latin American League of Legends team, Rainbow7. After speaking with several teams from the League of Legends European Championship league and League of Legends Championship Series, he finally decided to leave the Liga Latinoamérica to pursue a better future.
"I just want you to be ready for it," Skin said, "Be yourself, strive every day as if there's no tomorrow. And don't go back to the LLA."
Josedeodo said he considered this advice as he replied to a Twitter message from FlyQuest's general manager, Nick Phan, offering him a spot in the LCS. He agreed to leave the LLA to start a career in the United States, an unfamiliar territory he was ready to face. But to understand how Josedeodo found himself in a position to play in the LCS, it's important to understand how he reached the 2020 World Championship with Rainbow7.
Resisting the call
Before becoming a famed League of Legends player, the young Argentinian native spent his childhood searching for bugs, taking swimming lessons, playing basketball and skateboarding, according to his mother, Nelly Romero. As an English teacher, she encouraged her son to follow his dreams while studying and earning good grades for a promising future. Romero said she stressed the importance of putting school work before play time, and Josedeodo did whatever he needed to focus on what he cared about.
After finding video games at 10-years-old, he would wake up as early as 4 a.m. to do some last-minute studying with his eyes set on gaming afterward. Not knowing what path her son would take, Romero could only cheer him on as he found his way.
"I didn't have any career plans for him," she said, "but according to how he behaved and his interests, I thought that he was going to be a biologist, doctor, or accountant. If it were up to me, I would have liked for him to be an airplane pilot or a ballet dancer."
Instead, Josedeodo came home one day from secondary school and found one of his two sisters had downloaded League of Legends on his computer. He said he had no interest in opening it until his schoolmate suggested he try it out.
"I didn't like the idea of the game," said Josedeodo, "and I was really not open to playing it."
He started with casual scrims in the mid and bot lane alongside his best friend, but that soon turned into 10-hour sessions. He said that made him discover his passion for League of Legends, and he turned to pro play to improve.
"I remember watching the 2014 Worlds Championship, and I felt like I could be there," he shared. "I told myself I really wanted to be there. I kept playing until I reached Challenger with a 71% win rate at 14-years-old. At that point, I told myself 'yeah, I can make it to Worlds.'"
And while Romero said she was far from an expert on a career in esports, she supported her son's dreams and committed to learning what she needed to.
"It's a lot of learning to do, but I am more than willing to learn and discover more," Romero said. "Times change and we have to change as well."
Chasing the rainbow
Josedeodo's determination to play in the big leagues came with countless hours of focus and physical stress. However, that work started paying off at 17-years-old when he joined Furious Gaming's Academy team. Throughout that summer, the team placed well in five different matches, which prompted Josedeodo to ask for more challenging opportunities.
"The owner at the time told me, 'If we do a great job in the academy, we will probably all go to the main team,'" Josedeodo said. "At the end of the year, they only really liked me as a player, so they sent me to Furious Gaming."
Although Josedeodo had earned a chance to join the main team, his time throughout the next year was anything but easy. Furious struggled to get better than fourth place in many tournaments, especially the 2019 Closing Playoffs, where they only reached fifth place. That was Josedeodo's last tournament with the team, leaving him disheartened and disappointed.
"I failed in that split. I didn't do my best in the whole year." admitted Josedeodo, "I lost one of my biggest opportunities to win in the league. When I finished that year, I was really thinking that I will never miss opportunities like this again."
After leaving Furious Gaming in October 2019, Josedeodo searched for other opportunities. By that point, he had met many players in the region and created plenty of friendships. And around then Rainbow7 had their eyes set on him and a few other players. They extended an offer to not only Josedeodo, but also Facundo "Shadow" Cuello and Renato "Renyu" Muñoz. Everyone else on the team, aside from Renyu, was already friends with Josedeodo, so he saw it as an exciting opportunity to be a better player and teammate.
Along with new teammates came the return of Rainbow7's previous Head Coach, Skin. He said he immediately noticed that Josedeodo was a great player with a big champion pool and the voice of a leader.
"He worked so hard all day, every day to reach his goals," Skin said.
For the next year, Rainbow7 continually impressed in the LLA. The team always finished in at least third place at every tournament. However, despite their outward success, Skin noted that Josedeodo struggled in his own ways behind the scenes.
"The only one weak point was his confidence in himself," Skin said. "My job as a coach was to push him to go outside his comfort zone. He could have been much stronger mentally."
After some months of coaching him to work on Josedeodo's flaws, Skin said the team finally had "an extremely complete" player, with a "hunger for victory and with many more goals to achieve." This hunger would eventually be seen all the way to Worlds.
Worlds debut
The young player's ambition eventually assisted Rainbow7 in overcoming All Knights in the 2020 LLA Closing Playoffs. Despite the high stakes, Josedeodo helped the team pull through, earning both "Player of the Series" and "Player of the Round" honors throughout the playoffs. This earned the relatively new Rainbow7 a spot at the World Championship, which Riot Games was able to hold in Shanghai despite the COVID-19 pandemic.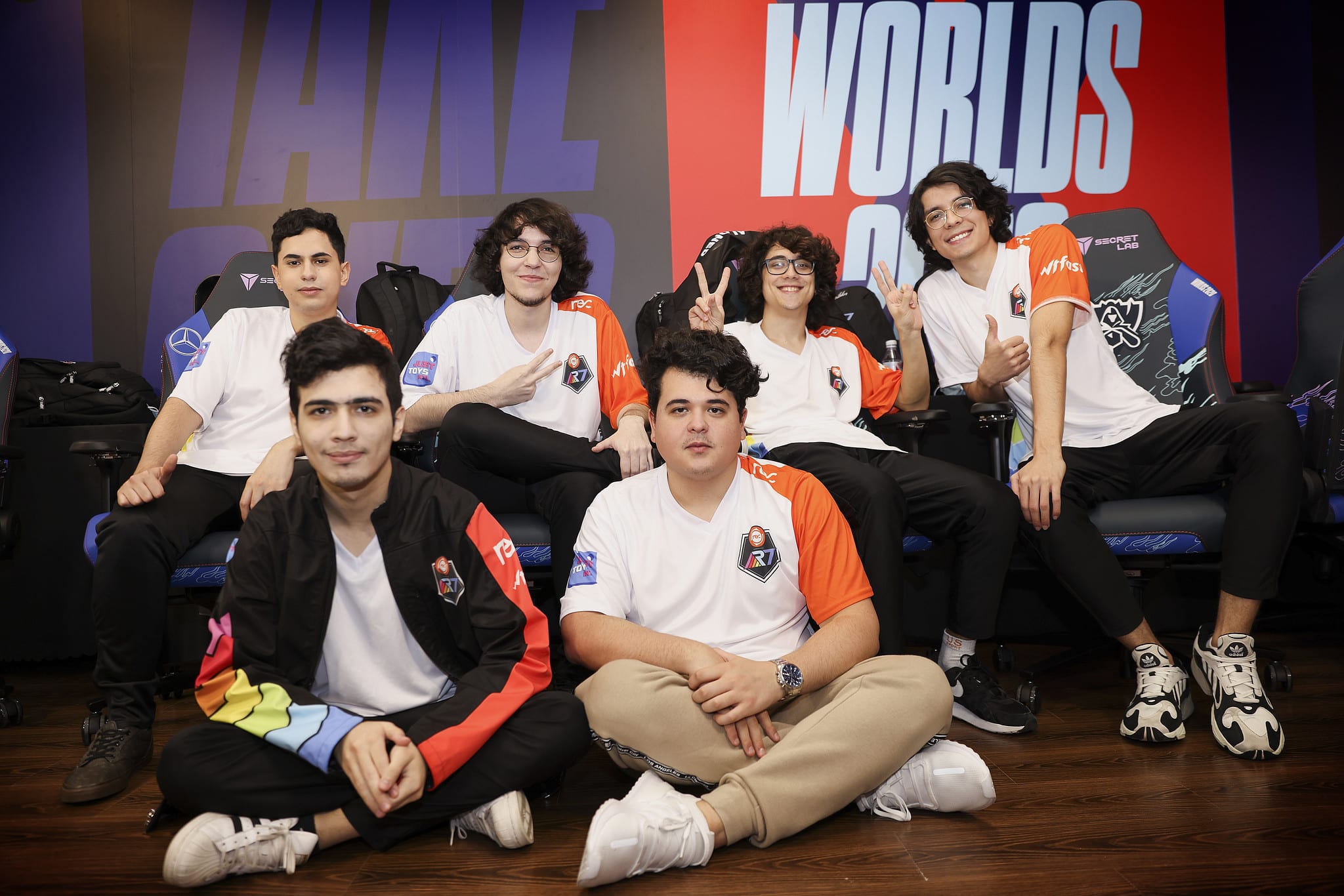 Once the Play In stage began, Rainbow7 walked onto the stage with a sense of purpose: to represent their region with determination, pride and skill. After a successful Play In group stage, the team worked hard in an attempt to move on through the knockout stage. Unfortunately for Josedeodo and the rest of his team, a powerful LGD Gaming sent them home in a 3-0 series. While he wasn't happy to lose, Josedeodo took to Twitter afterward to share that he was still proud of his team.
Starting a new quest
Josedeodo's performance at the World Championship surprised many analysts and casters, turning him into a fan favorite. Then, soon after Worlds, his contract expired, allowing any team in any region to sign him. Not long after that, FlyQuest's General Manager Nick Phan reached out to Josedeodo via Twitter with an offer, though he was skeptical early due to a misunderstanding.
"His message didn't really mean much to me because I originally thought it was for the Academy team, and I wasn't sure if I wanted to be there," Josedeodo said. "Then, later on, he messaged me saying, 'Hey, what's up? How's it going? The position isn't for the Academy, it's for the LCS.'"
The proposition sparked an interest in Josedeodo, and he decided to invest some time into getting to know Nick and what FlyQuest had to offer him. Meanwhile, Skin said he had already expected that outcome before it even happened.
"In the middle of season, I talked with our owner and I expressed to him, 'We need a new jungler player for 2021, because Josedeodo is so good that he will leave this region as soon as possible,'" he said., "When we arrived in China for Worlds and we started to practice, some coaches from the elite teams reached out to me to talk about Josedeodo, and I could affirm my hypothesis."
Josedeodo consulted with Skin right before he made the decision to sign with FlyQuest, and his coach pushed him to pursue the opportunity. Within days of accepting the offer, rumors spread that Josedeodo had signed an agreement with an LCS team.
On November 20, FlyQuest announced on Twitter that he officially joined the organization as their new starting jungler for the 2021 season. The tweet received over 21,000 likes, which showed how popular he already was in the League of Legends community.
However, leaving the LLA meant more than just saying goodbye to his old team. He was leaving everything he knew, including his friends and family in Argentina.
Everything was changing in an instant, though Josedeodo said was excited to face what was coming next. His mother was even more thrilled for him to take advantage of this opportunity, though she said she was as apprehensive as any parent would be in her situation. FlyQuest also helped make the transition as easy as possible, according to Romero.
"I have spoken with both the head coach and the General Manager [of FlyQuest], and from what they have commented to me, they are very respectful and kind," Romero said, "They have answered my doubts, and they have given me the comfort that I needed to let Brandon chase his dreams in the LCS. My initial impressions, and now as well, are always the best."
FlyQuest reassured Josedeodo's family that they're taking good care of him, but his mother still has concerns that her wide-eyed son may change in the future.
"One of my major concerns is fame and fortune," she said. "I think that it's something that 95% of the people want but something very few can handle. I sometimes notice that Brandon's attitude has changed in many aspects, and it scares me to think that some of his best qualities can change because of this."
No matter where he goes or how he changes, his fans back in Argentina will still be rooting for him at the end of the day. Most importantly, he always has the faith of his family and friends to keep him afloat when times are moving a bit too fast. Even now, Josedeodo's friends occasionally join his family to watch games and support him together.
Although his career has just begun, many possibilities still lie ahead of Josedeodo. Even though he admitted he still has much to learn, his eyes are set on the same goal as many storied players.
"My expectation is to win, always."
Digital artist, bunny mom, and avid League of Legends fan. I mostly write about esports business deals, investments, and game coverage. I also help manage the Upcomer social media portfolio. I'm passionate about helping others succeed in the esports industry!