League of Legends
VALORANT
CS:GO
Overwatch
Call of Duty
Halo
DOTA 2
Apex Legends
Rocket League
Smash
The Reloaded update in Call of Duty: Warzone and Black Ops Cold War will arrive on July 15 at 12 a.m. ET.
It's been roughly one month since the launch of Season 4 in Call of Duty: Warzone and Black Ops Cold War, and Activision has made a habit of releasing a secondary content update at this marker every season. Named the "Reloaded" update, players can expect a fresh influx of content in all of their favorite games and modes.
Season 4 Reloaded in Warzone and Cold War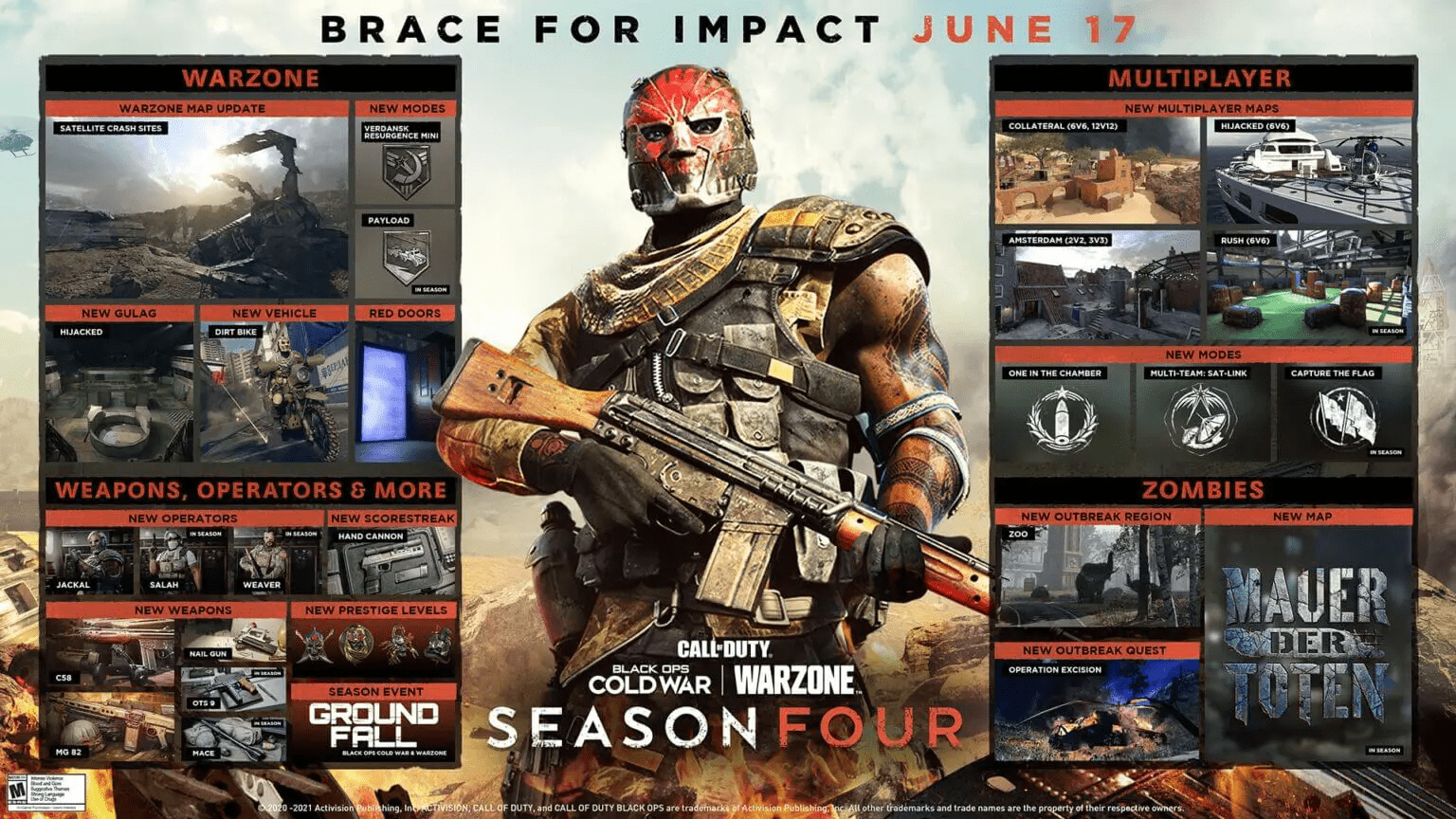 Season 4 Reloaded is one of the biggest mid-season updates since Cold War was released. Not only does it feature new content for both multiplayer and Warzone, but a new Zombies experience is also arriving. The Easter Egg for the new Zombies map, Mauer der Toten, will go live at 1 p.m. ET on July 15. This gives players some time to get acquainted with the map before diving straight into the Easter Egg hunt.
Along with Mauer der Toten, the Season 4 Reloaded update will include some other intriguing pieces of content. For Warzone, the new mode Payload will release. There will also be another round of weapon balancing. The FARA 83 and Nail Gun are expected to be some of the weapons affected the most, as they've quickly become Season 4 must-haves.
In regard to Cold War, the 6v6 map Rush is coming to multiplayer. Furthermore, there will be two new weapons: the OTs 9 SMG and Mace melee weapon. Finally, two new Operators, Salah and Weaver, and Capture the Flag are also dropping. This should be an exciting week for any fan of Call of Duty.

Joey Carr is a full-time writer for multiple esports and gaming websites. He has 6+ years of experience covering esports and traditional sporting events, including DreamHack Atlanta, Call of Duty Championships 2017, and Super Bowl 53.