Following the grand final of ESL Impact Dallas, all five team members of Nigma Galaxy Female, adorned in stylish brown cowboy hats, sat on and around a two-person loveseat. There's a feeling of content fatigue — and possibly some latent shock — to their interview with Anastasija "Heccu" Tolmačeva.
The team had just finished playing eight hours of Counter-Strike, proving they're the best women's team in the world. It was a goal they'd been working toward for years.
Nigma Galaxy in Dallas
For the first time since 2019, an international LAN crowned a best team in women's CS:GO. The long delay was only in part due to the COVID-19 pandemic. In truth, the support for female CS:GO was next to non-existent. That changed with the ESL Impact League.
The first season of the Impact League culminated in Dallas, Texas. Nigma Galaxy went in as dark horses to win the event behind the favorites Counter Logic Gaming Red. Nigma were occasionally pushed by teams like BIG EQUIPA and their opponent in the grand final, FURIA Esports Female, but ultimately they proved themselves the better team time and time again.
"Feels amazing," Ksenia "vilga" Klyuenkova said in an interview. "All the hard work and struggles that we have gone through with visas, vaccination and the whole trip in general have finally been paid off."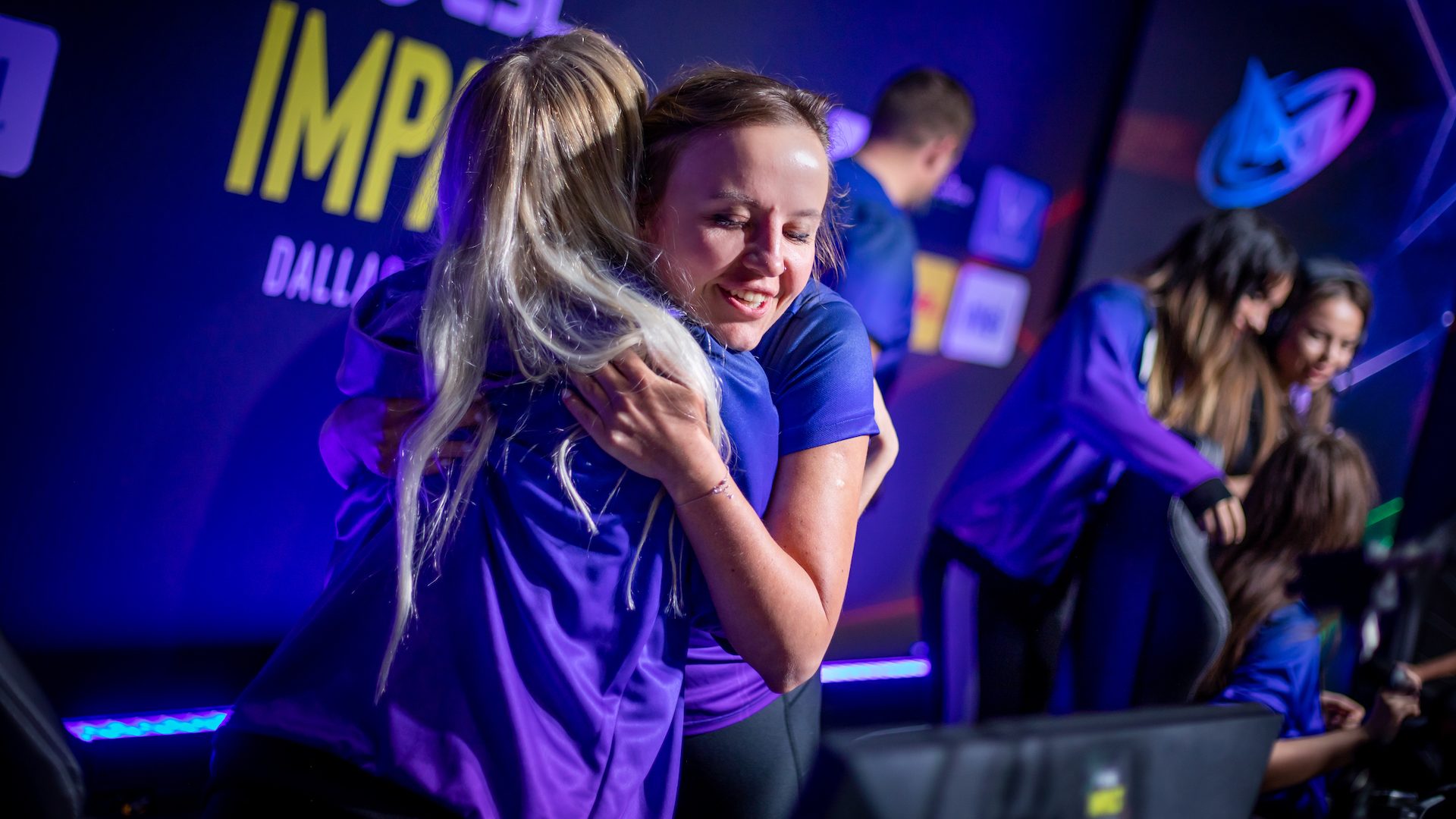 Unlike vilga, for some of her younger teammates, Dallas was their first ever LAN event. There was little trace of nerves in their play.
"Overall I felt pretty great at the event," Katarína "Kat" Vašková said. "The environment and people were super nice and helpful, and I loved that as an experience itself."
Still, the event wasn't without its hang-ups. Inaccessible practice rooms and a rushed bracket marred an otherwise successful tournament. There's obviously room for improvement, but most of the players said they are simply happy to have the Impact League and renewed interest in women's CS:GO.
Certainly, that interest could be seen whenever FURIA played. That Brazilian fanbase came out in full force to support their team, ballooning viewership to levels previously unseen in the women's scene.
"The support was amazing, and it's so nice to see that many people coming to watch female CS:GO finals, even though they weren't supporting our team," Alexandra "twenty3" Timonina said.
A star rising
Nigma Galaxy's AWPer, Ana "ANa" Dumbravă, was the breakout player of the event and the finals MVP. She led the entire tournament in stats with a 1.36 rating across eight maps.
"This MVP showed how much I improved over the past couple of years and gives me the motivation that I need, the motivation to never stop working for my dreams," she said.
If there's one thing that can energize an esports scene, it's a rising star. Unfortunately for the 22-year-old Romanian, she doesn't relish the scrutiny.
"To be honest, I'm not the type of person who wants to be in the spotlight or wants all the attention because I'm really shy and I don't open up to people as much," ANa said. "Although, I'm really grateful that people are appreciating my skill level and I hope that I will make them proud every time I step up on stage."
ANa may lack the easy charisma of a Nicolai "dev1ce" Reedtz, but there's also no shortage of esports stars in CS:GO and other titles that approach the game with a quiet determination.
"I'm considering myself as a perfectionist, so I know that there is always room for improvement," ANa said. "I will push myself harder to be a better person, a better player, a better teammate and show a perfect CS."
Next steps
With Dallas in the bag, Nigma have their sights set on ESL Impact Valencia. The event is a mid-year LAN that precedes Season 2. Dallas set the stage for Valencia, giving fans renewed rivalries and a new team-to-beat: Nigma Galaxy Female. CLG Red and FURIA will be hungry for revenge, but vilga, for one, is not concerned.
"The next goal is to win ESL Impact Valencia and then Sweden," vilga said. "We want to prove every time that we are the best in the world."
Above all else, Nigma is always improving. Their entry into ESEA Main and their recent invitation to FACEIT Pro League Challengers are giving them even more tools to cut their teeth on, testing their mettle against some of the best men's teams in Europe.
One of the more common sports platitudes is that it's easy to reach the top but hard to stay there. There's always a risk of becoming stagnant, resting on your laurels. Teams lose their drive to get better even as their competitors close the gap.
There's little fear of that happening with Nigma Galaxy.
"We don't really care who we play against," ANa said in the post-match interview, only moments before she was informed she was the tournament MVP. "We're going to do our best because we are the best."
Coby Zucker is Upcomer's resident CS:GO writer. He's also played League of Legends at the collegiate level and is a frequent visitor in TFT Challenger Elo. He's a firm believer that Toronto should be the next big esports hub city.