League of Legends
VALORANT
CS:GO
Overwatch
Call of Duty
Halo
DOTA 2
Apex Legends
Rocket League
Smash
FlyQuest mid laner Cristian "Palafox" Palafox is used to uncertainty.
He recalled the first leap of faith he took to kickstart his pro career, which began in earnest nearly four years ago. Without solid team offers or a college career, he could only fall back on his skill as a player.
"I was pretty confident that I was going to get on a team even though I had no connections," he said. "In hindsight? Not very smart."
Between difficult contract situations to stressful team environments, Palafox's journey to the League of Legends Championship Series was full of doubts. Palfox joined FlyQuest at the start of 2021 and made his debut as an LCS starter.
Excited to be playing for Flyquest this year! https://t.co/oszq7cfxBu

— FLY Palafox (@palafoxlol) November 23, 2020
Ahead of Week 5, Palafox spoke with Upcomer to share his story and how his growth as a leader has shaped his perspective on FlyQuest's current struggles in the LCS 2021 summer split.
Growing pains
Palafox was well aware of his inexperience heading into the 2017 NA LCS Scouting Grounds. Compared to his opponents at the event, he had very little competitive background aside from brief stints on a few pickup teams.
"I felt like I was the only one going in and just coin-flipping," he said. " Competitive is just a completely different game and I feel like I learned quite a bit while I was there."
Palafox was eventually drafted by Clutch Gaming at the end of the event. And, due to the nature of his contract, he wasn't allowed to pursue any other offers while signed with them. After the organization decided not to move forward with him, he was later picked up by OpTic Gaming Academy.
Please join us in welcoming our 2018 Academy League roster! #GreenWall #OPTWIN

Information on the Academy League can be found here⤵️https://t.co/CZLinRX059 pic.twitter.com/pQwcaLCAWx

— OpTicLoL (@OpTicLoL) January 3, 2018
"It was fucking nerve-wracking," Palafox said. "Not gonna lie; I thought I wasn't gonna get another chance. Thank god I worked with Zaboutine and he eventually ended up giving me a shot at OpTic."
However, this dream opportunity that saved Palafox from a nightmare scenario came with its own set of issues. The biggest surprise for Palafox, and the most frustrating, was that the OpTic Academy team house was based in Texas.
"I didn't expect us to play in Texas," he said. "That was really awful. We didn't have a computer at the house and none of us drove. We only had a computer at the office and we lived literally 20 minutes away from everything by car."
Not having a computer to practice on at home would be an impossible scenario for most professional players. Unfortunately for Palafox, that was just the tip of the iceberg. The entire team wasn't living at the house; some of them were playing remotely from Canada. There was also a period where they were rotating through multiple top lane subs.
"There was a long period where we just straight up didn't have scrims for whatever reason," said Palafox. "Like two to three weeks. I would just watch the main team play every single day."
Palafox "wasn't really learning anything" during his time with OpTic. But the chaotic experience fell in line with his preconceptions about how most Academy teams operated. From his perspective, most teams weren't as interested in using Academy to build people up rather than as a farm team to fall back on in case things were going poorly in the LCS.
It wasn't until the latter half of his time with Golden Guardians Academy that he'd felt a team was honestly investing resources into his growth.
Clear skies and Golden opportunities
In 2019, Palafox's first split with Golden Guardians Academy began and ended similarly to his time on OpTic. Rather than the bulk of issues coming from structural and internal matters, however, the biggest problem was the team's lack of chemistry.
"There was a lot of egos on that team," Palafox said. "It was not productive for the first split. I just couldn't believe people acted like that in real life."
That 2019 Spring GG Academy roster ended the split in eighth place and Palafox was concerned for the safety of his spot on the team. Thankfully, he was able to negotiate a one-year guaranteed contract with management and stick with the team for the summer. His 2019 summer bout with GG Academy would go on to become a major turning point in his career.
"The second split with GGS was the fucking savior," Palafox said. "I got to work with Inero. Got to play with a really good ADC FBI. Got to play with Darshan — insanely good mental and great player. Also got to play with Huhi and Hard."
Palafox's hopes for his first split with GG Academy were finally realized in the second split. For the first time in his career, he felt like he had a good coach and teammates surrounding him t0 learn from. And he did.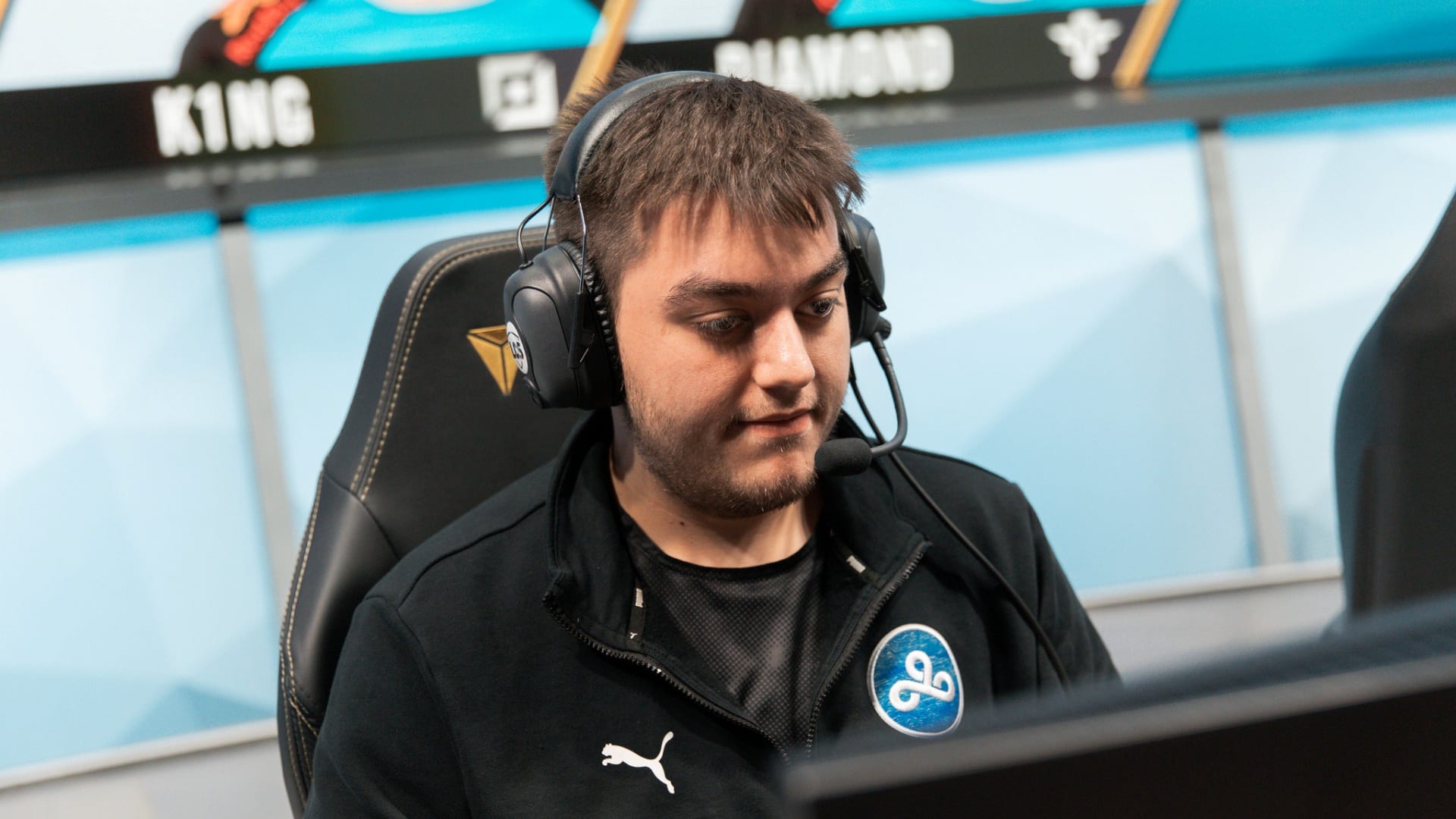 In 2020, Palafox joined Cloud9 Academy; a team that would go on to win two back-to-back titles that year.
"They treated me really really well," Palafox said. "They paid for a whole Korea trip. I basically got to closely work with their main team, which is something I really enjoyed."
Palafox appreciated the resources Cloud9 provided him to improve as a player. He was able to develop close relationships with the main roster and sit in on their practice.  He noted that ADC Jesper "Zven" Svenningsen, in particular, left a lasting impression on him.
"Zven showed me that Rank 1 actually kind of does matter," Palafox said. "I thought it was a really cool challenge to go for and it gave me a lot of motivation."
Rank 1. pic.twitter.com/AkKCHl98Gb

— FLY Palafox (@palafoxlol) August 12, 2020
He hit Rank 1 on Aug. 11, 2020, and was still in sole possession of the title the day before winning the LCS Academy 2020 summer split. A few months later, Palafox signed with FlyQuest as their starting LCS mid laner.
Reaching greater heights
Halfway through the 2021 summer split, FlyQuest is now tied with CLG for eighth place with a 9-24 record. This is after failing to pick up a game in Week 5. Palafox described the complicated nature of some of the team's struggles.
"I'm not gonna lie, it's kind of hard," Palafox said. "I'm in a limbo of what I should be focusing on and how I need to change communication. I think a lot of us are really quite passive, and that's the thing that hurts us a lot."
To Palafox, the easy part of improving as a team is identifying where problems lie. To actually fix things, however, it's important to have players that can take charge. Finding someone, or multiple people on the team, to take the lead in and out of the game has proven difficult over time. This is especially true as most of the team is now meeting in person for the first time.
"We were online first," Palafox said. "Nobody is going to be a complete asshole. Everything everybody says seems kind of passive aggressive. Being in person with people, it's a lot easier. Obviously, we're not picking up wins, so that's pretty annoying. But we're finally getting to know each other. Slowly, over time, everybody's getting more and more comfortable."
As the team grows more comfortable with having honest conversations with one another, Palafox is confident they'll find a path forward, just as he's done in the past.
Sad that we lost to @EvilGeniuses I was in a position to carry with the way the draft went but I didn't execute. I will next time GG

— FLY Palafox (@palafoxlol) July 3, 2021
Over the course of his short career, the 21-year-old mid laner has pushed himself to embrace uncertainty. From leaving home and school without any official team offers to getting stuck in an unfamiliar state without practical access to a computer, he's had plenty of reasons to be scared or to consider giving up.
Palafox has achieved more in a few years than most rising North American talent, including two Academy championships and a starting LCS spot. According to Palafox, that adventurous and persevering mentality is simply a part of who he is. And it's something he strives to reflect in his play.
When asked what type of player he wanted to be remembered as after he eventually retired, Palafox paused to think, then laughed.
"It's kind of shown in my gameplay, but I don't mind making really dumb plays on stage," he said.  "If I think a play is good, I'll go for it no matter what. I just want to win games. I just want to win."

Pop culture consumer and League of Legends thought-haver. Working on becoming a weirder person.