Two of Call of Duty's biggest brand partners have teamed up yet again to offer Vanguard players some free items. Mountain Dew and Doritos are the brands behind Vanguard's main source of Double XP, but now they're offering players free weapon charms.
There was a contest on Twitter between the two brands to see who could get more likes on a tweet. The brand to win would give out a code for a free weapon charm in Vanguard.
In the end, Mountain Dew won the battle and gave players a code for the "Hang on Back There" weapon charm. However, Doritos also had a chance to give out their code for the "Crunchy's Comet" weapon charm in Vanguard. Below, players can find out how to redeem and equip these charms in-game.
Redeeming the Mountain Dew and Doritos weapon charms in Vanguard
Nothing says, "Vanguard is here!" more than facing off against your friends. Help us get more likes than @MountainDew's tweet in 24 hours and we'll drop a code to get our charm. pic.twitter.com/K2rohpcoAy

— Doritos (@Doritos) November 9, 2021
For starters, players will need to know the codes that they can redeem. The codes for each of the charms are viewable below:
Crunchy's Comet: 1CJ5-ZL6N8-FGFY
Hang on Back There: G15C-G7F1Z-KNVJ
To redeem the codes, players must head over to CallOfDuty.com/redeem and enter their account information. Once that is done, players will be given the opportunity to enter both of the codes. Keep in mind, the codes will go to the account that players are using on the website, so they need to make sure that account is the one they're currently playing Vanguard with.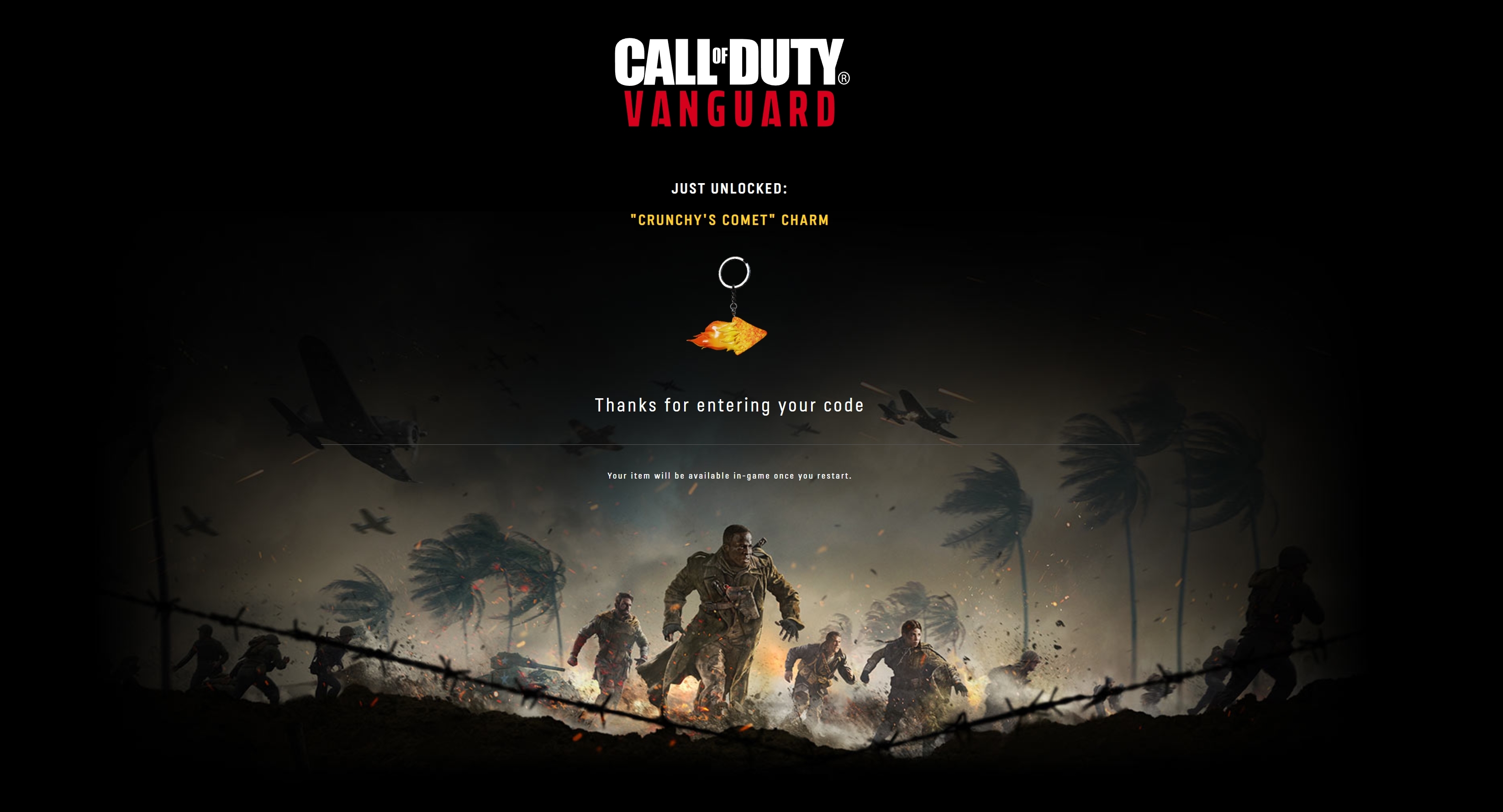 After both codes are entered, players can boot up Vanguard (or restart it if they're currently in-game). In multiplayer, players can go to their Loadouts screen and then click a specific class. On the Customize screen, players can see a box called "Charms," where the Mountain Dew and Doritos charms will be. Players can then equip either charm onto their weapons in Vanguard multiplayer and Zombies.
Joey Carr is a full-time writer for multiple esports and gaming websites. He has 6+ years of experience covering esports and traditional sporting events, including DreamHack Atlanta, Call of Duty Championships 2017, and Super Bowl 53.