With next-gen consoles releasing later this year, one of the most anticipated games is Halo Infinite. Initially, Halo Infinite was to release in the holiday season of 2020 alongside the Xbox Series X. Today, 343 Industries announced that the game will not release until 2021.
What is Halo Infinite?
Halo Infinite will be the sixth mainstream game in the Halo franchise, following the 2015 Xbox One title Halo 5: Guardians. As always, Infinite is a first-person shooter game with a competitive online multiplayer scene.
We currently know that the game will have a campaign, it will come out for PC, Xbox One, and Xbox Series X, and the multiplayer will be free-to-play.
Why isn't it coming in 2020?
According to Chris Lee, the Studio Head at 343 Industries, the development team has run into challenges due to COVID-19 and other issues. He states that "we have made the difficult decision to shift our release to 2021 to ensure the team has adequate time to deliver a Halo game experience that meets our vision."
While this will mean that Halo fans won't be able to play the new game as soon, 343 Industries is promising a better game rather than rushing it to get it out on time. Since the Halo franchise is one of the most successful Xbox console exclusives, this could also impact next-gen sales.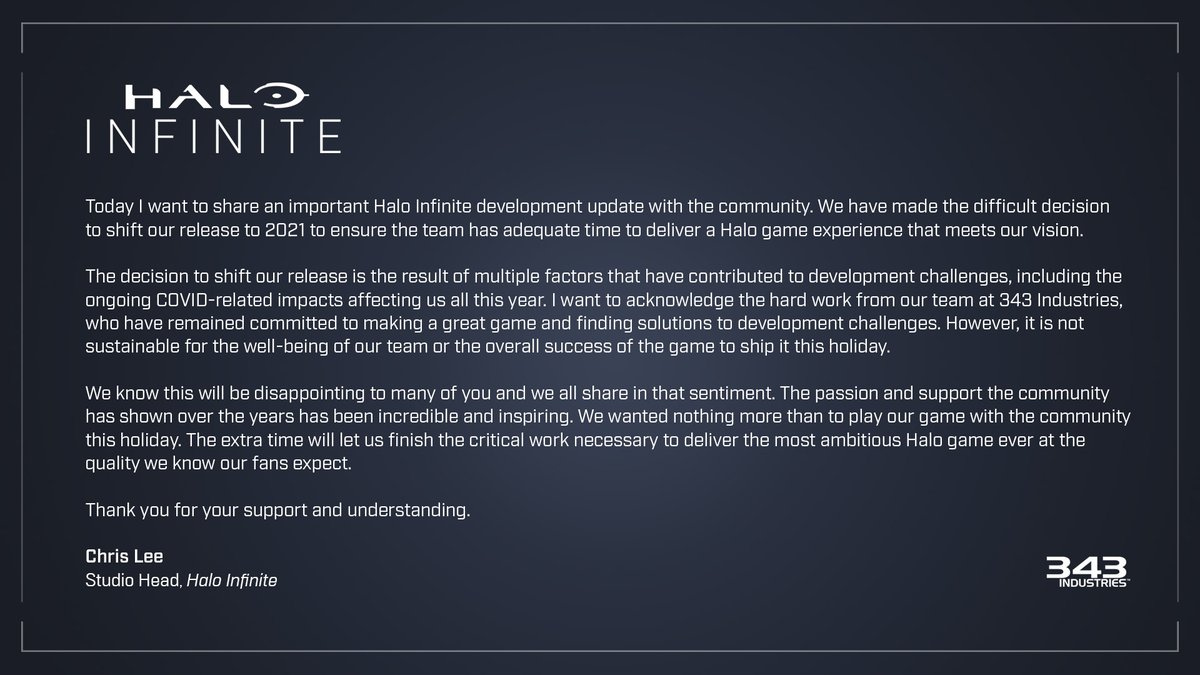 When is the game coming out?
Lee didn't give an exact release date, or even a time frame, in his announcement; he just states that the game will release in 2021. We can expect that Microsoft and 343 Industries will want to release the game as soon as possible, however, to boost console sales.
It's likely that it will release some time at the end of Q1, in March, similar to how Nintendo handled Animal Crossing: New Horizons' delay. This isn't a guarantee, however, so make sure to keep an eye out for more news in Daily Esports.