With official patch notes finally making a return to the Epic Games website, we have learned that Fortnite's Chapter 2 Season 1 has been extended to February! We also learned Daily Challenges and the Bandage Bazooka are making a return in patch 11.20! Earlier this morning we reported on a ton of leaked new content, including cosmetics, skins, loading screens, music packs, back blings, pickaxes, and more! We also discussed the potential return of the Heavy and Scoped Assault Rifles. Now, with the help of the official patch notes (and a couple of new leaks!), we have a lot more to discuss!
Chapter 2 Season 1 extended to February
The official announcement on Season 1 being extended to February came early this morning via a blog post on the Epic Games website. The release reads as follows:
With a new year comes new beginnings! Last year we celebrated 14 Days of Fortnite over the holidays. This year we've got even more content for you to unwrap, including new game features, free rewards and a live experience that you won't want to miss. To prepare for all the new holiday-themed updates, we will be extending Chapter 2's first season into early February. Get ready for winter!

The Fortnite Team
Players will surely be excited to know that there is so much new content coming that it required the end of the season to be pushed back by Epic Games. This also gives people plenty more time to get their missions and end of season goals settled after the holidays.
Leaks suggest the official end date of the season will be February 6, 2020.
Daily Challenges make a return
Also included in the patch notes was the news that Daily Challenges are returning to Fortnite!
Each day, players will be able to complete three challenges for XP. Additionally, players will have the option to replace one Challenge for another, once a day.
The Bandage Bazooka and other patch notes
Patch 11.20 also resolved the issues with the Bandage Bazooka. Therefore, the popular healing weapon has been re-enabled in-game!
Additionally, these patch notes included some quality of life changes as well. Players will now be able to filter their items by the Season that they were introduced in. Players will also be able to adjust the UI contrast in-game. Finally, Patch 11.20 added DirectX 12 support to the PC version of Fortnite.
New leaks!
We also have a couple of new leaks to report.
According to @FNBRHQ on Twitter, something relating to Gifts and Twitch has been added to the game. The dataminer speculates that this will be a "watch and earn" type promo that is similar to the collaboration that Fortnite had with YouTube. Twitch has run many such promotions for Overwatch in the past.
FNBRHQ also shared a funny new feature added to the game: the ability to hide in portable toilets.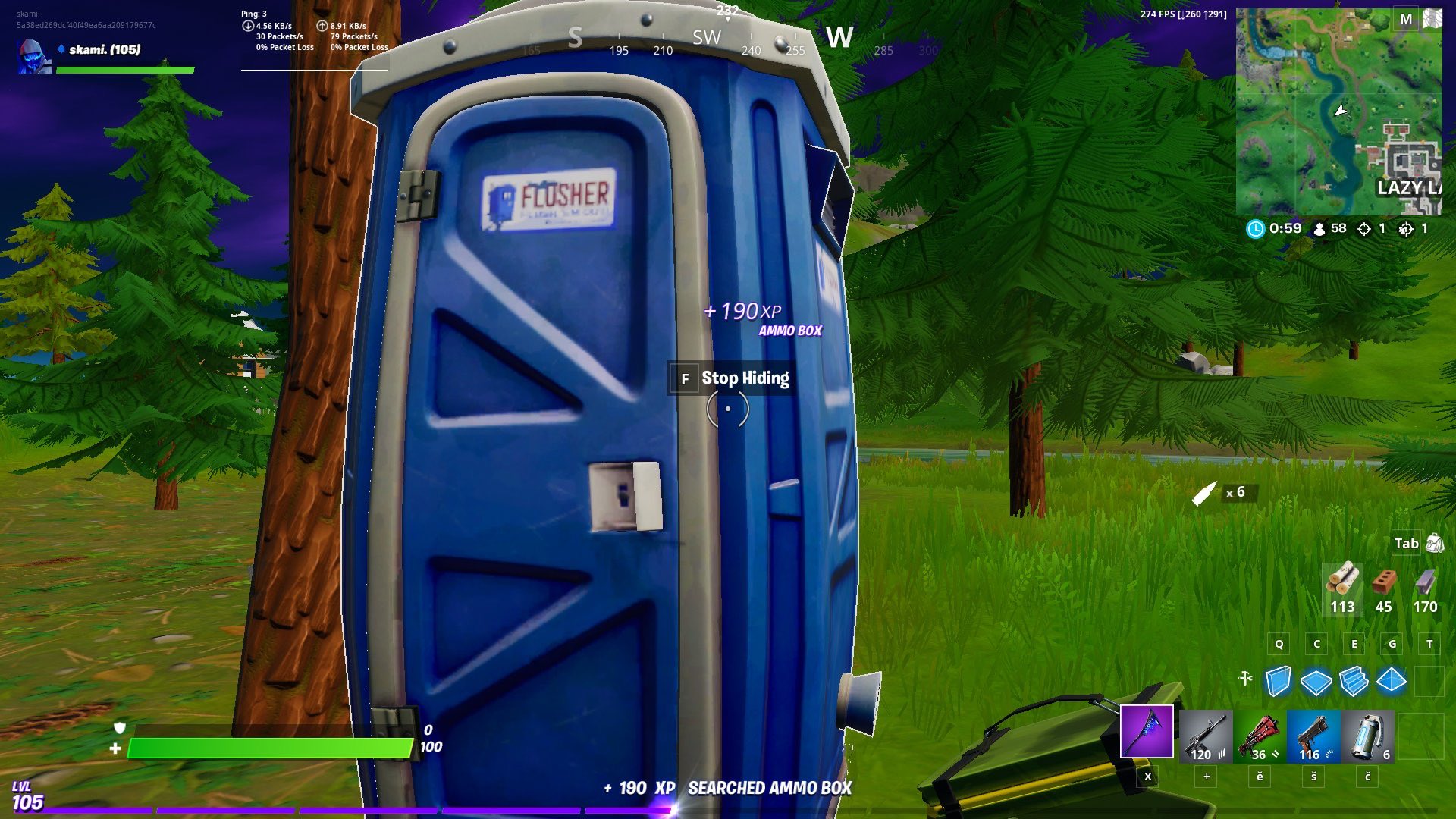 Fortnite's patch 11.20 really is flush with exciting new changes!