League of Legends
VALORANT
CS:GO
Overwatch
Call of Duty
Halo
DOTA 2
Apex Legends
Rocket League
Smash
With the League of Legends Europeans Championship 2021 summer season now drawing their curtains in, a new stage rises for Europe. After the fire and fury from play-ins, it's time for front row seats to the main event of the European Masters 2021 summer.
The main event is a gladiator pit that only the finest teams and players from around the European Regional Leagues can reach. And this season's main event? It promises to be a bloodbath considering how competitive each group looks on paper. As with the play-ins, the top two teams move forward and will face each other in a single elimination best-of-five match bracket — a recent change for this season.
Group A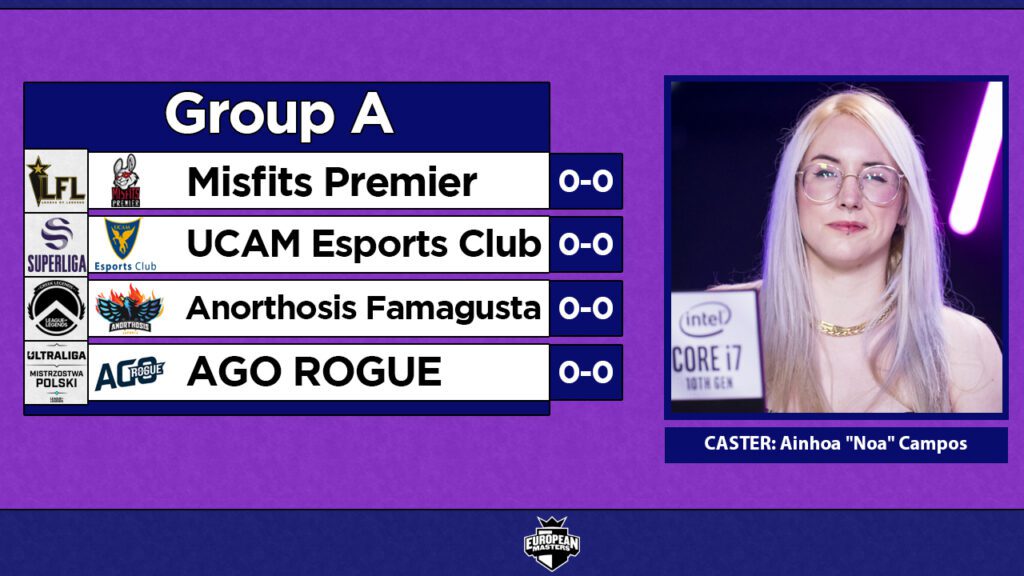 Who are they?
Misfits Premier: Ligue Française de League of Legends champions
UCAM Esports Club: LVP SuperLiga runner-up
Anorthosis Famagusta Esports: Greek Legends League champions
AGO ROGUE: Ultraliga third seed
Group favorites (probably): Misfits Premier and UCAM Esports Club
Noa's pick to exit the group: "I think this group will be all about UCAM and Misfits Premier. They should be the two teams making it out of this group."
Group overview
At first glance, Group A is already an incredibly stacked one. Next to Group D, this is arguably the second most competitive group.
Misfits Premier are now the top dogs in the strongest ERL, the LFL, after dethroning Karmine Corp 3-1 in the final. It's easy to forget that despite their slightly disappointing top-eight finish last season (by their standards), Misfits Premier have won EU Masters before, in 2019 spring. With the LFL crown in their bag, the killer bunnies will look to hop all the way to a second title for the organization. The bot lane duo of Paweł "Woolite" Pruski and Jakub "Jactroll" Skurzyński have been on a tear lately, but will that be enough for Misfits to challenge for the crown?
LES LAPINOUS #LFL pic.twitter.com/oR4J6UO4ck

— KC/MSFP OTP LoL #EUMasters (@OTP_LoL) August 12, 2021
UCAM Esports Club, meanwhile, are a story of perseverance. In the spring, they won the LVP SuperLiga and made top four in EU Masters despite lower expectations. For summer, even with starting support Pedro "Plasma" Simões Ribeiro sidelined due to medical issues, UCAM overcame the odds and finished second. LVP SuperLiga caster Ainhoa "Noa" Campos said she is quite confident the team can hang with the best in the group.
"Group A may look intimidating, but I'm not scared for the UCAM crew," Noa said. "The team faced some difficulties during the regular split after Plasma had to leave, but step by step, Jules "Hantera" Bourgeois started to fit in the team."
While Noa said no one expected an underdog team like UCAM to be in Superliga finals, the words of jungler Maik "Hadess" Jonker's words rang true: 'Little do they know this is our comfort zone'.
"The promise of making it through groups with another 6-0 is still there, and UCAM never stopped evolving and overcoming difficulties with relentless determination," Noa said. "These are the best virtues of a team you definitely must fear."
The minnow of the group is Anorthosis Famagusta Esports, the back-to-back-to-back champions of the GLL. The GLL teams are infamous for bringing unexpected picks and upsets to EU Masters, such as jungler Giannis "Dom1nant" Vorgazlis's Garen pick in spring. But this time they will need more than that due to problems with inconsistency. They can be very explosive, though, which could work for or against them.
AGO ROGUE made it from the play-ins after a slight scare by dropping a game to Italy's second seed, aNC Outplayed, in knockouts. On the back of bot laner Damian "Lucker" Konefał, they managed to get through play-ins, but they've had some uneven performances. Like their LEC sister team, they tend to fall into the tendency of "Rogue Time." Perhaps the extra games in play-ins have given them the additional practice they desperately needed, but Noa is not entirely convinced they have what it takes to exit Group A.
"Maybe AGO ROGUE could be a threat, but after how all the Polish teams fell in the group stages in EU Masters 2021 spring, I'm not very intimidated by Rogue's academy," Noa said. "Not this season."
Group B
Who are they?
PDW: Ultraliga champions
Penta 1860: Prime League runner-up
Tricked Esport: Northern League of Legends Championship champions
Movistar Riders: LVP SuperLiga third seed
Group favorites (probably): could be anyone
Guldborg's pick to exit the group: "My brain says Movistar and PDW, but my heart says Tricked!"
Group overview
Of all the four groups, this is the one sparking the most debate. NLC caster Mikkel Guldborg Nielsen said any two teams in the group can make it out, though it will probably be the ones who adapt fastest.
PDW, the Ultraliga champions, were a result of  the 7more7 Pompa Team rebrand and, despite their now-ambiguous name, the iconography has led to Polish fans understanding that PDW roughly means "greetings from prison/jail." Their regular season was nothing amazing but their run through the playoffs was more impressive, with a nail-biting 3-2 victory over Illuminar Gaming. They should be one of the favorites, especially if mid lane prodigy and finals MVP Mateusz "Czajek" Czajka fires on all cylinders to carry on the POLSKA GUROM legacy.
Tricked Esport defied all expectations and did the unthinkable: dethroning an academy team in the NLC to claim the crown. Such a feat seemed unfathomable considering how tight a grip Fnatic Rising and BT Excel have on the region, and yet here they are. Who knows? Tricked could very well surprise once again. They are a team close to caster Guldborg's heart, which bleeds red and white for his Danish brethren.
"In a league where the two Academy teams are often favored, there usually isn't a lot of attention to the non-academy teams," Guldborg said. "For the first time in NLC history, we have a non-academy team winning by reverse sweeping Fnatic Rising 3-2, especially with a stellar carry performance from bot laner Nikolaj "DenVoksne" Meilby."
Penta 1860 are another unexpected entry into this European Masters. From promotion to the Prime League at the end of 2020, a seventh place finish in spring, then placing second in summer and punching their ticket to the EU Masters, it has been an interesting journey for this roster. Even now, expectations are not sky-high after this team was dismantled by Prime League champions BIG in the finals.
The Movistar Riders had a dominant play-ins showing. Indeed, once they settled into their tempo and style, with jungler Nubar "Maxlore" Sarafian leading the charge, the Spanish powerhouse only dropped a single game throughout play-ins. They then proceeded to swiftly 2-0 Team Phantasma in knockouts to make the main event. If Movistar Riders can keep their foot on the gas, making it to top eight feels very much like a certainty — especially with the power of horchata on their side.
KEKW @Jarge__ 😂😂😂 #SuperligaLoLCuartos pic.twitter.com/jqmWucbq1O

— Superliga – League of Legends (@LVPesLoL) August 3, 2021
Group C
Who are they?
Berlin International Gaming: Prime League champions
Illuminar Gaming: Ultraliga runner-up
Zero Tenacity Esports: Esports Balkan League champions
Fnatic Rising: NLC runner-up
Group favorites (probably): BIG. The other three teams? Flip a coin.
TheFakeOne's picks to exit the group: "Overall, I think it's really hard to predict anything else than a BIG first place in this group, as all other teams have very clear strengths but also big weaknesses that could be exploited."
Group overview
Group C seems somewhat more straightforward compared to other groups.
The "BIG-pun intended?" talking point is still, well… BIG. They are the back-to-back champions of the DACH region, and boy are they back with a vengeance. Last spring, they bowed out of the EU Masters unceremoniously in top eight despite everyone's expectations of them making a run to the finals. Now, they return once more, and everyone has their eyes on them to challenge for the title, especially with their mid laner Steven "RKR" Chen's recent form.
Illuminar Gaming are the Ultraliga's second seed, but only by a single game. After a mediocre regular season, they ran a miracle gauntlet to make it to the main event, defeating powerhouses K1CK Esports and AGO ROGUE – 3-0 no less – to make the finals. Very few expected much from them considering their team has many unfamiliar names, but with some stellar performances in their playoffs run, Ultraliga caster Tomasz "TheFakeOne" Milaniuk said it will be enough to carry them into the Knockout Phase.
"I still think that Illuminar Gaming should be happy to get drafted in this group," TheFakeOne said. "Their slow, teamfighting style shouldn't be punished against the former opposition, obviously barring BIG."
POOOOOOOOOOOOOOG pic.twitter.com/7TLQ9CZkAs

— Ultraliga (@ultraliga) August 10, 2021
Balkan champions Zero Tenacity carry the hopes of the Balkan faithful on their shoulders, especially with the memory of ŠAIM SE SuppUp's top-eight finish last season still fresh in the minds of EBL fans. Zero Tenacity didn't make it out of play-ins last spring, and for them to make the main event now, they will be grasping this opportunity with both hands.
NLC second seed Fnatic Rising made it one step further than last season, actually qualifying for the main event this time around. It should be a huge sigh of relief, but Fnatic Rising will not be content with just that. To play for Fnatic is to strive for excellence, and they will look to exit groups and prove they remain a force to be reckoned with. TheFakeOne is not thoroughly sold on their recent form but said the extra games in play-ins could give them the edge needed to exit this group.
"Fnatic Rising have not looked convincing both in NLC and at EU Masters play-ins," he said. "The team has been a little one-dimensional with a lot riding on bot laner Louis 'Bean' Schmitz's shoulders. It's worth noting, though, that historically, teams that have gone through play-ins tend to perform much better – with some exceptions to the rule – in the main event."
Group D
Who are they?
Vodafone Giants: LVP SuperLiga champions
Karmine Corp: LFL runner-up, defending EU Masters champions
Macko Esports: PG Nationals champions
mousesports: Prime League third seed
Group favorites (probably): Anyone but Macko
Moonboy's pick to exit the group: Karmine Corp and Macko Esports
Group overview
It's hard to imagine this isn't part of Riot's script. Group D, once again, is the "Group of Death," just like play-ins and like last spring. Who writes this thing?
No discussion of the group can start without first mentioning Karmine Corp, LFL spring champions, summer runner-up and defending EU Masters champions. Flanked by their army of "KCorp Ultras" on social media, they are intimidating to face on and off the Rift. With the departure of Adam "Adam" Maanane, they brought in ex-Vitality top laner Lucas "Cabochard" Simon-Meslet. While he's been a great asset, they've looked more vulnerable this season. At the same time, PG Nationals caster Emiliano "Moonboy" Marini said they still shouldn't be taken lightly.
"Lucas 'Saken' Fayard and Jakub 'Cinkrof' Rokicki are still a terrifying mid-jungle duo," Moonboy said. "Don't let Karmine Corp's LFL Finals loss distract you from the fact that this is still one of the biggest powerhouses in ERL history."
Vodafone Giants are only the biggest team from the LVP SuperLiga, capturing their seventh SuperLiga title in emphatic fashion. They started off the season with plenty of difficulties but turned it around at the brink to make a stunning run to the title. No doubt they are looking to add the elusive EU Masters trophy to their collection. Moonboy said their experienced bot lane duo of Amadeu "Attila" Carvalho and Raymond "kaSing" Tsang could be the key factor. However, all eyes will be on their rookie jungler, Doğukan "113" Balci, an aggressive and promising prospect for the future.
Mousesports made it through to the main event after a tense Play-Ins Phase. The Prime League third seed displayed a high skill ceiling from all their players, with the unforgettable pentakill by jungler Milo "Pridestalkr" Wehnes — but they have been inconsistent. They made top four last spring and many have said mousesports can go further.
aaaand they are drinking mushroom water again pic.twitter.com/V1Y7h175BY

— Prime League (@PrimeLeague) July 8, 2021
Macko Esports have been here before, last spring. The back-to-back Italian champions were seeded into a very tough group, with mousesports, too, and they were denied from advancing to knockouts by a single tiebreaker game. They know what it means to be the underdogs, and despite the overwhelming odds, Moonboy has fully inhaled a lifetime supply of "hopium" when it comes to this squad.
"There's no better way to get noticed than to make a splash in a group like this," he said. "I truly believe that Macko can brawl with the big boys. This is one of, if not the best roster Italy has ever sent to EU Masters."
While not everyone shares his confidence, Moonboy pointed out that last time the LFL sent the reigning EU Masters champions to face them, they took them down in the first match. Could it happen again?