Popular streamer and personality Guy "DrDisrespect " Beahm has found himself in hot water after his comments on mobile gaming went viral. In a recent tweet, Doc essentially called mobile gaming a joke and that it shouldn't be taken seriously. This isn't the first time the streamer has voiced this opinion, but this new tweet blew up. Thousands of community members voiced their opinion on the subject with the most vocal group disagreeing with DrDisrespect. Among those disagreeing was Ferg, a popular COD Mobile YouTuber and creator for Tribe Gaming. Ferg disagreed so much, in fact, that he challenged Doc to a 1v1 on COD Mobile.
Ferg challenges DrDisrespect to a 1v1 on COD Mobile
The original tweet from the Doc has been shared thousands of times by community members. Also, Doc's other tweet about mobile gamers was drudged up as well.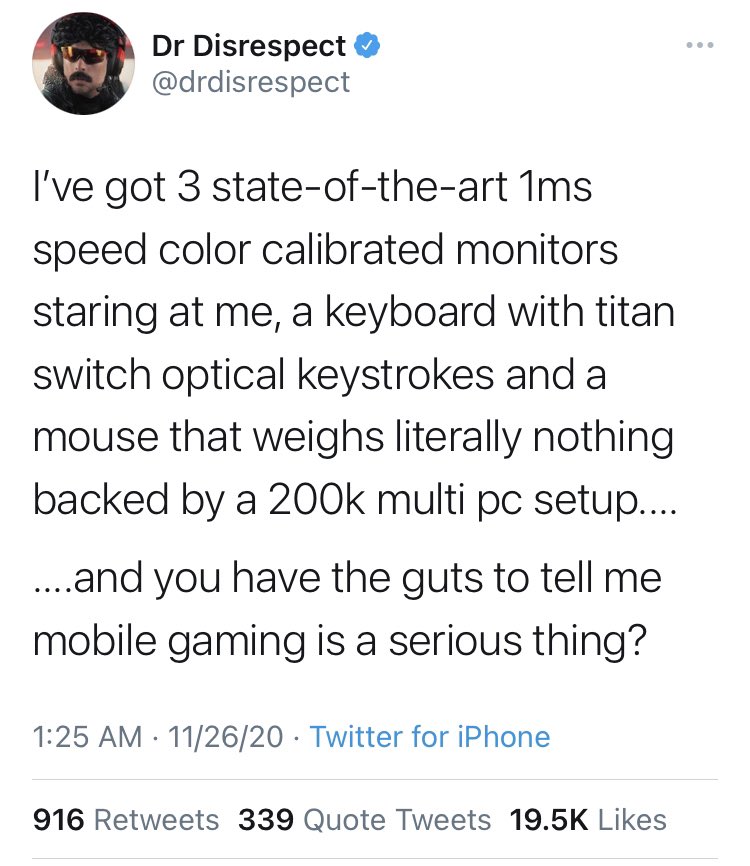 Obviously, the popular streamer's opinions are clear when it comes to this section of gaming. It's Doc's belief that mobile gamers simply can't match the talent that console or PC players possess. However, we might see this opinion put to the test.
YouTuber Ferg saw the recent tweet from DrDisrespect and decided to up the ante. Since Ferg specializes in COD Mobile, he decided to challenge Doc to a 1v1 on the game. Although, the rules of the 1v1 are a little different.
1v1 on COD Mobile for $100,000

You on your PC and I'll play mobile

— Ferg (@Ferg) November 26, 2020
It appears Ferg is so confident in his ability on mobile that he's allowing Doc to use his keyboard and mouse in the challenge. As of the time of writing, Doc has not accepted or denied the 1v1. Though, his YouTube chat has been hassling him to accept, and it's clear the incessant spam is getting to the streamer.
Members only chat had to be enabled, Mobile too strong.

— Ferg (@Ferg) November 27, 2020
It seems unlikely that Doc would accept the 1v1 at this point. Although, it seems his community isn't going to stop asking him to grant Ferg's request. We'll have to wait and see how this plays out.
Make sure to stay tuned to Daily Esports for all gaming news.
About the Author
Joey Carr is a full-time writer for multiple esports and gaming websites. He has 7+ years of experience covering esports and traditional sporting events, including DreamHack Atlanta, Call of Duty Championships 2017, and Super Bowl 53.