After a three day fiasco on Twitter, when the official CS:GO Twitter account tweeted "What are you doing Wednesday?" on December 3, the CSGO community went crazy. Speculation began wondering whether the update will feature a new operation, case or perhaps the long-anticipated Battle Royale mode. Unfortunately, no update was unveiled on Wednesday. This was followed by another tweet which stated "Sorry, got caught up with some work and stuff. I think Thursday's going to work better. You available then?". The tease from the developers brought expectations through the roof and finally, the community received a major update on Thursday.
Danger Zone arrives in CSGO
An entirely new game mode has been introduced into Counter-Strike: Global Offensive. Valve has decided to pursue the immensely popular battle royale trend and has made its own approach on the mode. The idea seems to be the same, players drop onto a map named Blacksite, gather the necessary loot and then fight to the death until the last person stands. The mode can be played solo, in duos or in trios and there are up to 18 players in each game. Quite an underwhelming number compared to other battle royale games such as Fortnite or CoD Blackout.
Free to Play model
And CS:GO is now free to play! More information about the differences between non-Prime and Prime can be found here: https://t.co/OkFBi6jP3c

— CS:GO (@CSGO) December 6, 2018
Ever since the release of Counter-Strike: Global Offensive on the Steam market, it has been a game one would need to pay for. Recently, Valve introduced a free to play version of CSGO prior to the last major, where players could watch live major matches as well as play in offline mode. This time around, CSGO is entirely free, meaning that anyone can download and play the game on all modes, offline and online. There is a catch, however. Players are now divided into users with Prime Status and non-Prime Status. Prime Status members are only matched with other players that also have Prime. On top of that, players with Prime, are eligible for exclusive drops, cases, and souvenir items. Valve has also added a limited time souvenir skin named "Lab Rats" for users that already have Prime. Prime Status can be obtained by new players either by either buying it right off the bat from the Steam store or by reaching Rank 21 and adding a phone number verification to your account.
New weapon case: Danger Zone
As with most large updates, a new weapon case with brand new community-made skins was also added. The theme suits the brand new mode quite nicely. You can check out the new skins below.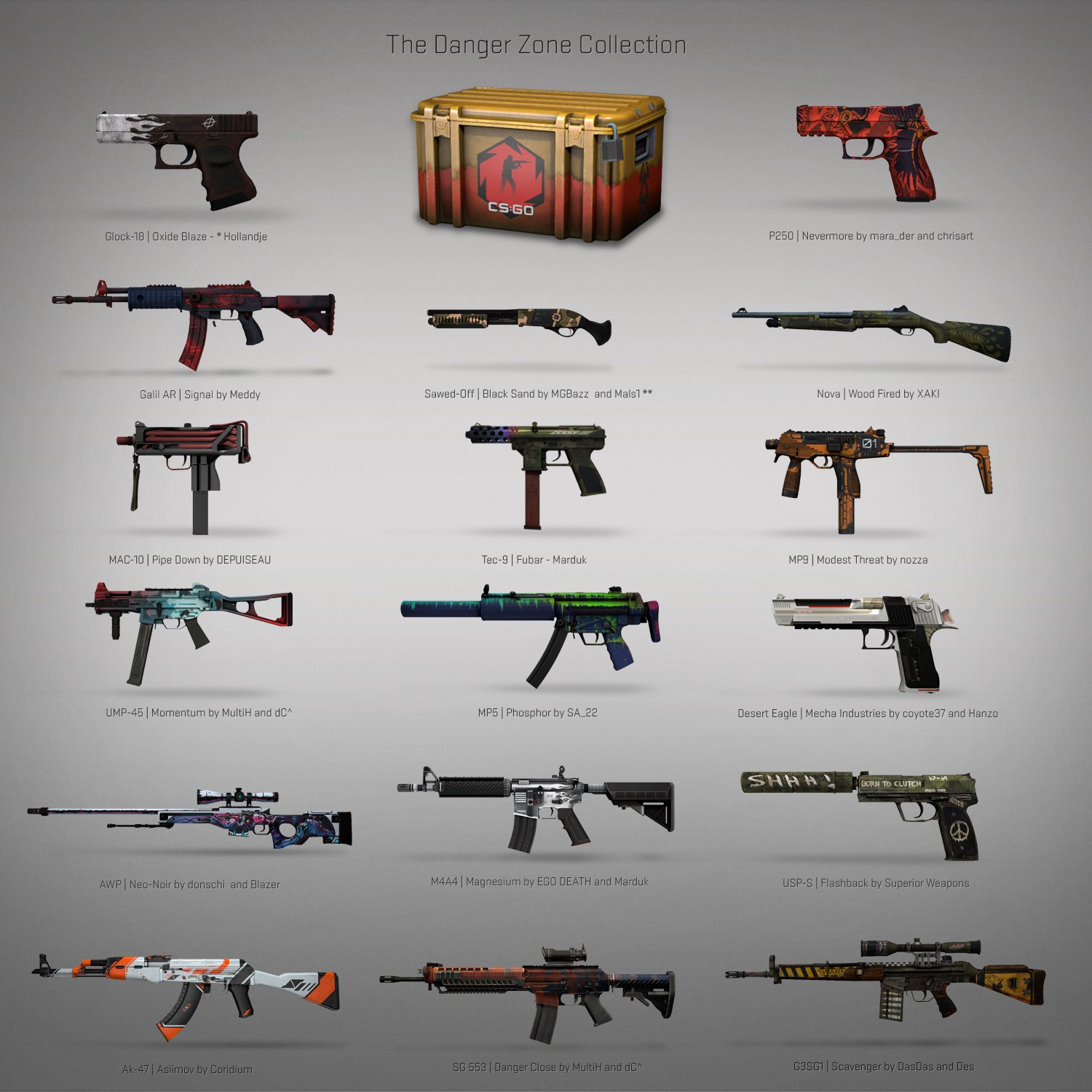 The new case contains an AK-47, M4A4, AWP, and Desert Eagle skin and hence will be very sought after since these are some of the most used guns in the game. Even the Glock-18 and USP-S find their place in the new case, making this probably one of the most valuable cases out there.
What do you think of the new update in Counter Strike? Let us know in the comments below! You can find the full description of the Danger Zone battle royale update here. And as always remember to follow us at Daily Esports for your daily dose of news in the esports and gaming world.