Somehow, someway, leaks pertaining to Call of Duty 2021 are surfacing before Black Ops Cold War has even released. This seems to happen every year, as inside sources receive some small details about the next title's development. For example, last year, we heard about how bad Black Ops Cold War's development was going and that Activision was in over its head. Of course, Treyarch taking lead from Sledgehammer seemingly exacerbated this, but the leak still surfaced. In regards to 2021, a small bit of information came through a reliable source yesterday. The insider is claiming that the 2021 title will continue the Modern Warfare universe.
Modern Warfare to see another entry in Call of Duty?
It's no secret that Modern Warfare 2019 was not everyone's favorite game. While there is a crowd that stands by the multiplayer through thick and thin, the majority seems to say that Infinity Ward dropped the ball. The maps promoted camping, the killstreaks were underwhelming, and some of the gameplay choices made no sense.
What really saved Modern Warfare was Warzone, as it gave people a reason to hop back into multiplayer to complete camos, level up guns, etc. Without the battle royale, the multiplayer side of the 2019 entry could've been a disaster.
However, Activision reportedly feels that Infinity Ward can deliver another solid title. According to a leak from reliable insider Tom Henderson, Call of Duty 2021 will likely be "Modern Warfare 2."
https://twitter.com/_TomHenderson_/status/1321869882112299010
If this leak is true, then Infinity Ward is clearly behind the development with another studio likely helping out in some areas. At this time, there's really nothing else to report, as the game is presumably in an unplayable state right now. However, Henderson does leave us with a possibility that should make fans extremely excited.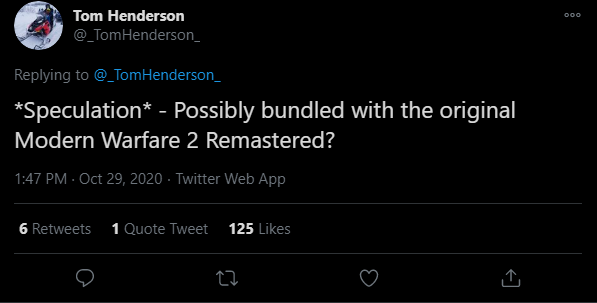 Pairing the original Modern Warfare 2 with the new version would be an incredible marketing move on Activision's part. Although, the publishers have shown reluctance to release another remastered multiplayer, so nothing is certain.
Make sure to stay tuned to Daily Esports for all Call of Duty news.
About the Author
Joey Carr is a full-time writer for multiple esports and gaming websites. He has 7+ years of experience covering esports and traditional sporting events, including DreamHack Atlanta, Call of Duty Championships 2017, and Super Bowl 53.