League of Legends
VALORANT
CS:GO
Overwatch
Call of Duty
Halo
DOTA 2
Apex Legends
Rocket League
Smash
The true leaking for Call of Duty: Black Ops Cold War has begun, as dataminers are now able to get into the PC game files. While leaks did surface over the past week, that mainly stemmed from early copies of the game. However, with the PC version able to be pre-downloaded, dataminers can have a field day in the files. Although there wasn't a ton of content leaked, miners were able to discover some of the content coming to Season 1.
Season 1 content for Black Ops Cold War leaked
Releasing on December 10, Season 1 is already highly-anticipated by players. For starters, this is when the Warzone integration will occur, which should bring the Call of Duty community back together. Also, the first season should introduce some fan-favorite scorestreaks that were reportedly cut from the initial build of the game.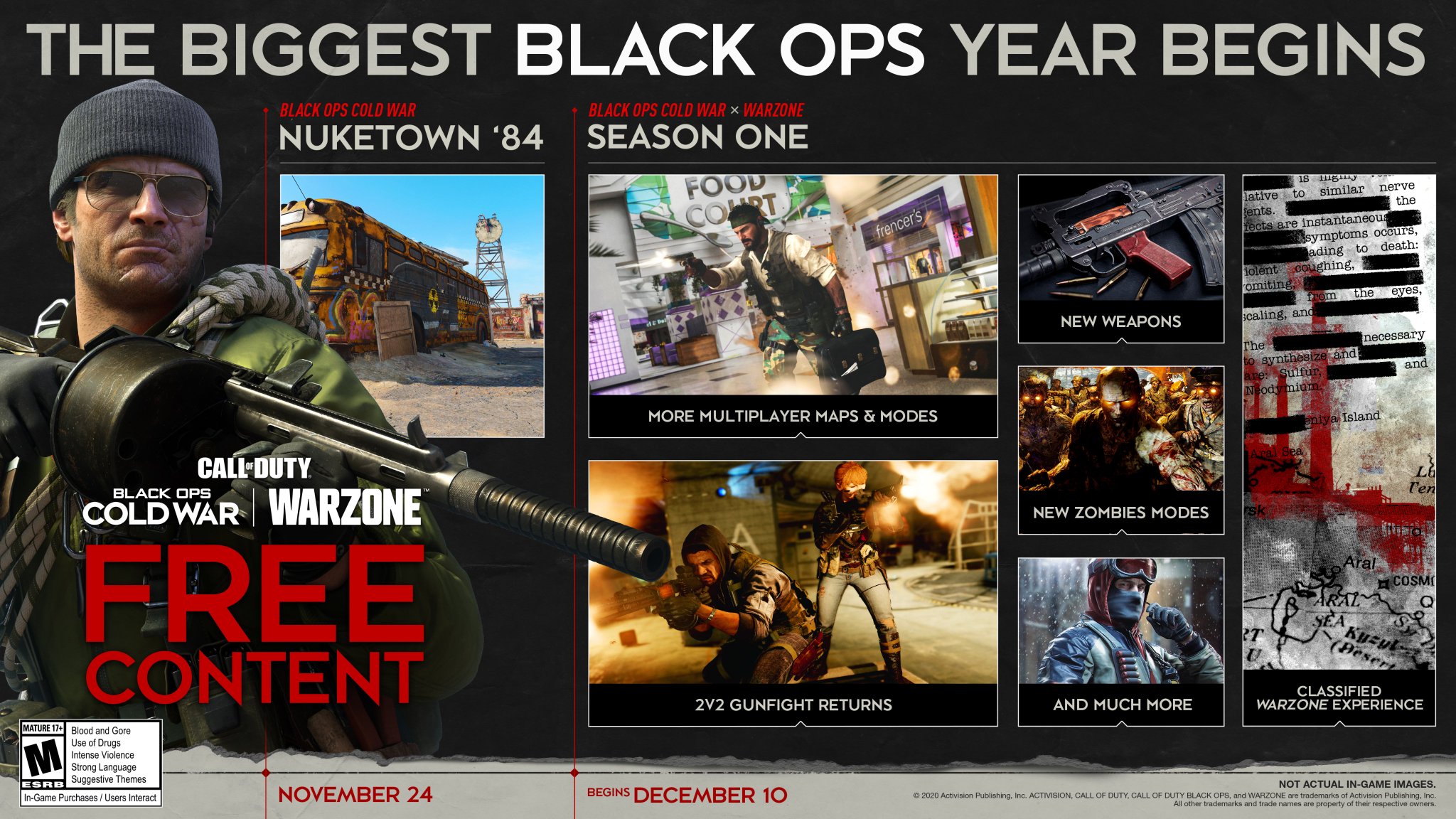 However, dataminers have given fans even more reason to be excited for Season 1. When the PC version went live for download yesterday, miners immediately went into the game files and discovered some interesting strings of code.
In terms of maps, it was found that there are three currently in the works for the first iteration of Black Ops Cold War. The source behind these leaks has been reliable thus far but as always, take all information with a grain of salt.
https://twitter.com/TheGhostOfMW2/status/1326233934275997696
As of right now, there's no word on what these maps are made for. There's the traditional 6v6 modes, Combined Arms, Fireteam Dirty Bomb, and Gunfight, which arrives on December 10. So while it's likely one of the leaked maps is for 6v6, the other two are unknown.
Moving on to weapons, several were found in the files. However, they were not categorized as being for Season 1, meaning we can't know for sure when each will come to the game.
https://twitter.com/TheGhostOfMW2/status/1326275761033138177
All recognizable weapons, it's likely the seven leaked weapons will be spread out across multiple seasons. Activision usually includes two guns with every new installment, so it might take a few months for some of the weapons to arrive.
That's everything that dataminers were able to find so far. As Black Ops Cold War receives more updates, additional leaks from the files will begin to surface.
Make sure to stay tuned to Daily Esports for all Call of Duty news.

Joey Carr is a full-time writer for multiple esports and gaming websites. He has 6+ years of experience covering esports and traditional sporting events, including DreamHack Atlanta, Call of Duty Championships 2017, and Super Bowl 53.