The Atlanta FaZe have kept their perfect 2021 CDL record alive, defeating the L.A. Thieves by a score of 3-0. Atlanta's third match of Stage 2, this was their second sweep and are still the only remaining undefeated team in the Call of Duty League.
For the L.A. Thieves, it's been a completely different story. After starting the year with some nice wins, the Thieves have gone cold. Even after adding talented rookie Carlos "Venom" Hernadez this week, the team has lost both its matches in week two of CDL Stage 2.
FaZe show map domination
While not as bad of a loss as yesterday's to London, today's maps for the Thieves weren't ever close. Atlanta FaZe dominated every facet of the maps, winning by 100 points in the Hardpoint, three rounds in the Search and Destroy and sweeping the Control.
The whole FaZe roster played great, but Tyler "aBeZy" Pharris led the way with a 1.68 K/D. The SMG player also made his presence felt on each map, pushing the Thieves every chance he got and securing necessary kills. His performance was closely followed by Alec "Arcitys" Sanderson and McArthur "Cellium" Jovel, who finished with a 1.53 and 1.52 K/D, respectively. Without much of a challenge thus far, it's still as clear as ever that FaZe is the top team in the CDL.
100 Thieves continue to struggle
On the side of L.A., no player stepped up in the slaying department. Venom's debut hasn't been what the Thieves hoped for, as he only managed a .71 K/D in today's match. However, that's still good for the second-best on the roster, which is a sign of how things are going for L.A.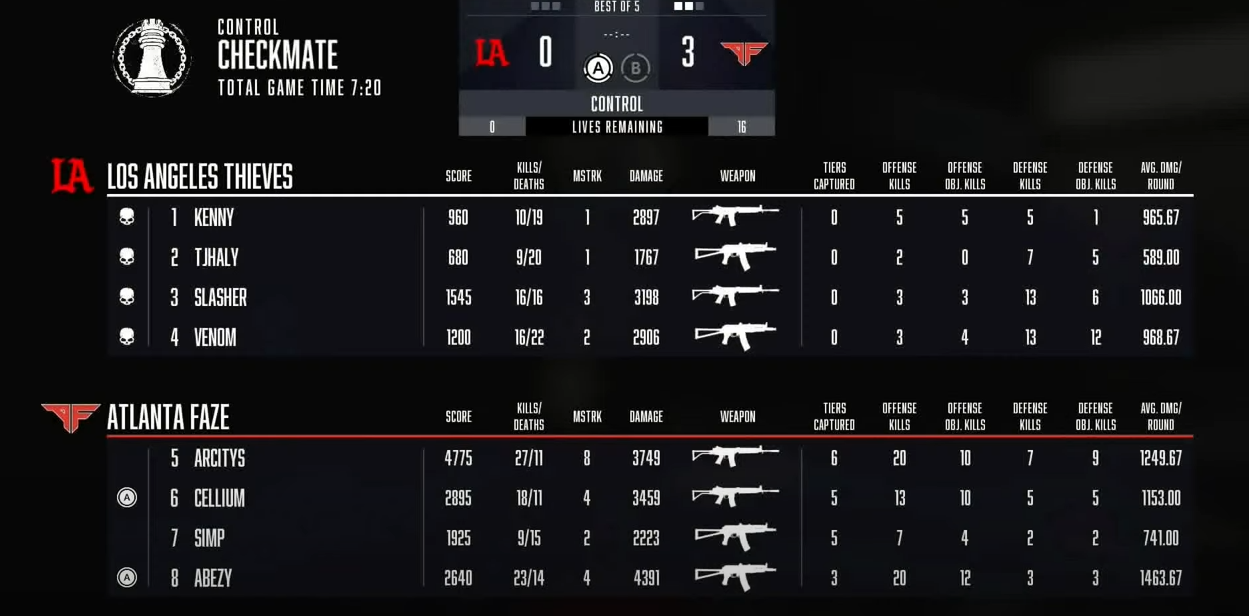 Obviously, the Thieves had problems before signing Venom but they haven't managed to fix those issues with him on the roster in place of Donny "Temp" Laroda. Conversely, Minnesota ROKKR have seemingly turned their season around by adding a rookie, as they swept OpTic Chicago with Eli "Standy" Bentz. The same can be said for the London Royal Ravens, who defeated L.A. yesterday with Paul "PaulEhx" Avila in the lineup.
Though it's still early in Stage 2, the Thieves might have bigger underlying problems that won't be fixed with a single roster change. Their performance throughout the rest of Stage 2 and at the Major could decide if further changes are needed.
Neither Atlanta or L.A. plays again this weekend but each will continue their season next weekend at the L.A. Guerrillas Home Series.
About the Author
Joey Carr is a full-time writer for multiple esports and gaming websites. He has 7+ years of experience covering esports and traditional sporting events, including DreamHack Atlanta, Call of Duty Championships 2017, and Super Bowl 53.